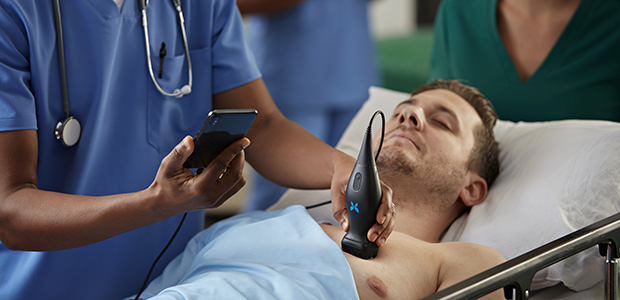 The Butterfly effect
We've all seen ultrasound images, undoubtedly so if you're a parent. And while the technology is used for a multitude of other healthcare-related reasons, the procedure has traditionally been the same, involving the patient having to pay a visit to a hospital. However, this could be about to change with the growth of point-of-care ultrasound (POCUS). Here, Startups Magazine speaks to Nevada Sanchez, Co-Founder of Butterfly Network, a company pioneering such technology.
Prior to co-founding Butterfly Network, Sanchez worked in an astrophysics lab at MIT, leveraging the latest computing technology with the aim of changing how we build radio telescopes. It was while he was undertaking this project that he was introduced to Jonathan Rothberg, a scientist and entrepreneur who most recently has revolutionised the world of genomics by putting a gene sequencing laboratory on a semiconductor chip.
When the pair got their heads together, they began talking about how they could change the way the human body is imaged using the same ideas and advances in computing. In addition, Rothberg's daughter suffers from a rare medical condition that requires constant monitoring of her kidneys using ultrasound, meaning regular trips to the hospital.
"Ultrasound has been around for over half a century, so why is it still so expensive and inaccessible? So, we started Butterfly Network to tackle this specific problem," commented Sanchez.
The technology
Sanchez explained that the technology was a natural extension of the work that the pair were already doing. "Jonathan had experience in putting sequencing on a chip, I was leveraging Moore's Law in my work at MIT. So, we needed to figure out how to change how we image the body by putting ultrasound imaging on the chip."
To describe the traditional technology, you take any ultrasound probe, at the end of which is a piezoelectric transducer – a piezoelectric crystal. And this is both the speaker and the microphone that makes the sound that ultrasound uses to image.
Sanchez continued: "Traditionally, this is a crystal that's grown in the lab, it's sliced hundreds of times with a saw and hundreds of tiny wires are attached to the back of each slice of crystal. This is in-turn attached to a big heavy cable and a computer on wheels. And this is really how ultrasound has been done for over 50 years and hasn't really changed."
Sanchez added that during that time supercomputers that used to fill an entire room now fit in our pocket; cameras are now incorporated into our phones. And every piece of our lives has been shaped by modern semiconductor technology.
"So, we decided we were going to do this for ultrasound," he added. "And the secret behind it is taking that piezoelectric crystal and cables, taking that computer on wheels and putting it all on one chip. And that's the reason we can make a handheld whole-body imager for only $2,000.
"And we coupled that with connectivity to the cloud so that when you're using this device, you can instantly share your images with anyone in the world - to get a second opinion, or someone who's an expert in the anatomy you're looking at to help you. And we also couple it with powerful AI tools that allow you to get powerful insights on what you're looking at regardless of your level of training or familiarity with ultrasound imaging?"
Background
Butterfly Network launched the Butterfly iQ commercially a little over a year ago and at present can only really be used by licenced medical professionals. However, Sanchez added that due to the huge growth of the company he predicts that within the next few years ultrasound will be used in the home and are currently working closely with the regulators on the logistics of how that will look.
"There's a huge portion of the population that's suffering from chronic conditions that they need to check regularly with their doctors. We're uniquely positioned to deliver a technology that will allow us to get the same answers without leaving the home. Therefore, things like unnecessary readmissions, skipped appointments, or conditions that are worsening, and are causing suffering because they weren't treated or detected early enough - that is all going to be a thing of the past."
In the early days Butterfly Network had its own office in Guilford, Connecticut. "It's an unusual location," Sanchez added. "Most people think 'startup' they think Silicon Valley or maybe Boston, not usually Connecticut, but when people come out here and see an office that looks out over the water, and see the sunset over the ocean every day, that is kind of cool.
"When we expanded, beyond Guilford and set up an office in New York City we started using co-working workspaces. So, we moved around a few times as we grew larger, up until the point where we were finally able to purchase our own premises in New York City."
Company growth
In the very beginning, Rothberg funded the company himself. And subsequently, has gone through several rounds of private funding, the last one being Series B. In total, the company has raised approximately $350m. "We've been pretty lucky to have investors that truly believe in our mission, Sanchez continued, "people that really want to make the world a better place and see the value in what we're doing."
Butterfly iQ's first proof of concept ultrasound system-on-chip was developed with just a few dozen employees, but once the founders realised they had their hands on a revolutionary technology, that they could turn into a product, the company began to grow much more quickly.
"This was actually easy once we were able to lift the veil and show people what we were working on," continued Sanchez. "This is because everyone just loves the mission. And when they can see the product, they can really envision what we're doing. And people love problems that are not only challenging, but that also truly have impact."
Butterfly iQ first launched in the US, and it is now used by thousands of healthcare professionals in 19 different countries around the world, including Australia and Europe. In what is a challenging market to penetrate, the company also has an open dialogue with the FDA and regulators that understand what they are trying to do and are offering guidance on the right way to do it.
To true impact
Working in such a sector can be truly rewarding and can make a real difference, as Sanchez explained: "I never forget the day I first heard back from the doctor that had been using the device in the field. They told me that they saved someone's life. And that was a pretty powerful moment for me. It was the first time that I could truly claim that someone is alive today because I built this device.
"Since then, there's been an overwhelming amount of very positive feedback from people telling us how it's made their day-to-day lives so much better and efficient, enabling them to make better, life changing decisions; to people that are telling the company how it's going to change the way we practice medicine forever.
"We're leveraging a multi-trillion dollar semiconductor industry that puts supercomputers in our pockets, and we're using it to build an ultrasound chip which means we get the advantage of Moore's Law – our capability, size, and cost is going to improve exponentially. We have the only whole body imager and there really is no other solution that can deliver the capabilities we have at the portability and affordability that we can provide - we're just getting started and we have over 100 patents in our IP portfolio."
Butterfly iQ has had enormous success in the handheld ultrasound market, but according to Sanchez are just scratching the surface. "We're working pretty hard to grow awareness of our device as more people learn about it and how it can improve their workflow and their efficiency. Every person who is responsible for providing medical care can hugely benefit from the power to see inside the body - everything from anaesthesiologists to primary care physicians, including nurses, emergency medical technicians, and even veterinarians - these are all the people that use our device."
I would say the challenges for us were mostly technical. As a revolutionary technology it was always going to be a huge amount of work trying to get the level of integration we wanted. I don't blame anyone that said that this couldn't be done. And that's what it was like in the beginning. Some things worked the first time, others didn't. Our chip worked on day one, but it drew away too much power. The first micro machines we built worked but they weren't reliable. In the end we finally got it all to work and all these struggles and challenges became one of our strongest assets. It was very challenging to be able to pull this off, but now we're the only ones that know how to do it."
Applications
Butterfly IQ is currently working behind the scenes to help support front-line clinicians with patients with confirmed or suspected COVID-19. This effort is focused on providing resources for clinicians around the world to share de-identified images of positive cases, care delivery protocols and other creative ideas to manage this public health situation.
POCUS is an initial imaging modality for patients presenting in the emergency department suspected of COVID-19 infection and pulmonary involvement. This reduces dependencies on CT and improves the ability to risk stratify while maintaining isolation protocols.
Handheld ultrasound systems can also be utilised in primary care, urgent care, skilled nursing and home settings, decreasing the need for patients to be transported to a hospital or imaging centre. This will reduce the risk of additional exposure to healthcare staff and will increase the availability of hospital resources necessary to care for the most ill patients.
Additionally, monitoring of hospitalised patients, including ICU patients, can be done at the bedside, with a dedicated handheld ultrasound system that remains with the patient throughout their hospitalisation, eliminating the risk of patient-to-patient nosocomial transmission via ultrasound systems.
Finally, systematic integration of portable ultrasound imaging in the community and leveraging telemedicine guidance when necessary, could facilitate early detection of imaging features typical of COVID-19, informing clinicians' decisions around isolation and quarantine of early/asymptomatic cases.