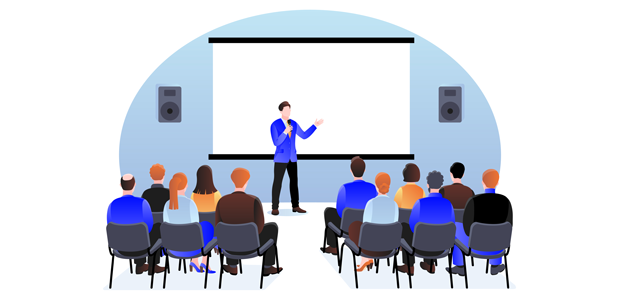 Business conferences: Are they worth your time?
These days, finding information is easy since you can always choose to access all of the world's knowledge from the comfort of your office or house. But getting all that information alone is not sufficient for you to build a profitable venture, discover new investors, and develop an outstanding product.
That is where business conferences come into play since they deliver many direct and indirect educational and professional opportunities to help grow your business. Though small business holders have busy plans and forking out  $1,000 to $3,000 for a meeting might appear to be both a waste of time and money.
Nevertheless, underrating the effect of such events may be a bad call for both you and your business, and here is why.
Networking beats raw information
My understanding indicates that networking has always been the most crucial aspect of engaging in a conference since most of the information is published online after the meeting ends.
Few people concentrate only on the informational viewpoint of conferences since they feel the pressure or difficulty of meeting new people. But those who attend such conferences are quite willing and welcoming to meet someone new so don't make yourself uncomfortable and often focus on the following benefits.
Developing real life relationships
Tolerates turning conferences from one-night events into a lifetime opportunity. If you're interested in someone's opinion, make sure you get the chance to exchange contacts and invite them over for a short business lunch.
But don't forget that this meeting should not only be about business but also about forming a strong connection with another person. Always make sure that you follow up with the people you meet a week later.
Take your time to be sure that your message doesn't get lost in the in-box of the event organisers and speakers who often receive hundreds of emails a day after the conference ends. Look at it this way: treat a meeting just like you trying to get a job, and developing new relationships just like your actual job duties.
Meeting with investors
Either directly or indirectly is another incredible aspect of networking since budget often makes or crashes the business. For example, When I was engaging with SaaStr, I was able to secure 40+ meetings with investors, founders, and possible clients.
In events like that, you can use both Slack channels or conference apps to assess the attendees and know more about the people you want to meet afterward. The best attitude at conferences is you coming fully prepared and being open to new ideas at the same time.
Meeting your competition
Is another incredible way of networking at such events or conferences, your competitors may enlighten you about the most reasonable practices of doing business and even assist you to attract new customers that happens only when you build strong connections with them.
That is why being open to new business ideas is very important: because you may never know where the motivation could come from. Also one of the reasons that business conferences are helpful for your career is that you'll grow your network and meet people from all over the world.
Using simultaneous translation equipment
From getting the right equipment, setting up the hardware, and finding the perfect interpreters. Setting up simultaneous translation equipment for your conference is very vital.
Note that, when interpreting simultaneously, an interpreter must always interpret the speech of the presenter in real time. Unlike in consecutive interpreting, this means the natural flow coming from the speaker is not disturbed and also allows for a crystal clear output for the listeners, this helps you bridge the language barrier in your conference meeting.
Engaging with such people in another environment is often either impossible or even more costly and time-consuming.
You may find business owners from various countries and areas at such events whom you would not be able to attend but. When you think about all the doors such an event opens, spending up to $1,000+ on a meeting quickly starts to make sense due to the high return you'll get on your investment.