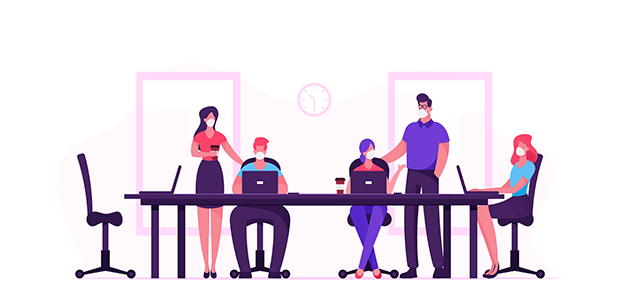 Building a business during a pandemic isn't easy, but the lessons you learn can make it worth it
The last 18 months have been tough for everyone. We have witnessed limitations on all aspects of our everyday lives and experienced things that we never imagined could be possible. But for entrepreneurs, the unprecedented challenges that unfolded following the start of the pandemic have resulted in the unfortunate failure of many businesses and irreversible damage to industries worldwide.
However, in amidst all this doom and gloom there have been notable success stories and people that have swam against the tide to achieve what others believed to be impossible. In the UK, the number of registered companies has increased by 30% as the pandemic fuelled the growth of entrepreneurship and startups have grown in the double-digit values since June. Ignite Dating is proud to be one of them.
Looking back to January 2020 when Ignite Dating first launched, I never could have imagined just how successful it would be after just one year. Contrary to the evidence of all that I have achieved over the last year and a half, included two new offices, a team of nine and accreditation from the Matchmaking Institute, I still have those moments where that familiar wave of self-doubt washes over me and I struggle to recognise my competence and skills – and I know that I am not alone in this. 
My secret for building a successful brand during a time that has seen many industries and businesses suffer? Staying true to my values for an ethical and moral industry, listening to my clients and what they really want and building a network of the most supportive, smartest, and passionate people who share the aspirations and dreams that I have for the future of my business.
It is possible to build a successful business during a pandemic. It isn't easy and involves a lot of hard work, late nights, and constant doubt as to whether you are doing the right thing, but if you truly believe in your concept and are willing to put in the hard yards and swim against the tide then anything is possible.
1. Set your goals and stick to them
From the moment I decided to launch my own matchmaking agency, I knew what I wanted to achieve and what I needed to do to get there. Having worked with one of the UK's largest introduction agencies, I realised that the dating world was going through another transition.
Educated and successful people were bored of labour-intensive online dating, had perhaps found that database matching wasn't quite hitting the right note and wanted to be more prescriptive as to what they wanted in a partner. So, I set myself one rule, always listen to my clients and develop a personalised service that meets their needs.
If the pandemic taught me anything, it's that not everything goes to plan. You can never fully know what is going to happen in the future, so it is important to remember that if the plan doesn't work, change the plan but never change the goal.
2. Never stop pushing no matter what challenges you face
When I set up Ignite Dating, I had no idea what was to come in just a few short months. Ten weeks after launching, the whole country went into lockdown. For an industry that thrives on personal contact and building relationships, there was no way of knowing the true impact that this situation was going to have on not only Ignite Dating but the industry as a whole and everyone seemed to have a bleak outlook on the future.
Faced with a situation where we couldn't meet face-to-face to interview clients, and they in turn weren't able to meet up to date, I was concerned with the impact this would have on the new business. However, rather than give up at the first hurdle I took a 'push harder, work longer and build faster' approach.
When many people in the industry decided that they would concentrate solely on the clients that they had already taken on to see them through the pandemic, we took a different approach. Instead of waiting to see what happened as the pandemic unfolded, we embraced the opportunities of lockdown and the more traditional relationship approach that it necessitated. This determination to stay positive and swim against the tide allowed us to come out of lockdown stronger and in a better position than ever, something which looks set to continue.
3. Networking is the foundation to a successful business
Those first few months of launching Ignite Dating passed by in a haze of networking events and business meetings. From morning through to late evening, I would be meeting other matchmakers, potential ambassadors and clients that were interested in the unique way in which Ignite Dating works and the service that we offer. I networked relentlessly, and even to this day a huge part of my day is spent growing my network, seven days a week.
4. Don't underestimate the value of sisterhood
Working in a very female-heavy industry, sisterhood and community are vital when it comes to building a business in the dating sector. Over the years I have formed fundamental relationships and a close-knit community, and we support each other with all aspects of growing a business.
From collaboration on the services offered to swapping skillsets and supporting one another, those connections have been my driving force to achieve success, especially Genevieve Gresset our in-house coach who has been my ongoing sounding board and Peter Brodnicki who has had constant belief and passion in what we do.
Even in these modern times, only one in three UK entrepreneurs are female. This highlights the importance in increasing opportunities for women to be able to start their own businesses and it is something that I am deeply passionate about. To help combat this, we offer women a business venture that is truly their own, allowing them to fit work seamlessly around their personal life to give them time to focus on their children or give them a more balanced work and social life – something that can prove quite difficult when employed. After all, just because you're a mum doesn't mean you can't also have your own successful business!
5. Build a supportive and passionate team
Not every day in a new business is going to be a good one, that is just reality. But with a strong team around you keeping you connected, focused and healthy you can face anything, no matter what life throws at you. This is something that is very important to me and part of the key building blocks behind the Ignite Dating brand.
To drive the team and keep morale boosted, we have implemented strategies to ensure that all Ignite Dating Angels maintain a happy and healthy work life. From a compassionate workplace to flexible hours, promotion of a good work-life balance to team building activities and small gestures on birthdays or when they achieve their first sale, these strategies make the world of difference to morale and encourages both employees and franchisees alike to achieve a happy and healthy work-life balance.
Nobody could have ever predicted what was going to happen with the pandemic and the same can be said for life in general. Things happen and plans change all the time, but if you set yourself a goal, ensure that you have the tools, processes and knowledge necessary to make it a reality and surround yourself with supportive people who share your dreams and aspirations and keep you pushing through when times get tough then building a successful business is possible.