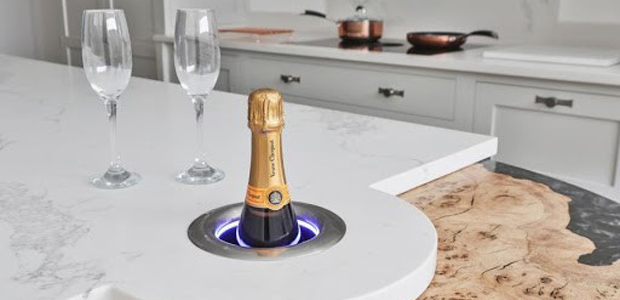 British Design Firm Kaelo Launches Fresh Funding Round
Kaelo is a design company on a mission to create a brand new global product category, providing the drinking experience of the future. Founded by serial inventor, Kevin Jabou, the company's first product is described as an open bottle host; a fully patented dry-cold chamber that can be integrated into any table or countertop, to serve a drink perfectly chilled.
Having burst onto the scene in 2017, Kaelo has already experienced rapid market acceptance with 240% growth in unit sales in 2019 prior to the pandemic and more than 125 showrooms in the UK actively selling the product. In 2020, they brought in a world class team and launched a stunning new brand as they look to expand across a number of markets.
Their first product has been a labour of love for Kevin who spent more than 7 years developing and refining countless prototypes in the garden shed, before launching it into the world. As it happens, the shed belonged to Kevin's Mum, and it was she who was also the company's first benefactor thanks to a £10,000 credit card loan. Meanwhile, Kevin worked any job he could find, from manual labour to bartending, so that he could realise his dream of taking Kaelo global. And it was one of his side hustles that led to the company's first major investor and their current Deputy Chairman, Gordon Stein, an Executive in the oil & gas industries, coming onboard. A true water cooler moment, Kevin, who was working part-time, just happened to be talking about an exciting side-project of his, and the rest was history.
With 3 patents and more being filed this year, Kaelo's cooling system is adapted from hyper-efficient medical technologies. A jacket of cold air is created that wraps around the bottle, keeping its contents perfectly chilled and its exterior totally dry. It uses the same power as a 60 watt bulb, requires no water, no ice or CFCs and is operated by simply tapping the marine grade stainless steel crown. Engineered and hand-built in the Cotswolds, Kaelo is British innovation at its finest.
Whilst showrooms shut down across the UK and further afield in 2020, the company took the opportunity to strengthen their team, attracting a number of vastly experienced executives including Sir Richard Needham, ex-Chairman of Dyson, as Kaelo Chairman, Dave Yearsley, former MD of Haier and Sales Director at Brita, as the company's new CEO, with other new team members boasting a wealth of experience from Unilever and Quooker.
To accompany their newly formed team, they are now launching a fresh funding round on Crowdcube, the UK's largest equity crowdfunding platform. With £500,000 already secured for this round from a number of existing shareholders as well as a handful of new angel investors, the Kaelo team are turning to the crowd for additional support as they turn their immediate attention to the UK's premium kitchen market and beyond. The timing could turn out to be perfect with a home renovation boom expected to take place in the coming months - in fact, almost a quarter of the population have used money that was earmarked for holidays for home kitchen renovations. With travel restrictions set to stay in place for some time, it is likely that this trend will remain for the foreseeable future.
Founder, Kevin, commented, "Kaelo is designed to bring a little bit of magic into people's lives. It's so much more than just keeping your drink chilled; it's about bringing people together. And that's what our customers love the most; the memories that are forged around the Kaelo with loved ones. I couldn't be prouder of what we've achieved to date but the truth is we've only scratched the surface. There is so much more to come and we can't wait for hundreds of new investors to join the ride with us."