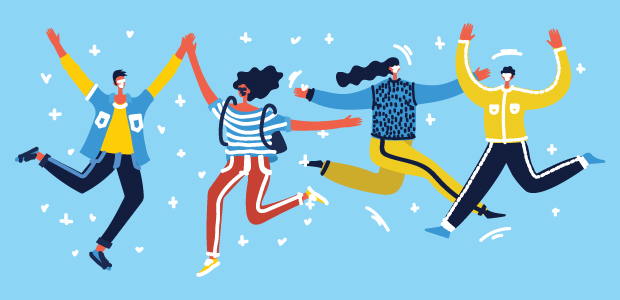 Bringing the wonderful to life
Crowdcube was inspired by an unshakable belief in entrepreneurs challenging the status quo with big ideas and new thinking, the ones with a vision and who dream big, push at the edges and want to make a difference, big and small.
We started working on Crowdcube in 2009 in the aftermath of the financial crisis. A time when entrepreneurship, somewhat counter-intuitively, blossomed with new ideas to solve age-old problems. But that ambition was constrained by the chances of getting funding, which was bleaker than ever. Enabling these ambitious businesses, who were on a mission and harnessing the belief they were getting from their friends, family, fans and followers, was a no-brainer. We knew people would jump at the chance to back businesses they believe in.
In our early years, Crowdcube was a rebel. We had a radical new idea that challenged conventional wisdom with a fresh perspective; we had a purpose to disrupt the status quo that defined us and ended up inspiring people around the world.
Going mainstream
Our ambition, combined with a healthy dose of determination, maybe bloody-mindedness at times, turned a fledgeling industry into something with promise. As milestones fell, raises got bigger, more established businesses funded with us, and bespoke crowdfunding regulation was introduced, our nascent industry became more established.
Fast-forward to today and one in four entrepreneurs in the UK in 2018 raised equity finance through the industry we started, and each year hundreds of businesses raise hundreds of millions of pounds from their community and ours. Don't get me wrong, there is a tremendous amount of work still to be done growing the market, but it felt like our 'disruptor' persona made less sense as our alternative finance became more mainstream.
The Belief Economy
In recent years the reasons Europe's savvy entrepreneurs use Crowdcube have evolved.
I'm lucky enough at Crowdcube to be witnessing, and to some extent fuelling, a shift in the relationship between companies and their customers, or more precisely their communities.
Today, people are searching for businesses that they can believe in, those that have a purpose beyond the next customer or sale. Companies who have values and beliefs that reflect their own, maybe even inspire new values and beliefs. They don't just want to buy from a business; they want to buy into it.
It's the businesses building relationships and trying to make a real difference that are seeing the most success today. This is what we call The Belief Economy, and it's thriving. And Crowdcube is a catalyst behind this shift; not only do we help fuel the very businesses grounded by a deep sense of Why, but we also provide a way for these ambitious businesses to supercharge that belief they are creating with their community, whilst giving people a way to back the brands they believe in.
Crowdcube 2.0
The times of business just raising finance and maybe creating some buzz are over; crowdfunding 1.0 is dead. Today's savvy entrepreneurs want Crowdcube 2.0; they want funding that fuels their long-term growth, engages their community and is backed by belief in their business. Crowdcube is funding that stands for something. It's meaningful to people who believe in the business. They love it, and their behaviour changes as a result; they're more likely to spend more, engage more, tell their friends about you and are more loyal. It's not the primary reason companies raise with Crowdcube, but the commercial benefits are an increasingly meaningful cherry on top.
The world has changed, and our brand needed to change with it. So we asked our community, starting with the Cubers (the people working at Crowdcube who make the magic happen), our entrepreneurs and our investors why Crowdcube exists and what meaningful difference we create. There was a remarkable consensus, and it focused on celebrating the businesses we help fund and the impact they have on the world, big or small. It elegantly anchored in the origin of Crowdcube, it's why we started the company in the first place.
We're still a disruptor at heart and never want to stop innovating, thinking differently and moving forward. But our new brand helps move the conversation forward and better reflects the world we live in today. I like to describe the rebrand as Crowdcube stepping forward and confidently telling our story better; why we love what we do, and the difference we make; and that for me is authentic and genuine. Let me introduce you to Crowdcube 2.0; we're funding the wonderful. I hope you love it as much as I do.
Funding the Wonderful
Funding the Wonderful is about fuelling the next generation of businesses who want to leave their mark on the world. It's our origin, motivation and future. It's about a new breed of business looking to challenge the status quo with new thinking and big ideas. These challengers have an inspiring vision for a better future. They have an ambition to leave their mark on the world, whatever it may be, and a desire to bring their customers on that journey.
We love the people who lead these businesses; they're heroes in our eyes. Their courage, ambition, passion, determination and creativity inspires us. They make our world more colourful; they make the impossible, possible.
They also inspire a new type of consumer. Those who give a damn and believe in businesses that take a stand and are determined to make a difference. These consumers want to do more; they want to fuel the businesses they love.
We want to create a world jam packed with exciting businesses and their followers doing wonderful things. We're funding the wonderful. Are you with us?