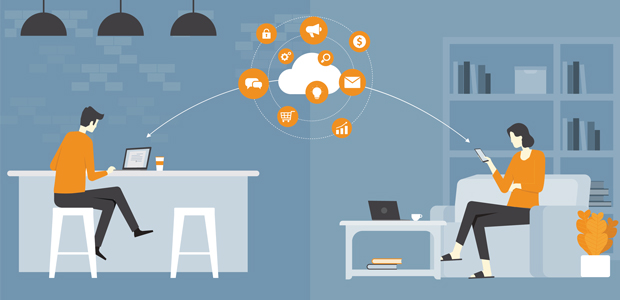 Bringing better communication to remote working
Picture life a while back, before COVID-19 hit – I know a little difficult isn't it? Well for most companies and office workers, life before COVID meant most people using their office calendar, where meetings were created and stored. 
You would check your calendars daily, go to your scheduled meetings through here, but being in the office meant people would also collaborate with people around them. Most offices are organised with people sat with others who they work closely with, in similar parts of the office – for example, the design team will all be together and then marketing will be together, perhaps near the design team.
Most teams would interact throughout the day, and you would perhaps have meetings with other team member weekly, if not daily. Pre-COVID being in an office you went through your day working at your desk, chatting to your team, going to your meetings, and if you had questions or queries you would go over to other colleagues and chat.
Being in person meant you could see your colleagues and notice if they were busy, visually you can tell a lot of signals just from seeing a person you can you look at them and notice for example, if they have their headphones on, or see if they look like they are in a state where you can interrupt, or you can pick up if they are working on something hard and really concentrating.
Of course COVID pushed us into a digital world, but we were moving in that direction anyway and so we need a platform that can help bring back that connection whilst everyone is working remotely. Loop Team has created the perfect solution for working remotely, together in a virtual office.
Loop Team allows remote teams to communicate, collaborate and feel a lot more together. The startup who recently attended Running Remote, the world's largest remote work conference which this year took place online back in May, wanted to make remote working a mire connected place.
Speaking to Raj Singh, Co-Founder and CEO of Loop Team, he explained: "As we move digital there's a lot of research supporting this need for more connection. People are trying to substitute that behaviour activity with more scheduled meetings, and that is having consequences."
Things like zoom fatigue, data is showing even a reduction in innovation, a lack of increase in loneliness, a lack of serendipity, a lack of background conversations and discovery, and a lot less casual communication Raj explained are all impacts from having to work remotely, not having that interaction and being able to pick up on signals around the office.
At Loop Team the goal is to try and recreate that hyper collaborative feel, but in a digital way. Raj explained: "The way we do that is presenting a virtual office experience."
But Loop Team solves really solves two things; one is determining the intent – in real life you can see somebody, you know if it's an opportune time to interrupt, but digitally you don't. So Loop Team presents a number of signals, for example it detects if it thinks the person is focused automatically, and other forms of status like if it thinks people are in a meeting or on a call. Raj said: "If we think they're in a state that they want to have casual communication we would also show that. We have a little piece of AI that tries to look at this and try to determine the intent. Once you have the intent, you simply click on the person and you instantly connect."
The platform works in a very quick fashion, Raj described like a walkie-talkie discord like fashion, and that's what makes it feel like you're working side by side. Raj said: "You are literally dropping on someone and then you are connected, a bit like discord, but you can click and you are then immediately in the channel."
Loop Team allows you to instantly connect with people and then shows a floating window on the desktop, from there you can screen share or do whatever you need to collaborate. Raj said what is interesting is the average communication and routine is less than 20 minutes. "These are faster hyper collaborative sort of interactions, and most of the communications are one or two or three people, and most involve screen share, and so it's in very many ways replicating some of the interactions that you have when you're physically together, but in a digital form."
Loop Team has something that other remote working platforms doesn't have and that's the instant audio and visual communication, platforms like slack are just text, and the quick nature makes you feel like your interacting as you would do in person, compared to zoom where you have to plan calendar meetings.
Raj added: "This part of the quadrant is really on green space from that perspective of an XY graph – you have the planned and unplanned communications, and then you have synchronous and asynchronous. Unplanned synchronous communications are really green space from a digital perspective, and that is what we are achieving."
Loop Team was in fact founded back in 2018, a long time before COVID, but naturally it has really taken off in the last year. Raj said: "Really with COVID instant audio and video chats have been the huge focus as every has adapted to working remotely."
As with any startups Loop Team has faced its fair share of challenges. Raj said: "The nature of startups is you are always building for the future. What COVID did for us was a double edge sword; it accelerated us forward massively in just a year, but people now have lots of opinions on the future of work. So feedback for us has been challenging."
COVID was a difficult time for everyone, and in some ways still is, but for Loop Team there was a silver lining as its entire philosophy – remote and distributed working has had a major uptake across both business and industries and Raj said that has been incredible to see. He said: "As COVID struck, obviously as a team we were concerned, the whole world was shutting down, we didn't know what was going to happen. But things did turn around, so we focused on growth and launched the product."
Having grown the team over the past year or so, Loop Team now stands at 10 employees between the US and Canada. Raj explained that they haven't hired internationally yet, but watch this space as expansion is on the horizon.
Raj Singh was one of the speakers at the Running Remote conference, as mentioned the world's largest conference for remote work leaders. Running Remote has kicked off a series of Ask Me Anything sessions with remote work experts and you're invited. If you want to learn more about building remote culture in your organization and even jump into a conversation with some of the most successful remote-first founders and CEOs, register on their website for their next event. The next Running Remote conference will take place in Austin in April 2022