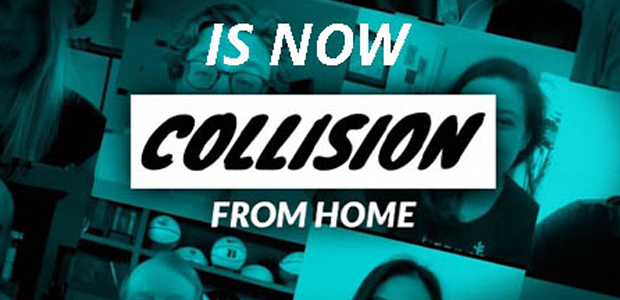 Bridging the gap between virtual and in-person trade shows
A little over a one year ago, CES just made it under the wire. One of the last of the major trade shows to 'go live' prior to the onset of the Coronavirus Pandemic, the mammoth showcase for emergent technology attracted its normal lineup of 1,200 startups, 4,400 total exhibitors and 170,000 attendees while delivering more than a hundred panels, seminars and presentations. 
Two short months later, the dominos began to fall. Mobile World Congress in Barcelona was the first major event to cancel in its entirety, just two weeks prior to its scheduled launch. South-By-Southwest in Austin, The Electronic Entertainment Expo in Los Angeles, the Inspired Home Show in Chicago and San Diego Comic-Con and quickly followed suit.  
Scheduled for June 22nd to 25th, the 2020 Collision Conference was forced to pull the plug on what would have been their second go-'round in Toronto.  The trend continued from there.
Given the conditions at the time, the initial reaction - and rightfully so - was to cancel such events in their entirely.  After all back in March, April and May, it was largely considered virtual suicide to even step outside our front doors. But ultimately, life settled into a rhythm and we realised that there was a solution.
And thus was born the virtual trade show.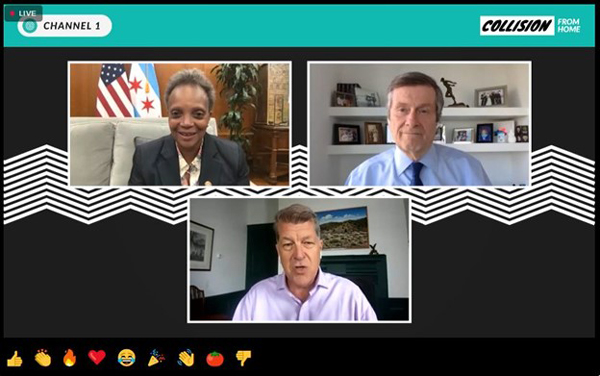 Throughout the second half of last year and well into 2021, trade shows found ways to adjust and survive. Show organisers turned primarily to existing platforms while adapting their programming to deliver content and interactive opportunities to exhibitors, sponsors, journalists and show attendees. In a world gone topsy-turvy, trade shows in over the past nine months were suddenly more about maintaining organisers' relationships with their stakeholders, partners and constituents and continuing to deliver the benefits for which their events have become known than they were about maximising profits. 
For many such shows, the platforms they engaged were the wild-card.  Most partnered with existing service providers to deliver their content.  Some, such as Microsoft for CES, fine-tuned their existing products to fit the explicit needs of that particular event while others, such as SXSW using Swapcard and San Diego Comic-Con running largely on Zoom, plugged their adapted content into the framework of their providers' existing  platforms. 
One company, however, was already far ahead of the curve.
A Dublin, Ireland-based producer of technology trade shows with a major specialisation on the startup industry, Web Summit – producers of Collision along with two other global shows – was already in the process of creating their own, highly-specialised virtual trade show platform.
Was it clairvoyance, or simply good luck?  According to Mirella Van Balen, Global Partnerships Manager for Web Summit, it might have been a little of both.
"We were in a really unique position when the pandemic hit in the sense that we've actually been building our own software, for years, so it wasn't hard for us to make that pivot online," she said.  "We have a team of more than 50 engineers, who have been working on this project now for several years, building out the software to make our events a lot more productive for our attendees, helping people connect in a meaningful way; so when the pandemic hit, it was a fairly easy decision for us to move everything online.
"It was really very much by chance that we now had this existing software in place when the pandemic struck."
How well did it work?
For some exhibitors, it was terrific. 
Christian Araena, COO of Chilean startup Ancestral Tech, Stephane Ifrah of US-based Clean Air Zone and Cherry Murillon, Founder and CEO at Filipino company Cawil.AI Solutions, all termed the Collision Conference a major success.
"Technically, Collision was awesome," said Araena, whose company designs smart irrigation systems designed to create a greenhouse environment in the desert. "The overall organisation of Collision and the live broadcasts were a 10 out of 10.  Collision eliminated all our fears and doubts about whether or not an event of this nature can operate online. Collision clearly proved that it can, and we took full advantage. The show allowed us to connect with venture capitalists, because in Chile, we do not have a strong VC ecosystem.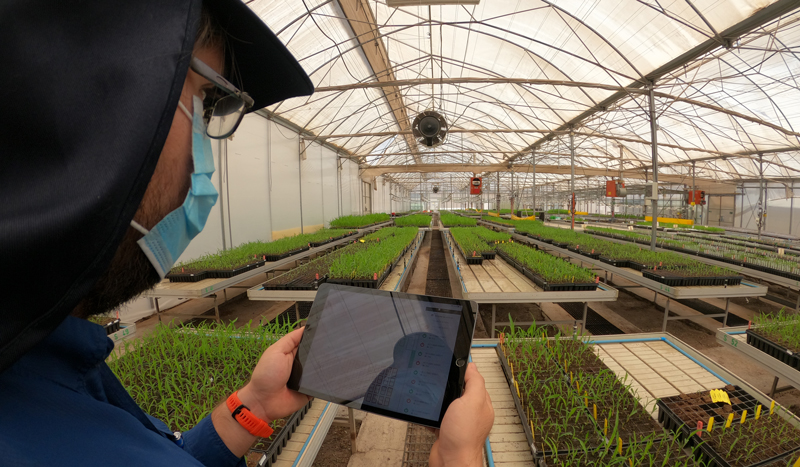 "The master classes were also of great benefit, allowing us to listen to the experience of startups that are further along than we are. With this information, we were able to prepare for future challenges as we continue to grow our company."
For Ifrah, whose New York-based company created a water-based air purification system designed to detect and eliminate pathogens – including COVID – from indoor environments, Collision offered a viable opportunity to connect with both prospective funders and potential industry partners.  "Once you got accustomed to the system, it wasn't too difficult to identify and connect with people of interest to our company.  That said, it did take a little while to get used to the platform."
Murillon, whose Filipino-based company provides AI solutions to create machine-learning based decision-making models for business, IoT and the environment, enjoyed similar benefits.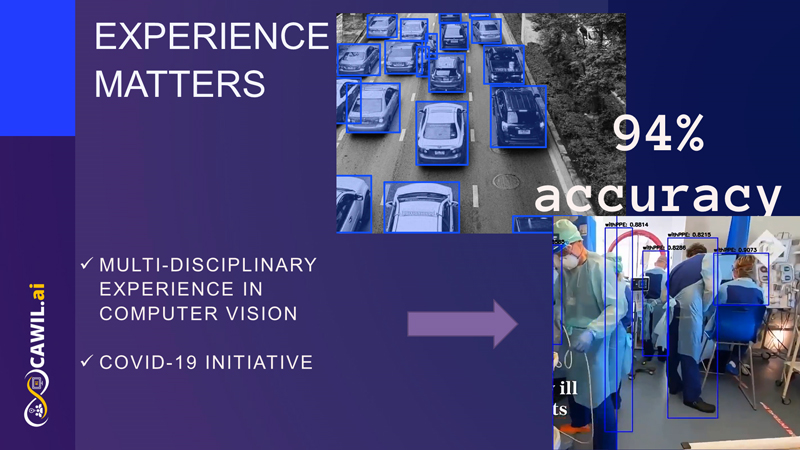 "This year's virtual Collision made it possible for my startup to participate, as part of the show's massive global network, to get made my company known on this side of the planet," she said. "The Philippines is not particularly known in the AI and machine learning industry, however, in this virtual conference we are able to showcase capabilities and at least drive awareness from other virtual participants; especially possible investors."
According to Van Balen, Cawil.AI's experience was a fully-intended by product of this year's virtual event.  "We always sell out of our startup space at physical events because we are limited by exhibit hall footage, but we have a little more flexibility online and as a result were able to offer a virtual platform for about 2,500 companies," Van Balen said. "In many ways it's a lot more cost effective for startups to join us online because obviously the biggest costs are travel and accommodations.  When you take that out of the equation, that means our startup network is now more global than we have ever been, with companies joining us from New Zealand, South Africa and Azerbaijan."
You can now add to that list both Chile and the Philippines.
But without question, some companies experienced frustration. 
"Connecting with the media was definitely a challenge," said Hong Kong-based Virtual Control's CEO Thomas Gerstner. Featuring what can clearly be called a B2B niche product – a Data-As-A-Service (DaaS) platform designed to revolutionise the way air-cargo is tracked, monitored and inspected – Gerstner said he found it difficult navigating the system in such a way as to gain the attention of the journalists with a potential interest in his product.
Networking was also a challenge for US-based Curtis Linton CEO of Curious Table, which delivers a multimedia culinary dining experience to their subscribers, enabling their guests to travel the world from home through a memorable "dining-in" experience.  "While Collision's virtual presentation was outstanding, the networking proved to be 'virtually' impossible," Linton said.  "Having sent messages to multiple people with whom I would have liked to connect, produced no response. What was also frustrating was that because all communication is managed through the Collision app, once the event ended, I did not have access to personal contact info to follow up on. At the very least, an in-person event allows me to connect and make those connections much easier."
OK, so a fully-virtual trade show isn't 100 perfect, but if anything, the trials and tribulations of 2020 and 2021 have revealed to us both the need for, and potentially benefits of, combining live trade shows with a virtual presence, delivering, in essence, the best of both worlds.  And with Web Summit's hybrid technology already placing them comfortably in the lead, the 2021 Collision Conference has given us a significant peek into what certainly appears to be a viable future for the trade show industry.