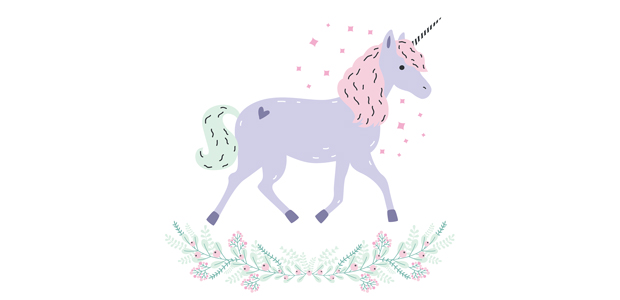 Branding advice for future unicorns
The founders, marketers, brand managers, whoevers, who remember to think long term in times of crisis will be the ones who come out above the rest once things settle. We've been seeing this theory plastered all over our Linkedin feeds recently.  
As a branding and design agency we couldn't agree more, but as entrepreneurs we understand when survival mode kicks in, keeping the business afloat day by day is the top priority. We're not saying that marketing trumps the importance of your cash flow and day by day survival, we're just saying there needs to be a balance. Otherwise, you run the risk of getting the wrong image of your brand out there.
By keeping marketing funnels cared for and adapting your strategies to balance the short term with the long term, you will see a dramatic increase in your brand's awareness. Keep your brand building efforts up for long enough, and your brand once will not only have comfortably adapted to the 'new norm', consumers will be hungry for what you are selling.
Times like these also give startups a huge opportunity to review and optimise their branding and marketing. If you have a bit of extra time on your hands, update your more outdated content and processes. If you're busier than ever, remember that now is the perfect, and we mean ​perfect ​, time to test, learn and test again. This is our chance to learn from a completely new and unknown crisis event and observe how the economy, consumer behavior, and our own sanity is affected.  
So, let's go back to basics to make sure we've got all our bases covered.  
White Bear's brief lessons on branding
Brand story
Your voice and your mission matters. By defining your brand story from early on, you are setting the foundation for what your brand is going to become in the long run. As you grow, your story is written by your audience just as much as it is by you. So, get in there early.
Also, people have always connected with stories. By giving them a story to connect to rather than just another product sold by another company, your audience will want to be a part of that story.  
'Our brains are wired to understand and retain stories'. Jennifer Aaker, Marketing Professor, Stanford Graduate School of Business First, you need to determine your purpose, mission, and vision. These form the foundation for a differentiated brand story, and a compelling proposition where founders and entrepreneurs are able to sell their idea, their business, and their USP in one succinct phrase. Some great propositions worth highlighting are, Hinge's: 'The Dating App designed to be deleted' and Square's: 'Start Selling Today'. Make sure you can tell your story and proposition in a paragraph max. No one will read or listen to anything longer. 
Purpose, mission, vision 
Your purpose is your 'Why'. Why is your brand doing what it's doing? Your vision is your 'What'. Where do you see your brand going in the future? Your mission is your 'How'. How will you get there?  
Brand values  
Many brands make default to generic brand values. Brand values are seen as a tickbox to get out of the way rather than a valuable asset. But now more than ever, customers want to make sure their values are aligned with the brands they choose.  
Choose unique values to help you stand out and connect with your audience.  
Values such as honesty and Integrity are all very well and clearly important, but they are satisfiers, not differentiators. What makes you different?  
Tone of voice  
Once your brand values are outlined, you'll need to figure out a way to communicate them. Set up Tone of Voice guidelines and stick to them across all areas of communication, inside and out;  consistency is key! 
Where does your tone of voice sit on various continuums from Formal to Casual, Respectful to Irreverent, Matter of Fact to Enthusiastic, amongst others?​ ​Use the four pillars of language to help you here.
Ownability, memorability, scalability  
Although we're learning that brands are a whole lot more than just a logo, the visual aspects of a brand still play a huge role. With key visual assets, your brand can be unique and stick in people's minds. If you invest in design from early on, your return on investment will show through the investment process and beyond. Investors need to get a feel of your brand as much as customers do. Plus, invest in quality design now, and you're less likely to have to splash the cash from your second round of investment on rebranding.  
Be ownable
Great brands own something distinct in their sector. The ownability could be a colour, a typeface, or an aesthetic. Think Cadbury's purple, Lego's typeface, or the Tube logo. If you can own each of these three visual categories, you'll have an extremely ownable brand (that will be memorable and scalable too).  
Be memorable 
Stories have been sticking in people's minds since caveman times. There's a lot of noise out there now, so be memorable. If your brand story, proposition and visual identity is memorable, your company will be memorable too. Oatly, for example, are currently running quite a memorable campaign because of the way they are confronting the traditional ways of advertising by admitting to cliches. 
Be scalable 
Your brand name and identity needs to bear in mind both your current and future strategy, and be flexible enough to allow for scale, growth and diversification. 
Okay, well now what? 
 
Next Steps: 
 
Find Your Community:  Whether it be your team, your wider network, or your customers, engage with those around you and help one another. At White Bear we have a Slack community for Future Unicorn businesses to connect with one another across sectors. Sure, we're always there to help answer questions or discuss challenges, but we actually get a lot from it too. We're hungry to help and offer ideas and this Slack group gives us that brainfood.
Brainstorm to Solve Challenges: Once you've found your community, ask questions and spitball ideas with them. As a studio, we've been setting aside more time for the whole team to meet in the Zoom room and brainstorm ideas to help our clients. There's a lot of fun ways to change up the format of each brainstorm so have fun with it. The goal is to get the smallest, wackiest, and even worst ideas flowing. It just takes one killer idea to make you famous.  
Let Your Customers Drive Your Marketing:  What can you learn from them? How are they feeling? What do they need help with right now? How can you help them with that? Answer these questions and your customers will see you more as a partner rather than a salesperson. 
Identify Brand Building Opportunities: Your standout marketing campaign, your hero campaign, needs to be relevant and mindful. Original ideas are hard to come by these days, but as long as you don't overthink things, you'd be surprised what might come of it.  
Be Human: Ask questions. Be vulnerable and share where you are struggling too, people can connect with that. Now is your chance to connect with people in an intimate and caring way, so don't miss the boat.  
A couple of quick wins
Review your past content. Either reuse it, recycle it, or learn from it. And just a tip, Google loves it when you give your content a spring clean so prioritise this if you want to up your SEO game.  - Customer experience is always the most important thing and right now the entire journey is completely online. Invest some time into your website to ensure the customer journey is so good it's talked about.