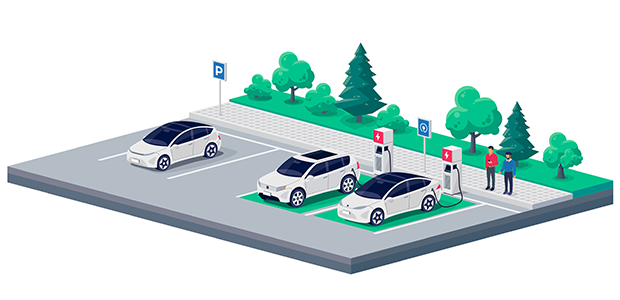 bp invests €7.5m in EV charging service provider Service4Charger
bp ventures has invested €7.5 million in the Service4Charger GmbH, a Berlin-based provider for the planning, installation, operation and maintenance of EV charging infrastructure.
bp ventures is leading Service4Charger's €10 million Series A funding round, which included participation of €2.5 million from Smart Energy Innovationsfonds, the corporate venture capital arm of Energie 360°, a Swiss energy provider who invests in sustainable companies across the energy sector in Germany, Austria and Switzerland.
Service4Charger's in-house trained and digitally equipped electrical engineers, "Mobile Heroes", focus on the installation and maintenance of charging stations for electric cars throughout Germany - for various charging scenarios, such as charging in fleet depots, at public charging stations and at home. Service4Charger has grown to a team of over 85 employees and is already represented in 25 cities - from Aachen to Berlin and from Hamburg to Munich - allowing the Service4Charger's "Mobile Heroes" to operate throughout Germany.
Lucas Althammer, CEO of Service4Charger, said: "The new capital will enable Service4Charger to expand into additional markets and add more local operational staff and Service4Charger Mobile Heroes to our team across Germany. In this way, we are doing our part to expand the charging infrastructure for e-vehicles, which is critical to the transition to a lower-carbon European economy. We welcome the funding from, and collaboration with, bp and its German brand Aral as well as Energie 360° as we work together to drive the electrification of mobility."
Lars Hennersdorf, Investment Manager, Smart Energy Innovationsfonds, Energie 360° and future member of the Service4Charger Advisory Board, expanded: "We are excited about the dedication and speed of Service4Charger and want to help them internationalise into new markets."
In May 2023, fully electric cars represented 17.3% of all new registrations in Germany. The EU is targeting 30 million EVs on the road by 2030. Highly skilled electrical engineers are needed to ensure charging infrastructure can be rolled out at required pace to match the demand and maintained to avoid charge point downtime.
Gareth Burns, Vice President of bp ventures, added: "As bp pulse rolls out EV charging it is essential that we have the right skill sets and expertise to make charging installations an efficient process and to service our growing network of EV charge points. The investment into Service4Charger brings bp a collaboration that can enable rapid and reliable installation and servicing of EV charge points in Germany."
Electric vehicle charging is one of bp's transition growth engines. Today, bp offers 22,000 EV charging points and aims to have more than 100,000 worldwide by 2030. Germany, where bp's e-mobility business operates under the Aral pulse brand, is a central pillar of bp's EV offering, with around 1,500 ultrafast charging points across the country. Aral pulse and Service4Charger intend to jointly offer Aral customers the planning and installation, operation and maintenance of charging point infrastructure. By working with Service4Charger's highly skilled employees, bp and Service4Charger are well equipped to deliver their shared vision of providing EV charging solutions for the workplace and on the go.
To date, bp ventures has invested more than $1 billion in seven regions, including 14 mobility investments.
Since 2022, Service4Charger and bp have been working together to electrify Aral pulse fleet customers in Germany and plan to further expand their collaboration. Service4Charger and bp have signed a multi-year commercial agreement to expand several thousand charging points within the next few years.