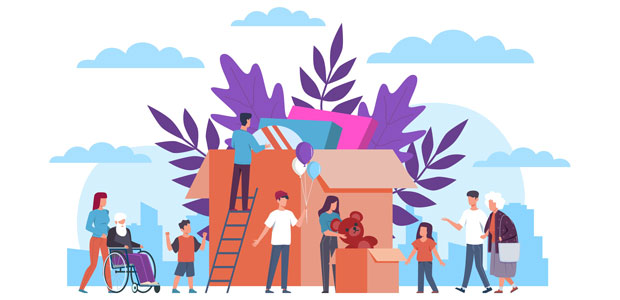 Big tech providers need to do more to support charities
The COVID-19 pandemic has done no favours to charities in terms of funding, with a study in late 2020 showing over 80% of charities will have a lower income this year, impacting those they help the most.
This marked the beginning of what would become a vicious cycle in which the very organisations responsible for funding had limited access to the technology required to keep their operations running. Simultaneously, the challenges that charities are facing have also highlighted to what extent technology can make or break an organisation's ability to succeed, both internally and in carrying out their services externally. 
We know that, particularly in an environment affected by COVID, technology is the answer to communication, organisational, marketing and operational issues: but are big providers addressing this the right way? As we have also learned throughout this past year's challenges, a willingness to understand and then act is the only way to address pain points. Until big tech providers can grasp the difficulties that come with running a small business, they cannot truly make a change. 
Simply put, small organisations and charities need new, effective, and compatible platforms that enhance their performance rather than hindering it - all without letting costs get in the way. Tech providers are the ones who have the power to make this change. 
The stats… and reading between the lines
On average, the UK charity sector generates an impressive £78bn per year: a number calculated based on 168,000 registered charities. But - and this is key to note - only the top 1,000 truly represent the large share of this income, meaning the remaining 167,000 cannot afford expensive platforms like Dropbox, that charge per user. 
The reality is that most charities, small businesses, and social enterprises cannot afford to pay for cloud storage - let alone effective and affordable storage. This leads them towards sharing paid logins or resorting to one-size-fits-all applications, which can in turn lead to hindered productivity due to file and image overwriting, and security issues on top of that. 
Tech providers need to step up and offer platforms that are designed with these exact organisations in mind, making affordability, enhanced productivity, and an intuitive user experience top priorities. The big names are simply not doing enough, and are leaving small organisations unable to compete with larger competitors. 
Where do the big players come into this?
So what role do Dropbox, Swivle, and Thirdlight play in this, and why are organisations continuing to either pay for or unsuccessfully navigate them, when they cause confusion and make dents in performance and bank accounts alike?
This is a conversation that has been a long time coming, and one that we at GoodCloud are a part of. Small providers have the benefit of firsthand experience when it comes to understanding what it means to be a small business, and acknowledging the importance of how tech can make the biggest difference when it comes to operating successfully. Charities and small businesses deserve more than expensive platforms, and platforms that pretend to offer 'special rates' for charities on services that are cut-down solutions and don't do the job properly. 
It's great that this is being talked about but it also needs to be actioned. We need transparency, affordability, and effectiveness. Tech is the answer, and it's simpler than we think. Both tech providers and their users win in equal measure if the cloud storage being provided is secure, allows for unlimited admins, has an intuitive interface that makes finding files in minutes easy, and doesn't feel like a financial strain. We as cloud storage providers are calling our industry to step up, and setting an example as we do.