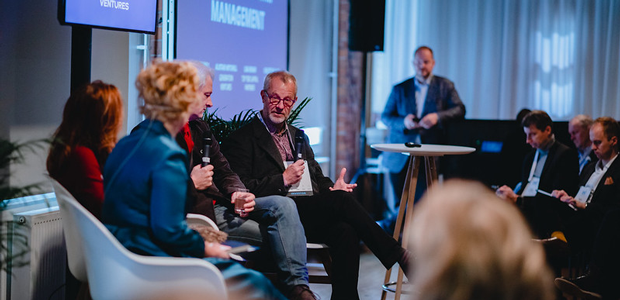 BidrentoPro emerges as champion as 15 finalists battle for funding
There was a bullish attitude amongst attendees at this year's online version of the Arctic15 startup event that investment in Northern European startups was picking up despite a second wave of COVID-19 across the region.
With one of the main themes of the event being cross-border angel investing, several new angel investment syndicates were established to boost funding opportunities for startup attendees. As many as ten startups are expected to raise funding from the 'Syndicates' initiative organised by Arctic15. 
Linda Emelianov from Helsinki Business Hub, who was responsible for the angel program of the event, said:  "We had a very international program, including Israel's best-known angel investor, Yossi Vardi, which was very well received. I am very pleased to report that the angel syndicates we created are activating investment talks with as many as ten startups. We are actively involved in the negotiation process after the event to facilitate closing as many of these investments as possible. "
Arctic15 online gathered more than 1,300 participants, including more than 500 startups and 450 investors. Speeches were heard from more than 100 international speakers including Gary Vaynerchuk, CEO of VaynerMedia and best-selling author, Trip Hawkins, Founder of Electronic Arts, and Elias Aalto, Co-founder of Wolt. The four-day event followed a hybrid format that saw the main program streamed online from a studio set up in Telia's new premises. 
"The online environment is very challenging for an event organiser but we still boldly set a target of 1,000 attendees, 300 investors and 3,000 new connections. We're delighted that we exceeded these goals with participants having more than 2,000 one-to-one meetings creating 5,500 new connections on our Deal Room Events platform. We look forward to hearing about new deals and investments in the coming weeks and months, initiated from these new connections." said Jan Ameri, CEO of Arctic15 event.
Estonian rental property management company pitching the winner of the competition
The Arctic15 Pitching Competition, carried out in cooperation with the NewCo Helsinki Accelerator, attracted a great deal of interest when more than 150 startups from the Nordic and Baltic countries applied, eyeing for early-stage investment.
The winner in the very tight final of the pitching competition was the Estonian, BidrentoPro, founded in 2019, which has created a system for managing rental properties. The second place was taken by the Latvian Jeff App and the third spot was claimed by the Finnish startup Supervisor.com. Only 15 companies were chosen for the finals and they pitched to a jury led by Tuomas Pahlman, a member of FiBAN's board, and other members who were angel investors Henry Nilert and Shamma Raghib, and Joni Lehto, who represented the City of Helsinki.
"Helsinki aims to be one of Europe's most fascinating locations for new business and the most attractive centre of expertise for companies and individuals. Helsinki is also part of the wider New Nordics area, whose key cities are important cooperation platforms for us, and it was great to see representation and success from our neighbouring areas in the pitching competition. Arctic15 Online brought a lot of light to our startup ecosystem and we are proud to continue to support such activities in the future." said Tommo Koivusalo, Head of Unit, NewCo Helsinki.
It was noteworthy that as many as nine of the 15 finalists were female-led startups, as was the winner represented by Natalja Napsep.
The Arctic15 event itself, which evolved originally from a Pitching Competition showcasing the best 15 startups from across the Nordic and Baltic regions, has grown significantly in recent years strengthening its reputation as one of the most important events in Europe for connecting investors and startups.