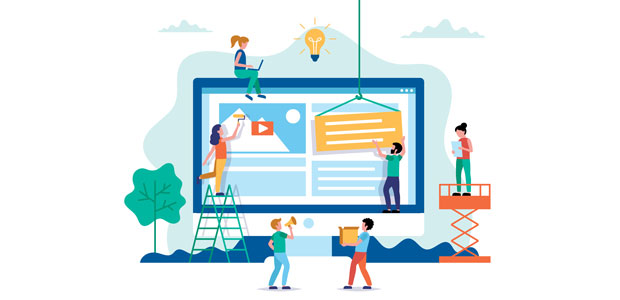 The Best Website Designs to Inspire You in 2021
Website design accounts for up to 95% of a user's first impression of your company. A good design can keep visitors on your site, which goes a long way in converting leads into purchases. For this reason, it's increasingly important to make great website designs part of your marketing strategy. Here are eight of the best website designs to inspire you in 2021.
1. Black Negative
Given that the 'Dark Mode' design is one of the web design trends in 2021, Black Negative is a great source of inspiration. This website stands out from the crowd with its excellent usage of dark background coupled with toned-down colours and intuitive call-to-action buttons. It provides visitors with a seamless visual experience.
The website also has an appealing design, smart usage of fonts, easy navigation, high quality images, excellent video quality, and a keen eye for small details. Its rich multimedia content, pleasant flow, and melodious background music across the entire site are purely amazing.
2. Virgin America
With many airline websites pervaded by significant usability issues, Virgin America stands out with its smooth usability, high-level of accessibility, and great responsive design. It's arguably one of the highly responsive airline websites in 2021.
3. Feed
On top of being an interesting concept, Feed also boasts a spectacular execution that demonstrates that there are endless possibilities on the web.
Thanks to its innovative combination of animation and video, the website offers visitors a highly engaging experience. It also features intuitive usability elements such as navigation that functions as a scroll progress bar, as well.
4. Hello Monday
Just as the name implies, Hello Monday is a company on a mission to make your Mondays better. This creative studio specialises in bringing digital ideas, experiences, recollections, and products to life. It's characterised by the creative utilisation of fonts, smooth user navigation, and a variety of unique usability elements.
5. Zillow
When buying a home, you need to perform in-depth research, save and store what inspires your interest, and access it all with ease later on. You can do all that with Zillow, thanks to its intuitive real estate website. It has a conveniently located search tab that allows you to effortlessly select and search listings.
6. Beagle
If you're planning to build a great website for your startup, Beagle will get your creative juices flowing. This site tells a compelling story of their product straightforwardly and understandably. It uses high resolution images and premium videos to drive the point home. Consumers want to gain an understanding of what your product is, how it works, and how it can help them solve their problems. Beagle provides all these details while concurrently displaying their products and persuading the user to buy.
In addition to drawing inspiration from Beagle's remarkable website design, you should also work with an experienced SEO company to raise the ranking of your startup's site on Google and other prominent search engines and increase its visibility. This can be also achieved through some basic SEO training, but if you'd like to focus on driving your business's growth, you can outsource such services to a reputable provider, and cut costs in terms of efficiency and time.
7. King
With over 200 games in its collection, including the award-winning 'Candy Crush' game, King is one of the world's top interactive entertainment companies. This graphical website is more than just about colours or visual content. It's more about the charms they have created, the interesting stories behind them, and the deep connection that users have developed towards each game.
The site offers an unparalleled user experience with its illustrations, a wide array of colours, quality audio/video, and motion pictures. It's also fun to scroll thanks to the three-dimensional presentation of each character.
8. Simply Chocolate
Simply Chocolate is designed to literally give you a craving for chocolate by simply staring at the site. It leverages a wide array of colours to show off each chocolate bar. The appearance of each chocolate bar in three dimensions coupled with conveniently placed call-to-action buttons makes a visit to this website fun and valuable.
Final Thoughts
These eight websites expand the horizons of what is thought to be doable on the web. Each site in this article is a masterwork in its space and can be an excellent source of inspiration when you're designing and redesigning your website. Once you have goals and inspirations for your website, be sure to share them with your website designer so that they can be brought to life.