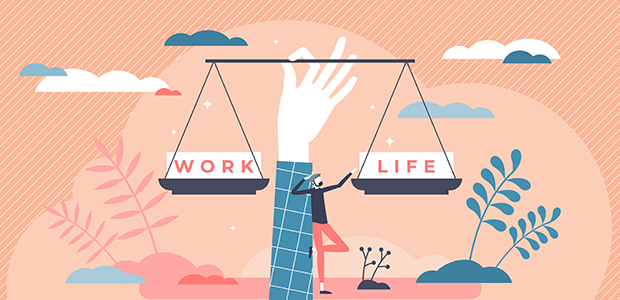 Best countries in Europe for work-life balance
To mark Happiness at Work Week on the 25th of September, a new study by UK-based Virtual Business Assistant firm, and champion of positive workplace policies, SpareMyTime, reveals which European countries prioritise employee wellbeing. They have found that Norway is the best country in Europe for work-life balance, with low-income inequality and workers less likely to work long hours than their European counterparts.
Scoring the highest overall score of 9 out of 10 in the Work-Life Balance Index, Norway offers citizens the most generous parental leave policies (46 weeks paid leave), shorter working hours (37.5 hours per week), and a generous annual leave entitlement (25 days). Ranking in second and third place, Sweden and Finland also score high, with overall scores of 8.9 and 8.7, respectively.
The study, looking at a number of factors, including statutory working hours, annual leave entitlement, parental leave policies, overtime regulations, minimum wage, and income equality, finds the Nordic countries of Norway, Sweden, and Finland have the best work-life balance in Europe. These countries have relatively short working hours, generous parental leave policies, and high minimum wages.
The UK ranks 13th in Europe for work-life balance
According to the study, the UK ranks 13th out of 43 European countries for work-life balance with the country scoring highly on annual leave entitlement, but low on income equality and minimum wages. Examining working hours, the study finds UK employees have the highest statutory working hours of 48 hours per week -  a 20% increase from the European average.
When analysing minimum wages, the study finds the UK also has a relatively low minimum wage. The current minimum wage in the UK is £8.91 per hour, which is below the living wage of £10.42 per hour. The Living Wage Foundation, which calculates the living wage, estimates that 5.5 million workers in the UK are paid less than the living wage, meaning more people may be struggling to make ends meet or at risk of poverty. That being said, there are many British companies choosing to support their employees during this time of uncertainty by ensuring they are an excellent place to work.
Melissa Gauge, Founder of SpareMyTime says: "The UK government has set a target of ensuring that all workers are paid the living wage by 2024. We want to achieve this sooner and therefore strive to provide better working policies for our employees based here in the UK and pride ourselves in investing in British talent. We are passionate about inspiring happiness at work and believe that happy employees are more productive, flexible, resilient, and creative, and work better with their colleagues and clients.
Companies on a Mission to Tackle Burnout as figures are on the rise
SpareMyTime finds that UK searches for 'burnout' have increased by 27% in the last 12 months, and according to recent research conducted by Westfield Health, close to half (46%) of British workers say they are close to burnout. Melissa comments: "There is no excuse to allow your employees to work long and unreasonable hours. Employees will always be more motivated when they can balance work with their personal lives. We have designed a flexible working model specifically to create a better work-life balance for our employees and we prioritise setting realistic workloads to avoid our employees burning out."
The 10 best places in Europe for work-life balance, revealed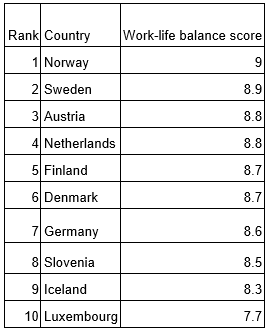 Norway offers workers the highest minimum wage at £3,846 per month.
When it comes to minimum wages, Norway offers the highest minimum wages of all other countries included in the study. The minimum wage in Norway is 44,123 Norwegian krone per month, which is equivalent to £3,846.25 per month. Norway also has a strong social safety net, which includes paid parental leave, affordable childcare, and a national health service.
The study finds a clear correlation between work-life balance and income equality, with the countries scoring best for work-life balance also having the lowest income inequality. Examining the 'Gini coefficient' scale, the data finds that the UK has a relatively high level of income inequality, at 33.1, compared to 27.8 in Norway, 28 in Sweden and 28.5 in Finland.
The Gini coefficient measures income inequality. A Gini coefficient of less than 30 is considered low. This means there's less difference in income between rich and poor people in these countries, contributing to a better work-life balance, as people are less likely to be stressed about money.
The Netherlands and Austria score highly on generous parental leave policies, however, these countries have slightly longer working hours than the Nordic countries.