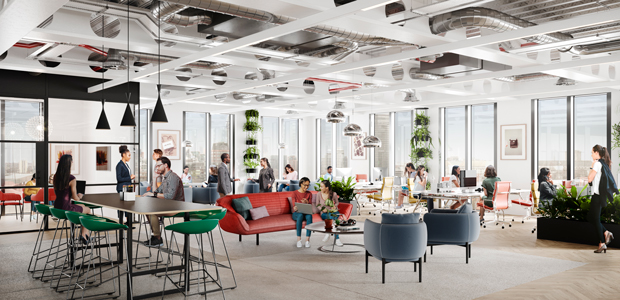 The Benefits of Sector-Specialist Coworking
By now, many of us are aware of the benefits that coworking can bring; from collaborations to new inspirational ideas and the opportunity to work alongside others experiencing similar challenges. That's why world-wide well over three million people opt for coworking spaces. And despite events of the past 12 months closing many coworking hubs, leading some to see a 50% decline in footfall, that figure is still set to double in 2022.
But if coworking is to continue to thrive, it has to evolve - even more so in a post-covid world, where businesses will want more from their spaces. As the number of people  starting to return to workspaces outside of the home, a standard office will no longer cut-it. Instead, people will rightly demand that they get more in return for their money than simply four walls and a desk. So what does the future of coworking look like? Well, we're already starting to witness it. Sector-specialist coworking spaces are on the rise and their benefits are already being keenly felt by members of such communities.  
Marilyn Comrie,CEO of the Blair Project, stressed the significant impact that being based in Manchester's dedicated Tech Incubator at Circle Square has had on their digital tech startup business stating, "being part of a community like Circle Square is essential. We used to be based in Wigan but moving here really transformed our business. It means you're with a community of other entrepreneurs that you can learn from and they can learn from you. As a result of being at Circle Square we heard about other businesses and institutes and it was easy to connect with them, have meetings and now we have multiple partnership agreements in place which will help develop our business. 
"None of that would have happened if we were still based where we were previously. Being in a space, that's a hub of ideas and people honestly does make the difference. To any company, entrepreneur, innovator thinking about where to base themselves I would just say these are the spaces to be in. If you're not there, you will be missing out."
At Bruntwood SciTech, we anticipate the demand for coworking space particularly that offered by sector-specialist incubators and accelerators to come back quickly. Businesses who choose these types of coworking spaces, like the Tech Incubator at Circle Square or the Tech Hub at Platform in Leeds, are small, pioneering digital and tech businesses who are just starting out but are in many cases already disrupting their sector. Being in a community of like-minded businesses where they can connect, collaborate and innovate is crucial and the lack of such opportunities, particularly those to spark new ideas and innovations, have been openly vocalised by those in the science and tech sector as the key reasons why they want to return to their workplace as soon as possible.
We will, though, see changes in how coworking spaces are used, with many people opting for a mix of home and office working. When companies do work in their space they will want to do more than just use a desk.  Meeting and collaborating with other businesses, team brainstorming activities, and accessing events and networking opportunities will be seen as some of the key benefits of being in a coworking space. Likewise, increased focus will also be placed on the added value that access to business support can bring, something that the Tech Incubator at Circle Square and the Tech Hub at Platform already offer. Being able to access finance, talent and new markets will become even more important for businesses, particularly those looking to scale and grow at pace. 
We're also likely to see the return of events as many businesses have realised the true value of the interactions and connections that can only come from networking in person.  Coworking spaces will need to continue to evolve to place more emphasis on inspiring creative thinking. This started to happen in some spaces pre-covid but what we're likely to see now, is more investment in the design of coworking hubs to include thinking space, workshop spaces and demonstration spaces in order to help facilitate creativity, ideas and knowledge to inspire new thinking and unlock new collaboration opportunities.
We expect that many coworking spaces like those at Circle Square, will also become localised hubs for larger businesses and global companies, offering flexible spaces where companies can temporarily grow their team, trial new products and services and market test new cities in close proximity to start ups.
For startups and scale-ups business growth is typically the main aim. One of the best ways to achieve this in an uncertain economic climate is by working in a space with similar businesses to bounce ideas off and receive tailored sector-specific business support.
In a pre-pandemic report by Accenture, only 11% of employees stated that they were fully satisfied with their workspaces. Given the pressures and extra demands that COVID-19 has placed on the workplace, action is needed to address this. Sector-specific coworking then appears to be the natural answer to some of the dissatisfactions reported as it provides the connections, relevant support and physical space necessary to facilitate innovation. 
In a recent article in Forbes, Yanie Durocher, founder of POMPOM, comments: "If there's one thing that the pandemic taught us, it's that we all need to be part of a community where one of the main human needs is connection and belonging. Coworking spaces are incredibly valuable for community building, as they can host networking events and workshops, and provide an area for people to meet and brainstorm."
This need for connection and belonging is one that sector-specialist coworking hubs, filled with like-minded entrepreneurs seeking to collaborate and innovate with one another, are well able to satisfy. Perhaps then, previous ways of working will become a thing of the past, and early-adopters of this new, innovative style of working hold the keys to the future.