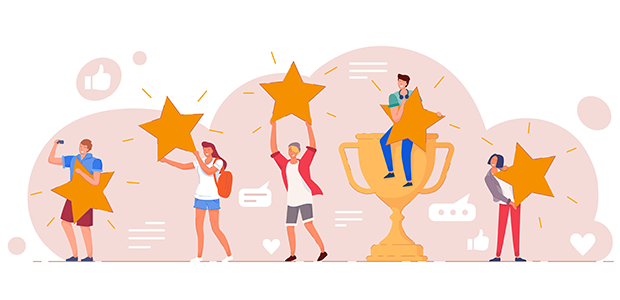 The benefits of online reputation management
Online reputation management (ORM) focuses on helping businesses create a positive public impression. To achieve this, a company needs to counteract all the negative material there is online about them. 
We live in a digital age where audiences are active. Consumers will express their thoughts and opinions about a brand and share their content with their online community. User-generated content can either be extremely beneficial or significantly damaging, depending on what is said about a company.
If you think about it, internet users like you and me will only view the first page (or rarely a few pages) of a SERP. Why? Because search engines will rank results based on how relevant and trustworthy they are. So, if a potential customer has searched for your brand and found negative material on the first page, they will view you in a less favourable light. On the other hand, if all the best results contain rich positive content, then you'll make a great first impression.
Depending on what type of user-generated content there is out there about you, it will determine whether consumers will make business with you or not.
Benefits of online reputation management
Creates trust
People trust a company with a positive reputation. However, we're not just talking about how good your SEO is, but also what others are saying about you. Potential customers need social proof before making a purchasing decision.
Indeed, 88% of consumers trust reviews as much as personal recommendations and showcasing this feedback can increase conversion rates by 270%. This is because customers will trust online reviews as much as their friends and family, and so will base their buying decisions depending on what others have said. Thus, having positive social proof will help you become more credible and trustworthy. 
Increases revenue
Did you know that around 95% of consumers will read reviews before making a purchase? That's right, almost every shopper in the world will want to see past customer feedback before buying a product or service. So, it makes sense that many people would be reluctant to shop with you if you hid or deleted customer reviews.
As we've previously discussed, user-generated content in the form of reviews can help build customer trust as almost 90% of consumers view reviews as an online version of word-of-mouth recommendations. This means that the more positive reviews you have, the more likely consumers will shop with you, generating more sales.
In fact, the more feedback you have and the higher your star rating is, the more business you'll get.
Improves visibility
If the content in the results is positive, it will get more click-throughs and lower bounce rates. One way to achieve this is by 'owning' or controlling the results that appear on a SERP. These may include your website, social media profiles, review platforms and PR content.
If you think about it, the more results you have control over, the less likely users will find any negative content about you. Through managing this aspect, you will create a solid first impression and maintain a positive online reputation.
Helps business growth
Online reviews help you generate more sales and become more credible as a business, but not only; they can also help you grow. This type of feedback gives you valuable insight into what your customers really think about you. If the review is positive, then great, you know you have done a good job. However, if the review is negative, it may affect your reputation, but only if you don't act upon it.
Google says that businesses that respond to reviews are 1.7x more trustworthy than companies that don't. Also, according to Small Business Trends, around 30% of consumers will change their negative reviews once their problem has been answered or solved. 
So, business responses are extremely valuable to your success.
The majority of consumers will read a business's response to check how they react to positive and negative reviews. Therefore, if you get bad feedback, that doesn't mean your reputation is destroyed. On the other hand, you can always salvage it by replying to your customers and offering great customer service.
How to get more reviews for your business
It's easy. Just ask your customers.
You can invite your customers to leave a review, via email, once they have purchased from you. You can also decide after how long you want the invitation to be sent, depending on the type of product or service you sell. This feedback request will encourage more people to write positive reviews about you.
Alternatively, you can use review marketing tools to capture instant feedback from your customer in real-time. With this type of unique feature, companies can turn their tablet or smartphone into a point-of-sale review capturing device, collecting real-time feedback from their beloved customers. Each business has a unique Capture link that can be sent through email, Whatsapp, FB messenger, text message or even placed behind a QR code - making this the fastest way to get reviews!
However, if you don't have time to manually send invitations and reply to reviews, you can always automate the process. Many Automated Feedback Request features will help you to set up everything so that you don't have to worry about getting precious feedback. You can even automate your replies by setting up different responses for each star rating, making the whole experience for your customer truly personal.
At any time, you can log into your account and change the responses if you feel they have become repetitive. In this way, you can salvage your online reputation by making your customer's voice your most important marketing asset.
Rich snippets
Rich snippets increase click-throughs and decrease bounce rates. This is because rich snippets include more information than just the title, URL and description. This addition makes it easier for users to find what they are looking for whilst helping you achieve extra traffic and improve your Google ranking.
These additions will create a positive first impression to those who you want to attract. If they see a large number of reviews and a positive star rating, it will improve their perception of your company.
Indeed, you are offering potential customers a collection of user-generated content that will help them better understand who you are and what they can expect from you. Your transparency will win them over.
Share positive user-generated content
We have acknowledged how powerful positive reviews are for your reputation. We have also seen that the more results you control, the better you'll look in the eyes of potential customers. Then, why not use positive social proof on other results to further establish your reputation?
Using review marketing platforms will allow you to amplify your customer's voice by promoting your best reviews on the most popular social media platforms. You even have the option to insert these reviews on a topical, high-quality image that reflects your business and branding. 
In this way, positive material is not limited to one platform, but can be shared and viewed on different channels to further reinforce your positive reputation.