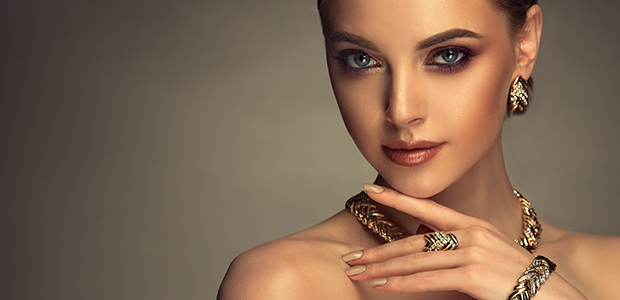 Benefits of AR stack up in the world of jewellery
Seeing is believing, as the saying goes. And nowhere is this phrase more appropriate than in the world of fashion and jewellery. Startups Magazine speaks to Dawn Jones, Founder of augmented reality (AR) platform Stack Studio, which is looking to take the post-COVID market by storm.
By now we are all used to making online purchases – whether it is streaming the latest album or doing the weekly food shop. However, for some markets that virtual experience simply does not provide the consumer with the relevant information necessary to make an informed purchased.
Jewellery is one such market, and Jones explained that, pre-pandemic and pre-lockdown, consumers understandably preferred the experience of going into stores, trying on pieces, and getting hands-on – over making a disconnected online purchase. This means that there has traditionally been an unbreakable ceiling on internet sales in the market, with 90% of purchases being made in-store.
However, the coronavirus outbreak has changed things somewhat and has led consumers to reflect on the reliability and safety of physical stores, while jewellery brands are starting to think about how to get more people buying online, as shoppers continue to a be little wary of the high street.
This has opened up a window of opportunity for Stack Studio. "Jewellery is a real love of mine - I have a lot and I buy a lot, so it's a market that I've always paid attention to," said Jones. "However, brands have not yet figured out how to bring the in-store experience online. And now, from a safety point of view, the issue is how to enable customers to try on jewellery safely. So, the market has reached a point where it needs to evolve."
The solution
To this end Stack Studio has developed a ready-made AR solution that jewellery brands can white label and integrate into their existing platforms (website or app). This technology will enable customers to 'virtually' try on pieces of jewellery without having to physically touch the product or go in-store.
Jones explained that long term she aims to develop the solution still further to enable an in-store experience akin to self-service checkouts where consumers will be able to visit the counter, 'try on' a piece of jewellery, reserve and collect it.
She added: "When we do our first initial roll-out it will mainly be jewellery for the hands and wrists but we'll then look to provide an update to feature necks so customers will be able to view earrings and necklaces."
The business model for Stack Studio will be subscription-based where the technology will be licenced to jewellery brands. "We would charge an initial onboarding fee," Jones added, "we would map all the client's jewellery and create the 3D and AR virtual imagery. From there we would then charge a monthly licence fee. We have a couple of brands who are currently testers, so we've given them the licence for free in return for some comprehensive testing of the platform. The feedback has been really good so far, and they're excited to give it to their customers to see how they use and engage with the technology.
"In light of COVID-19, everyone is doing a lot of reflecting on how they engage with retailers, and during lockdown people got more used to shopping and buying online, so even those that maybe weren't open to online shopping before have had an opportunity to become more used to it. A solution like this is needed, and the timing is right.
"Looking even further ahead, what we are doing at Stack Studio (using AR to drive a more immersive shopping experience), will likely be taken a step further by haptics. Haptic technology allows a user to touch and feel the item they can see on screen so they can determine weight, texture and quality. If this takes off it will completely transform the retail landscape."
Funding
Jones explained that Stack Studio are currently in search of funding to develop its minimum viable product (MVP) and have started working with an AR developer. She did however admit that it is something of a chicken and egg situation as investors are reluctant to part with any money prior to seeing a product.
She added: "We've been speaking mainly with angel investors. I am in two minds over crowdfunding because we are a B2B solution and so that route is not really a natural fit. So, the most important thing right now is to get the MVP ready to go to market and is the core focus for the initial round of investment. We'll then use that MVP as a prototype to show to other brands and retailers and sell the experience to them."
The solution will initially only be available in the UK, but there are plans afoot to expand after that. "We will test the water in the UK first," said Jones. "We will look at the uptake, and then keep an eye on other markets and see what they're doing. If they start to innovate and develop then we will definitely try and make sure that we are part of it."
Challenges
As hinted previously, the biggest challenge Jones has faced thus far has been trying to secure investment prior to having an MVP in place. "Everyone has been saying, 'great idea, too early for investment'. They want to see a product first before they invest, but we need the investment to make the product. So the advice has been to go down the friends and family route – unfortunately, and especially right now when times are harder, there are no friends or family in a position to help us, so we definitely need an outside source, and given the current situation we're trying not to go down a lone route."
In terms of competition, Jones highlighted that there are some companies based outside the UK that are using AR in the jewellery market, but are offering a standalone solution, whereas Stack Studio is focused more on integration. The point being that brands won't have to divert customers to a new and different app or channel – those customers will do what they have always done but will just receive a better experience.
Jones added: "As a society we will head more online than we were even before coronavirus, and I think the jewellery market will go along with that, it just needs the right tools and this is definitely a solution that can answer a lot of consumer buying questions - what does it look like, does it fit, does it match that dress etc."
The ability to literally scan your hand and see the piece of jewellery provides another level of service to the shopping experience and will help bridge the gap between online and offline sales, and the heavy reliance on the retail stores that there is at present.
Exploring other avenues
Whilst working on getting Stack Studio off the ground, Jones is also planning to launch a second venture, Foundher, a tech platform for female entrepreneurs, to find a female co-founder.
"Users would put in information about the company, who you are, what you do, and what you're looking for, and then the algorithm in the backend would match you with people that have that skill set and knowledge, and are interested in becoming a co-founder," she added.
Over the last two years Jones highlighted that there's definitely been a surge of female-led tech coming to the fore and raising the profile of women in the sector, however, there is still a long way to go. She continued: "The numbers are definitely still skewed within the sector itself and is partly why I wanted to launch Founderher - to really start to grow the number of women starting their own business and finding other women to partner with. As a female, there's definitely a power in working with another woman and going through that journey together.
"The statistics show that historically females get less investment than male founders, but their businesses go on to perform and grow better than male led businesses. However, change will truly come when people start to invest more in female led businesses and see the benefits and the ROI and that will result."