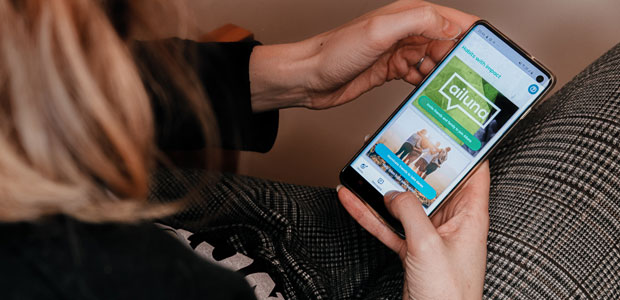 Behavioural science app launched to help people adopt climate-friendly habits
A new app that encourages people to make small but impactful changes to their lifestyle has launched in the UK, guided by behavioural science and designed to instil habits beneficial to the planet. The app, called Ailuna, allows users to be more aware of their environmental impact, and take science-backed steps to a greener lifestyle.
Founded by Lars and Helene Ronning, Ailuna has been developed alongside Dr Emmie Fulton, a behavioural science expert with over 16 years in applied academic research within behavioural psychology.
The free app encourages users to commit to a new, sustainable habit for a minimum of a week. It then uses nudge techniques and scientifically-proven prompts to turn the trial of each habit into a long-term behavioural change. 
The habits include removing plastic from your daily routines, switching lights off when you leave a room, reducing reliance on central heating, and reducing how much rubbish you generate. Upon completion, users are then suggested new habits to commit to.
Speaking on the importance of developing positive habits in an engaging, long term way, Co-founder and CEO of Ailuna, Lars Ronning, commented:  "We all know we could do more to be environmentally friendly, but sometimes it can be hard to know where to start or how to stick to these lifestyle changes. With Ailuna, we hope to inspire, motivate and support our users to make small changes to their lives, and in turn make  a huge difference to the future of the planet.
"We recognise the role technology plays in the everyday lives of society, which is why our platform has removed the barriers to habit change and made it accessible to people wherever they may be. We know that there is often an intention to maintain positive habits developed in the new year, and we hope that Ailuna will enable these new habits to continue and expand for the benefit of everyone".
Ailuna offers further ethically-led content via their website, where users are able to read articles written by sustainability and psychology powerhouses, guest writers and business leaders.
Reflecting the app's optimism for the future, the Ailuna site also provides a feed of 'positive news', an accumulation of upbeat news stories from across the globe. The app has been designed for those who are interested in building better habits.