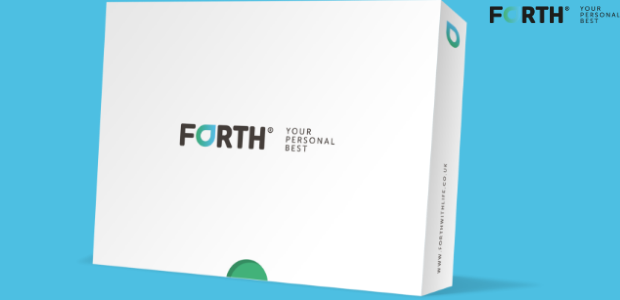 Becoming your personal best: A story of biomarkers
When it comes down to managing one's personal health, small changes can lead to significant improvements, according to Sarah Bolt, the founder and CEO of Forth, a digital healthcare service in the UK. Self-improvement starts from within, and Sarah is the ambassador of this belief; Sarah is championing the innovation of personalised biomarker profiling to help others with self-improved health. Forth's biomarker profiling starts with an at-home blood testing kit that is sent back to the lab where it is analysed for over 50 key internal biomarkers integral to good health. By reporting the results to an app, it shows users how the body is performing, allowing them to optimise their lifestyles to reach their personal best.
The passion, the journey
Twelve years ago, Sarah decided that she wanted to dedicate her energy and efforts to working in an industry that had more purpose, one that actually made a difference to people's lives, than her corporate marketing career. She gave up her role working in NPD at Dyson, enrolled in a Masters in behaviour change, and began working in the healthcare sector. She found that this sector was relevant for her personal and professional objectives. Four years ago, she established Forth, which aims to help people make small but significant improvements in their health through knowledge and understanding.
When she had to wait for a week to get her blood results from her G.P, Sarah knew that she had to create Forth, a responsive application that would provide blood results in no more than 48 hours, including expert advice on how to adjust users' biomarkers for improving overall health.
At the time Sarah started Forth, Fitbits were hugely successful and she loved the way they had taken an existing piece of tech and repurposed it to give users more in-depth results. Sarah thought that she could do the same by taking the concept of a blood test and bringing a deeper understanding into how individuals' bodies work and how their lifestyle changes could be monitored for optimising their biological benefits. And so, Forth was launched, including scientific data that results from biomarker tests, and expert advice from G.Ps, endocrinologists, and sports physicians.
Teaming-up with experts for making a difference in people's lives
The idea behind Forth was to bring together a team of experts in their respective fields, passionate about improving people's health and allowing them to become the best versions of themselves.
From teaming up with top scientists and medical professionals, to carefully selecting her own managerial team, with the same passion for optimising people's lifestyles to be their personal best, Sarah' leadership approach was focused on creating an innovative product that would give people a better understanding of their bodies.
Benefits of Forth for medical purpose
Let's delve more into the test. Biomarkers are measurable indicators that can be used to observe one's health status. In the case of a disease, it can indicate the state of that particular disease or some other physiological states that can result from it. Forth has created an easy and accurate solution to help people understand their bodies.
Forth delivers a blood test at users' homes. All users need to do is provide a finger-prick blood kit, collect the sample, place it in the envelope supplied, and return it to Forth, to be analysed in one of their accredited labs. The results come within 24-48 hours on the Forth app, along with simple explanations and expert advice on how to make improvements. Forth app comes with an easy to navigate display that lets users access their test results, informing them about their biomarker levels and recommending nutrition and lifestyle changes, whilst allowing them to monitor their evolution. 
Easy, right?
The best part is that tests are sent to users' homes, which means they don't have to visit clinics, hospitals, or labs themselves. Especially during the Coronavirus pandemic, this is an excellent benefit, which has allowed Forth to prosper in a time when many startups are struggling to survive.
Forth Edge, carefully designed for athletes
Looking at the biomarkers market, Sarah spotted a previously uncovered niche, namely athletes. Forth Edge was created to serve athletes, being the only sports-specific biomarker profiling kit in the world. Carefully designed to help athletes to improve their performances, Forth Edge is providing them with insights into how their bodies are working and how they respond to training load and recovery.
Based on scientific analysis, sport-science experts advise athletes about their nutrition and all the key biomarker data they need to optimise their body or their sport, to gain a natural advantage against the average athlete for their age and gender.
Success is in the journey
When asked about her biggest success with Forth, Sarah mentioned that starting to establish a reputation among athletes was something she was very proud of, especially since one of Forth's clients has won a silver medal in Rio. While Forth is becoming more and more popular, and not only among athletes, Sarah's mission is to continue to educate people about the importance of measuring key internal markers for their health.
Forth's contribution to healthcare, and their ability to adapt and be inventive, even during a global pandemic context has been recognised. Just recently, Sarah was named the Health & Wellbeing Entrepreneur of the Year for Wales at the Great British Entrepreneur Awards. An award truly deserved.