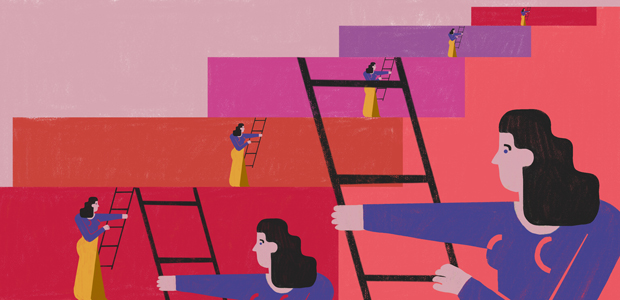 Balancing the gender scales in tech startups
We are currently riding the crest of a wave for female representation in the startup community. The past decade has seen more female-founded startups emerging, and more enjoying unprecedented success at the very highest level.
The number of female-founded unicorns has risen from just four in 2013, to twelve in 2018, to ten in the first half of 2019 alone. 
Yet while historic imbalances are undoubtedly improving, the scales remain far from equal. The tech sector as a whole struggles with its gender make-up, with females constituting less than 20% of the UK tech workforce, and only 5% of senior roles being held by women. It's perhaps not surprising, therefore, that there are fewer female tech entrepreneurs than in other sectors. With that in mind, how can we overcome these challenges and empower more women to launch tech startups? 
Investment 
Let's start with what is arguably the single biggest challenge confronting every female founder, regardless of sector: investment. There is a disproportionate level of funding channelled into male-led startups. Currently in the UK, less than 1% of venture capital investment goes to startups with all female founders. 
Why? Put simply, the people with the money are predominantly men. In a 2017 report by the British Venture Capital Association, women made up only 13% of decision makers in UK venture capital teams, and 48% had no female representation at all. This leads to a whole host of issues, not least biases (conscious or unconscious) about the female psyche and priorities. 
There is also a lot of evidence to suggest that during investment pitches, different questions are posed to men and women. A study published in Harvard Business Review showed that while male founders are asked promotion-based questions, relating to ambition and achievements, female founders are asked prevention questions, relating to risk and losses. Naturally, this line of questioning puts women on the back foot while giving men the opportunity to sell themselves. 
To add insult to injury, this imbalance in investment comes despite the fact that, on average, female founders generate a better return on investment than male counterparts. Last year, a study by Boston Consulting Group and MassChallenge found that for every dollar of investment, female-led startups generated a 78% ROI, while male founders generated only 31%. This is a huge difference and one that should matter to any investor, male or female.
So, for female led tech startups to flourish, we have to get this message out there, and alongside this address the gender disparity in investment circles. We are starting to see some positive initiatives in the US particularly, where female-to-female investment is really taking off, and hopefully we will start to see more of that in the UK too. 
Deterrents 
It's a sad fact that less women have the engineering skills to get their own start up off the ground in the first place, and lacking the technical know-how can be a big deterrent. Furthermore, studies have shown that feelings of self-doubt, or imposter syndrome, impact the actions of women more than men. A Hewlett Packard report that looked into job applications showed that men applied for jobs when they met only 60% of the criteria, whereas women would only apply if they met 100%. 
This is where startup support programmes can really play an important role. At Nova, for example, we provide all our founders with the expertise they need by building a tailored team of product, marketing and business experts around the individual. As long as our founders have identified a problem area with significant potential and display the domain knowledge and passion to solve it, they don't need to be be able to do it all alone. This probably explains why Nova's founder composition bucks the national trend. So far this year, over 50% of our new startups have been founded by women of all ages, and in total, over 30% of all our portfolio has at least one female founder. 
Tech sub-sectors 
Interestingly, there are some sub-sectors of tech that have a stronger representation of female entrepreneurs. About two thirds of Nova's female-led startups are in healthtech, and approximately another quarter are in edtech. This aligns pretty well with global trends. 9.7% of investor funding goes to healthtech startups founded by women – and while this might seem low, it is still significantly higher than the national one percent of all VC investment that goes to female entrepreneurs. It is also notable that female founders tend to have a stronger sense of social responsibility, and healthtech certainly falls into that category.  
There are a lot of really positive initiatives that encourage more women and girls to get into tech, such as government-led programmes to promote STEM subjects, and regional programmes such as InnovateHer in Liverpool, which help to get women and girls to get work in the tech sector. All of this is helping to make a difference at the coalface, and will undoubtedly help to boost the number of female-led tech startups in the long run.
We should also never underestimate the importance of inspiring role models. There are so many inspiring women who have spearheaded developments in tech and business, but sadly may not have not achieved the prominence of their male counterparts. It was only recently that I came across the amazing Margaret Hamilton, who headed up NASA's software engineering division in the 1960s and founded a number of successful startups too. It's ridiculous that I only came across her because a friend shared her picture that looks uncannily like me. Celebrating the achievements of inspiring female technologists and founders can only encourage more to follow in their footsteps, and I would encourage everyone (women and men) currently working in the sector to play their part in making sure this happens more.
Luckily, we are starting to see the results of years of efforts to rebalance the scales, and I have no doubt that we will continue to see the number of successful female-led tech startups increase in the future. If you think you might want to become the next Margaret Hamilton, Sheryl Sandberg or Steve Jobs for that matter, believe in yourself, learn every day, surround yourself with great people and there is no reason why it couldn't be you.