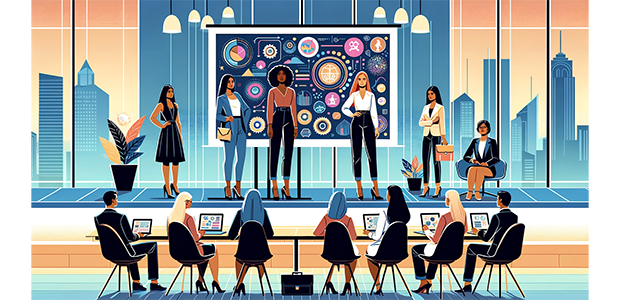 AWS Startups presents Women's Demo Week
Amazon Web Services (AWS) started its inaugural AWS Women's Demo Week, a significant global event crafted to assist women-led startups in establishing connections with investors.
The symposium is dedicated to bridging the gap between innovative founders and the investors who want to help fuel their journey.
Startups Magazine's Associate Editor, Sheryl Miles, got to attend the London leg of their journey and meet some inspiring women-led startups, listen to pitches, and interview panellists and judges.
A global stage for women in tech
Spanning 18 cities globally and championed by AWS in partnership with startup-centric organisations, the event offers female founders the chance to pitch their startups before an audience that includes potential investors, partners, customers, influential figures within the startup ecosystem.
Tackling the funding discrepancy head-on
The reality is that women entrepreneurs, especially those of colour, face a daunting funding disparity – with only 2.3% of global VC funding going to startups founded solely by women in 2020. Fast forward to 2022, and the picture was still bleak, with all-women teams securing just 2.1% of VC funding in the US, as per the latest figures from Pitchbook.
AWS Women's Demo Week is enhancing the visibility of women-led startups, creating meaningful business connections, and paving the way for a more inclusive, balanced, and inventive tech industry.
A confluence of visionaries and innovators
Picture this: some of the most forward-thinking women-led startups, handpicked by AWS and its partners, standing before an audience of peers, ready to pitch.
The pitching startups are also set to gain a trove of resources, including each being awarded $10,000 in AWS Activate credits, as well as gain access to the AWS technical community and the AWS URF (under-represented founder) startup community.
Highlights from the day
Fireside chat: Kicking off the London leg was Tricia Troth, AWS Head of UK and Ireland Startups, who hosted a fireside chat along with Alex Scott MBE – former professional footballer, pundit, and presenter. The chat highlighted the importance of diversity in hiring teams, and the correlation between startups and football.
Commenting on the funding disparity between women and minority-led startups, Tricia said: "According to a recent report by Beauhurst and AWS, over the past decade, tech companies with women founders secured £8.52 billion in equity funding, accounting for less than 10% (8.96%) of total equity investment in high-growth technology businesses in the UK.
"At AWS we want to level the playing field by enabling founders everywhere to pursue their ideas and build innovative solutions regardless of gender, race, sexual orientation, or background.
"At AWS Women's Demo Day we leveraged our network to help connect women-led startups with our investor connections and resources to help these businesses to achieve the acceleration they deserve, and show they should be taken seriously by all funders, not only those focused on supporting underrepresented groups."
Panel powerhouse: With a strong female line-up, the insightful talk from Meryem Arik of TitanML, Claire Zhang of Playfair, Lina Zakaraukaite of Stride VC, and Danielle Walsh of Clearly.Earth and the subsequent Q&A were very enlightening, with the panel highlighting the importance of being able to tell a story when looking for investment.
Commenting on investing in early-stage startups, Lina said: "It's harder [to invest] at the early stage because there's no data. So, you need to be able to tell a story."
Giving advice to those who feel they aren't natural storytellers, Meryem comments that she would aim to leave pitches learning more than when she went in – and any questions she got that she didn't think she should be getting, she went back, wrote them down and remembered to include them the next time, until at last, she had a really good story to tell and the questions she was being asked were relevant and necessary.
Speaking on TitanMLs partnership with AWS, Meryem commented: "AWS is a fantastic partner for us from a lot of angles. Firstly, they have huge deeptech experience, so they really understand our value and why people want to work with us. Secondly … they have huge penetration into the tech market – almost every single enterprise will have an AWS account and account manager.
"Unlike some other really big tech companies, [AWS] spend a lot of energy focussing on startups … by the time we're at scale stage, we already have a really strong relationship with them and they can help us get to that [next] point earlier than we might have otherwise."
The day ended with a line-up of handpicked founders pitching to a panel of judges.
Yasmin Topia, Sociate AI; Dr. Amber Hill, Research Grid; Indiana Gregg, Wedo; Yana Barden, Watchers; Abbie Morris, Compare Ethics; and Christina Diaz, Open Hydro each took centre stage to showcase their ventures, while a discerning panel of judges from the investment community evaluated their pitches.
When asked what he hopes to gain from being an AWS judge, David Fogel, Co-Founder of Alma Angels, commented: "One of the things with Alma is – give first. I don't hope to get anything. It's about how we can bring knowledge and experience to share with female founders."
As the week-long event draws to a close, the AWS Women's Demo Week is poised to catalyse a shift towards greater diversity and innovation.
It's not just about giving female founders a leg up – it's about transforming the startup landscape to be as varied and as dynamic as the world it serves.