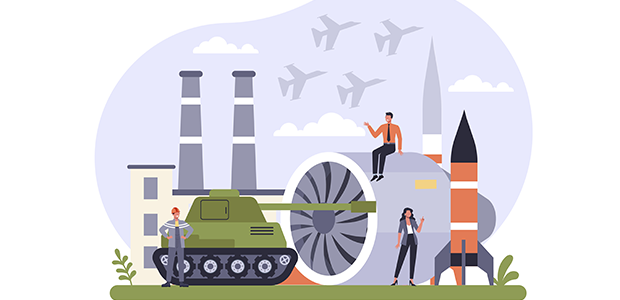 AWS European Defence Accelerator selected startups
AWS has announced the 13 startups selected to participate in the AWS European Defence Accelerator, providing solutions to help the European Defence industry enhance its energy resilience, secure information sharing, sensing and decision making, quantum, and cyber resilience for land, air, maritime, space, and cyber domain missions.
Beginning in September 2023, the AWS European Defence Accelerator is a four-week technical, business, and mentorship program delivered in collaboration with Plexal, a United Kingdom Government-supported innovation technology firm. Participating startups are eligible to receive AWS computing credits, specialised AWS training, mentoring from defence and national security domain and technical subject matter experts, business development, go-to-market advice, and investment guidance.
The startups that have been selected are:
Ampliphae, based in Belfast, Northern Ireland, is a cyber security company that deploys threat detection and analysis software to proactively identify vulnerabilities and fortify application and device connectivity. These solutions maintain the integrity of communications between cloud applications and internet of thing (IoT) devices.

Bazze, based in San Francisco, USA, is an artificial intelligence (AI) powered data marketplace that enables customers to seamlessly integrate commercial data insights into their intelligence, surveillance, and reconnaissance (ISR) operations.

Blackshark.ai, based in Graz, Austria, is an AI company that processes petabytes of satellite imagery to create a comprehensive semantic three-dimensional (3D) digital representation of the world. Through the power of a cloud-based machine learning platform, the company enables high-frequency updates to global maps, effectively capturing the pulse of our evolving planet.

Enveil, based in Washington DC, USA, with additional teams in London, is a privacy enhancing technology company that protects data in use. Leveraging homomorphic encryption, its ZeroReveal solution allows customers to securely search, share, and analyse data assets at scale.

Hala Systems, based in Lisbon, Portugal, is a resilience technology company and a pioneer of advanced monitoring and alerting for human security; open-source intelligence collection; and AI-driven situational awareness.

Kognitiv Spark, based in New Brunswick, Canada, is a mixed reality (MR) spacial computing performance support company that combines both the physical and digital worlds using its RemoteSpark platform to allow operators to access two-dimensional (2D) and 3D holographic assets in an independent and autonomous manner.

Kuro, based in Cheltenham, UK, is a cloud-based solutions company that provides instant, secure, and scalable access to persistent or disposable cloud infrastructure solutions via an intuitive interface for individuals, teams, and enterprise customers to simplify cloud-based software deployments.

Lupovis, based in Glasgow, UK, is an advanced cybersecurity solutions company that specializes in cyber-deception and threat intelligence. Its cloud-based Lupovis Snare and Prowl platforms allow customers to proactively defend against cyber threats and safeguard critical assets.

MindLink, based in London, UK, provides a cloud-based ultra-secure, chat messaging platform specifically designed for international and inter-agency mission operations for defence and intelligence customers.

PQShield, based in Oxford, UK, with additional teams in the USA, EU, and Japan, is a world-leading post-quantum cryptography company creating hardware and software-based quantum-secure cryptographic solutions that protect customer data and infrastructure.

Quaisr, based in London, UK, provides software-based building blocks for digital twins that allow engineers to seamlessly create and operate efficiently in simulation operations (SimOps) environments.

Second Front, based in Wilmington, USA, with teams in London, is a platform as a service (PaaS) company that uses an accredited cloud-based platform, Game Warden, to develop and accelerate the deployment of commercial software securely to government customers.

Telicent, based in London, UK, is a secure data innovation platform company. Telicent CORE is a new data backbone platform that is secure by design. Powered by a state-of-the-art four-dimensional (4D) ontology, CORE enables Telicent's clients to exploit their most valuable data assets, unlock transformational business value, and embrace modern innovation strategies.