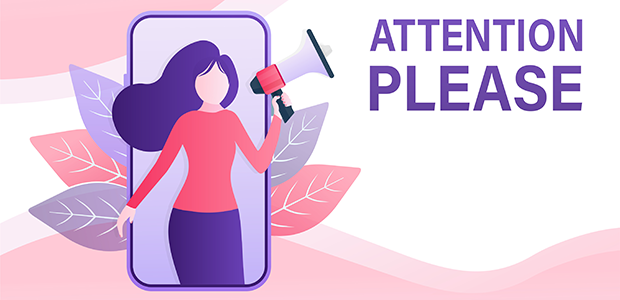 Are you paying attention? Taking the attention recession seriously
By the time you've read the opening line of this article, the average millennial has already switched off. That's because millennials' attention span for digital content is on average 12 seconds.
UK businesses also have to take into consideration the fact that we spend 102 minutes a day on social media. It's been years in the making, but we've finally hit the peak of social media. Facebook's February announcement that it had lost users for the first time in its history culminated in its parent company Meta witnessing a 20% reduction in its share price.
In their most recent quarterly report, Netflix announced it had lost 200,000 users between January and March. Netflix shares crashed by 25%. The tech giant expects to lose two million customers between April and June. There's no doubt we're facing an attention recession. As the COVID boom slows down, marketers face tougher decisions on where to put their ad spend, how to engage their audience and which platforms suit their brand.
The TikTok effect
The arrival of TikTok forced brands into taking a new, more human-centric approach to content creation. Just as one viral trend starts, another is already brewing and gaining traction. Brands have been clamouring to keep up with new social media trends. The breakneck speed of viral hits and millennials' thirst for new material to share, also contribute to the problem.
Gary Lewis, a Senior Copywriter at world-renowned advertising agency Publicis Groupe, explained: "Fewer words + punchy headlines = paused doomscrolling"
Attention will become the new advertising currency
Google's Consumer insights show that 80% of sports viewers use their mobile phones whilst watching live events. This means attention metrics will become the new advertising currency for brands.
Measuring attention and through audibility, screen touches and more will provide additional sets of data that will help brands predict outcomes. Attention metrics work whether the brand is looking to gain awareness or conversions and will help them to optimise their marketing campaigns.
And the magical part here is that brands can achieve this without tracking consumers or accessing personal information. In a world where privacy is finally being taken seriously by the Big 4, measuring consumer attention signals is slowly becoming a critical metric for advertisers.
Recent privacy regulations and the rapid fall from grace of cookies, is a catalyst for the rapid change in how advertisers measure and personalise their ad content. Measuring attention will become a key metric for understanding how campaigns perform. The hope is that this will also increase creativity and drive a push for better content that demands users spend those valuable seconds.
Richard Cree, Content Director at The Supper Club said: "Brilliant brands will thrive regardless of data or privacy regulations and irrespective of audience expectations. They'll thrive because they'll communicate with transparency and honesty, always being upfront about how they're using data and why it helps them deliver the service they need to deliver.
"Consumers may be more aware of privacy and data protection issues than ever, but they are also mostly comfortable with giving up data easily in exchange for the personalised services they want. Until the real monetary value of this data is made explicit, more engaging, relevant content in exchange for data will be a price most will be happy to play."
Legislators (notably the EU and US) continue to seek to strengthen consumers' hands and to make life difficult for "unscrupulous" tech firms trying to take advantage of consumers. But adding another 1,000 words to unread T&Cs won't stop most consumers scrolling through and auto-clicking "agree" in order to get to the latest app or feature.
A recent report by Lotame predicts that revenue of #big tech platforms' could drop by almost $16bn this year because of Apple's App Tracking Transparency. It is a feature that asks for the user's permission before tracking them in apps and on websites. It is predicted that Facebook will account for 81% of these losses.
Serial Entrepreneur Rajesh Jain and founder of the Indian SaaS giant Netcore cloud, added: "There is a very interesting opportunity to build a loyalty programme which monetises attention via microns by building a two-sided platform: connecting brands and consumers. It needs two components: the earn (how consumers can get the reward points) and the burn (how consumers can redeem these points).
"The innovative format of microns (short, informational, identified content) combined with a multi-brand loyalty programme can lay the foundation for a big breakthrough in brand-customer engagement via the most ubiquitous identity that customers have - their email address. Such a programme could, in short order, become the world's largest loyalty programme."
Businesses are no longer just competing with your competitors. Today's top brands are now competing with apps and streaming services to win the attention of users.
Netflix's Co-founder and CEO, Reed Hastings backed this up in 2019 when he claimed he was competing more with Fortnite than he was HBO.
Enter the DSA (Digital Services Act)
On Saturday 23rd April the EU reached an agreement on landmark legislation that would force Facebook, Twitter, YouTube and others to activity fight misinformation. The agreement will also require them to disclose how their services amplify divisive content and stop targeted ads that are aimed at specific demographics such as sex, ethnicity and religion.
The Digital Services Act aims to address how social media causes societal harms. Companies will be required to aggressively police their platforms for illicit content or risk billions in fines.
Samuel Kwesi Dontoh of London based PR & Branding agency Run added: "For years, marketing teams have had access to an unparalleled level of user information. We became lazy because of the insane amount of data offered to us by the likes of Google and Facebook. With Apple's privacy push and Google's planned privacy measures, the days of cherry-picking your audience may be over. Brands will need to double down on forms of personalisation that don't infringe on their audience's privacy."
The Digital Services Act goes into force in 2024 and will have a huge impact on companies like Meta, who are estimated to lose $7bn if they fail to comply with the six percent of a company's annual revenue.
It is clear that 2022 will be a tremendously tricky year for social media platforms and businesses that target their audiences through it.