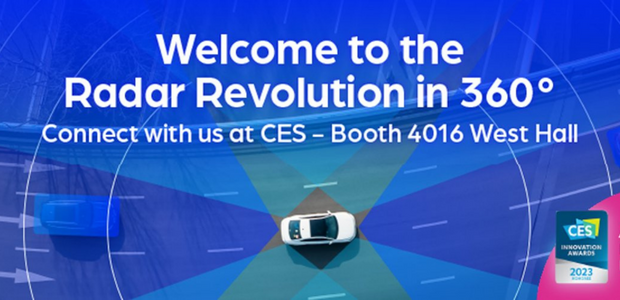 Arbe Releases 360° Radar-Based Perception, the first AI based Integrated Analysis of Complete Vehicle Surroundings
Arbe Robotics Ltd. (Nasdaq: ARBE) ("Arbe"), a global leader in Perception Radar Solutions, today announced its latest release, a 360° Radar-Based Perception that pushes the boundaries beyond imaging to provide an integrated analysis of the complete vehicle surroundings in long range. The surround data captured by a suite of Arbe's perception radars, which leverage AI to identify, classify, and track objects in 360°, is processed in real-time to create a full free space map around the vehicle, as well as an analysis of the evolving hazards sensed by the radars.
Relying on data sharing between multiple radars, Arbe's 360° perception delivers a complete and integrated understanding of the driving environment, thus decreasing latencies while increasing confidence levels and accuracy of the tracking and the free space map like never seen before. 
"Relying only on radar data, Arbe's advanced technology is enabling 360° perception algorithms that provide a detailed analysis of the entire vehicle's surroundings," says Kobi Marenko, CEO of Arbe. "We are proud to be providing the highest levels of safety to the industry, benefiting from the distinct strengths of radar, including its unique ability to operate in all weather and lighting conditions and at long range, both necessary for reliably complementing optic sensors." 
The 360° perception enables a vehicle to continuously track its surroundings and monitor emerging or immediate threats from previously perilous positions, including rear, side, and blind-spot scenarios. This is done by multiple radars that overlap in the fringes, tracking objects of interest smoothly between one radar to the next and validating the whereabouts of the same object through two different perception algorithms to reduce false alarms and provide higher resilience to occlusion scenarios. 
The 360° perception is the basis for unmatched safety in a multitude of driving scenarios including dense city driving, safeguarding unprotected left turns, enabling safe highway merging scenarios, and monitoring vacant lane access for emergency steering; all of these scenarios rely on perception from multiple radars.
Arbe's Radar-Based Solutions democratize safety by making the most cutting-edge radar technology available at a price that is affordable for every vehicle – not exclusive to top-of-the-line luxury.
For the second year in a row, Arbe is a  CES® Innovation Awards Honoree, winning the 2023 nomination for its 360° Radar-Based Perception Solution. Arbe is currently showcasing it at CES at the Las Vegas Convention Center, West Hall, booth 4016.