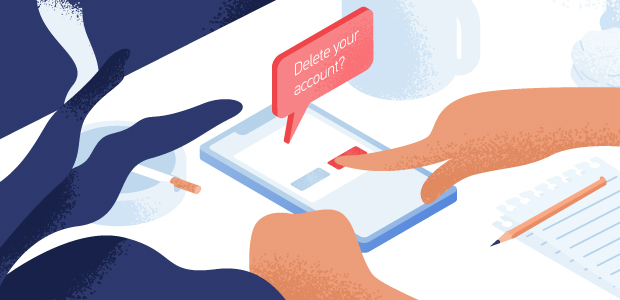 Aptap: One tap to freedom
Most of us have experienced the labyrinth that is attempting to cancel a subscription.
The business doesn't want to stop getting your money, so the process of leaving is made so complex and convoluted that it takes a long time, and sometimes even tries to trick you into believing you have cancelled the subscription, when you in fact haven't.
So what if you could do it with just one click, from your existing mobile banking app, with no fuss at all? We spoke to the founders of ApTap, Will Billingsley (CFO), Nadal Sarkytbayev (CEO) and Isa Ibrahim (CTO), to find out how they're doing exactly that.
Where did the idea come from?
It all began when the founders each had their own nightmarish experiences while trying to cancel existing subscriptions, changeover to new services, and keep track of all of their outgoing finances. After reaching out to friends and then the market, they then realised that this was a very widespread issue, which many people wanted a fix for.
Early on, ApTap had an advisor come on board, who helped the founders to evaluate the problem at hand and work out the best way to tackle it. Through communication with their target audience, ApTap found that there were two common desires that unified everyone caught in this situation; they wanted to be able to track and visualise their spending, and to be able to cancel services easily.
Taking on this feedback, ApTap works to display all of the customers' bills in a calendar, and then from that they can be selected and actioned, so that if you are no longer using a service and don't want the subscription anymore, it is easy to cancel. ApTap also have comparisons built in, which saves the customer from having to shop around and allows them to switch in a matter of minutes.
Initially the founders were building a consumer facing app, but have since shifted into a software service which functions as a plug-in into existing banks and FinTechs so that they can offer the ApTap software directly to their own customers. The founders received this pivotal feedback directly from banks, who turned around and told them that this was something they would like to have and would pay for.
The founders explained that by being flexible in this way, they have managed to turn banks and FinTechs from their competitors, into their clients. Because of this, ApTap is working on two fronts; to make the customer experience better, and to make the experience for banks and FinTechs better too.
Using tech, ApTap is able to do a number of things, from analysing transactions to work out what is a subscription and what isn't, to automating switching sign ups. Tech is also enabling ApTap to create entirely new connections for each service provider, to create a subscription store that links them all to the same place and allows the customer to access them all from that one centralised place.
ApTap has faced – and is still facing – a number of challenges, both technological, and financial. From a tech perspective, trying to build something that has never been built before will always be a challenge. Also, raising money as a young company is a challenge for everyone, which involves an array of smaller challenges, such as proving traction, and gaining the credibility and team you need to attract investors.
What has finding funding been like so far?
It is undoubtedly important to convince people that your startup is going to make an impact, so that you can convince them to bet their money on your startup. So making sure that you prove your viability is absolutely paramount to successfully finding funding.
The founders explained that: "Really getting in front of customers is key. Everyone's input really helps because you start to hear the same things from entirely different people and that's when you can really hone in on what really matters to people. Getting your viability across to potential investors is a challenge but one that we are revelling in at the moment."
ApTap added that they network as much as possible and go to as many events as they can to pull exciting people into the business. They have already attracted an individual from Open Banking, who has been helping them to deftly manoeuvre through the challenges they are facing.
ApTap begun their funding journey by raising money equity-free from family and friends, and from there they have been able to build the product, rebrand the company, and create a website. By getting as far as they can on this small amount of money, ApTap is now able to prove to future investors traction and proof of concept, as they have a prototype to showcase and customers already on board.
Early on, ApTap considered using crowdfunding to raise money, but as they moved away from a consumer facing app to a B2B2C model, they realised crowdfunding was no longer particularly suitable to what they were doing. Furthermore, while finances are important, ApTap also knows that the experiences that come with certain kinds of funding – and not with others – are also valuable.
When looking for investors, the founders explained that: "We're not only looking for money, we're looking for what they can bring to the future, networks and power, to get us through future rounds of funding too. It's important to build an aligned vision and culture early on.
"With the way we're doing things, our investors and potential investors want to see a level of traction that it is easier to prove with crowdfunding, but on the consumer facing side they want to see user numbers, so with a business facing software route we are looking to get signatures down on a piece of paper that would prove our proof of concept. We'd like to build and prove as much as we can and get a trial running to springboard into what we think would be a fairer round in terms of us being evaluated."
Do you have any advice for other startups?
The founders of ApTap stressed that it was not just about finding an investor, it was getting the right investors and the right people on the board.
Especially with tech, there will be some people who are interested in investing, but who know very little about what you are doing and understand very little of the technical side. In this situation, ApTap encourages other startups to look beyond the money and to what that person is going to be able to bring to the table aside from money, before deciding if they are the right investor for you.
They also warned startups that some investors will use their money as a reason to start trying to take control of what you are doing.
"It is important to stay true to your ideas and stand up for what you believe in, although you have to be adaptable. But on the flipside, you don't want someone who comes in and puts cash down, and uses that to start making demands."
Finding an investor is very exciting, but instead of getting swept up, take a step back, and make sure it's the right investor for you, and don't forget to enjoy the journey as much as you can.