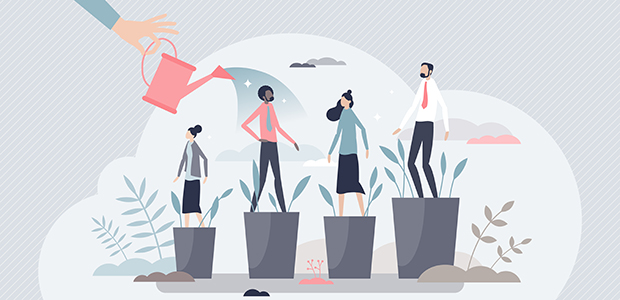 Apprenticeships as the foundation of the modern workplace
As the times move forward, so do the workplaces we inhabit. In the modern workplace, it is often not the older generation of workers that act as its foundation but instead the new fresh minds coming through the doors, pioneering a workplace's growth.
Apprenticeships are a great way to unlock this new potential, getting younger people on board with your business to act as a foundation for the modern workplace. This is precisely what shall be explored within this Q&A where Harry from Startups Magazine asks all the important questions to Geoff Lawrence, Managing Director at Vistage UK & Ireland.
In what ways can apprentices be a valuable asset to small businesses?
Apprenticeships have experienced somewhat of a revival over the past few years. Any firm, but especially small businesses, can benefit greatly from having apprentices. In an uncertain economic environment, apprenticeships provide an affordable and effective method for building a skilled and dedicated team.
My advice for small business leaders who have not already investigated a suitable programme is to give it some thought. If not, you're losing out on the opportunity to train employees in the skills that would benefit your organisation specifically.
How should a small business treat and handle its apprentices?
Apprenticeships usually have a robust recruitment process so hiring managers should use the same due diligence as when they recruit permanent members of staff. With that said, it's important to recognise that apprenticeships are uniquely tough - the transition to the world of work, starting a new job, back-to-back department changes, off-the-job training, and coursework.
It's up to business leaders and managers alike to ensure apprentices have a positive experience, and that the wider team have the capacity to properly nurture a support raw talent at such a pivotal point in their life.
There's genuine power in a people-first approach. In the wise words of Sir. Richard Branson: "Happy staff are proud staff, and proud staff deliver excellent customer service, which drives business success."
Apprenticeships are designed to have a career goal in mind, how can a business create a clear path for its apprentices?
Many top-tier GCSE and A-level students are actively choosing not to attend university, most likely due to sky-high tuition fees, and the cost of living. As a result, the demand for apprenticeship programmes is higher than ever. I'm sure this year will see more young people than ever eager to explore opportunities within a field of business that interests them after receiving exam results.
The beauty of most apprentice programmes is the rotation model, where over the course of a year apprentices will work within several departments to help get a feel for different disciplines and see what they might be most attracted to in the long term.
Small businesses by nature are more nibble, and 'entrepreneurial spirit', allowing apprentices the flexibility to forge their own career path and take far more ownership over the direction of their apprenticeship.
How can an apprentice fit into a developing business?
A dynamic employee development programme is essential for feeling part of a developing business.
In the professional world today, workers want more than just a job. They want to improve job performance, safeguard personal well-being, develop key professional/technical skills, and feel a sense of purpose from their career. As a result apprentices, particularly Gen Z, will gravitate towards and stay with businesses that make an active investment in them. The same rings true for permanent employees too.
How can a business nurture its apprentices whilst also giving enough independence to promote initiative and leadership for the future?
Providing answers to employees may be the most efficient way to get things done. However, great leaders respond in a way that adds value: by asking the right questions and helping the employee find the best solution themselves. It's a tried-and-tested mentorship tool.
An employee is more likely to succeed when they come up with their own solution and feel a sense of responsibility and autonomy over their work. When managing apprenticeships, knowing the value of the questions you ask can help develop and empower apprentices to take ownership of tasks.
At Vistage we help CEOs, business owners, and senior executives do the exact same thing – just on a different scale. In essence, apprentices are no different from business leaders. Both rely heavily on mentorship to help develop and guide them through unfamiliar and challenging territory.
How can apprentices influence the workplaces they join?
Starting an apprenticeship is a significant life transition, and adjusting to it can be challenging for recruits. As apprentices begin to find their footing, it's our responsibility to challenge them appropriately to help them develop the key skills needed to thrive in any business as proactive and indispensable members of the team.
Once apprentices feel confident to seize new opportunities and proactively question the status quo, that's when they start to make a difference.
How can a small business make appealing apprenticeship offers?
Getting your recruitment strategy right is about nailing your employer branding; or in other words how your business presents itself to the general public. Make sure to really think about what you're doing to show who you are and what you stand for as a business, but most importantly you need to be authentic, realistic and truthful.
Potential recruits might have an impression of your business based on your online employer branding, but in reality hiring managers, the office environment or job advert don't quite align. As a result, they're more likely to skip applying for that role, perform badly during their interview or even decline your job offer.