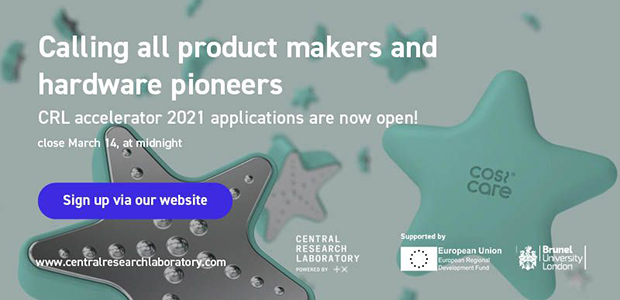 Applications close soon for CRL's latest accelerator programme
Supported by ERDF (European Regional Development Fund), HEFCE (Higher Education Funding Council for England) and Plus X Innovation Hubs, the programme attracts around 100 applicants per year on average. This year, a panel of 15 mentors and experts, including Plus X co-founders Mat Hunter and Paul Rostas, and Product Development Director, Jim Reeves, will select up to twenty finalists to embark on phase one of the programme, focusing on customer discovery (May – June) before pitching for a place on the next phase of the programme. Six successful startups will continue into phase two of the programme focusing on product development, investor readiness, commercialisation and fundraising from June - November.
In addition, each startup will be given a £5,000 startup grant to support their product development, customer testing and growth throughout the programme. As well as the opportunity to meet with and gain insights from key manufacturers in their sector.
Past alumni from the programme include a rich strand who specialise in creating products and services that enhance human life and our environment, including ventures that are focused on sustainability, med-tech, mental health and sport-tech.
The CRL accelerator programme has supported a range of successful award-winning new businesses who have raised a combined £10m+ investment over the past few years. Notable alumni include Aceleron, creating sustainable lithium batteries, who were amongst the top 10 short-listed for the 2019 Telegraph Tech 4 Good Pioneers. Cosicare, a female led tech startup focused on alleviating the symptoms of Eczema and winning the 2019 Mayor of London's Award for Innovation, Tata Varsity Pitch 2019 and Santander Entrepreneur of the Year 2019. And Chip[s]Board, a company creating bio-plastics for the design sector on a global basis.
Our team of experts at CRL will be helping to guide and support the 8th Cohort including CRL Programmes Director, Toby Kress, Accelerator Programme Manager, Anneza Pitsialis and Product Development Director, Jim Reeves.
Toby Kress says: "It's amazing to continue successfully supporting product makers and hardware pioneers and reflecting on the achievements of our diverse cohort members over the past few years makes me very proud. Our accelerator programme is truly unique, offering over 6 months of intense support blending product design expertise, customer research, manufacturing and market understanding. We look forward to meeting the next cohort, which we're sure will be another exciting collective of talent who are working to creating amazing innovations impacting everyday life."