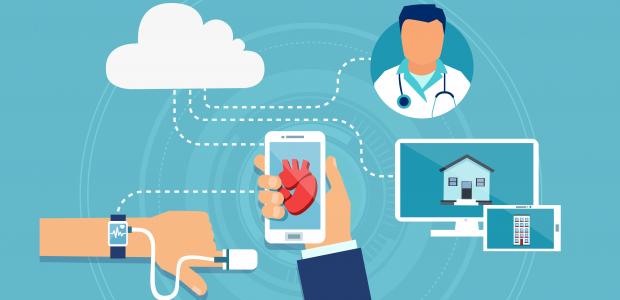 The Apple smartwatch app changing ECGs forever
UK healthtech company Vagus has developed a 30-second electrocardiogram test performed with a smartwatch app. The technology is a massive boost for preventive healthcare.
Checking the rhythm and activity of your heart with an electrocardiogram (ECG) is a routine procedure that millions of people go through every year. You visit a healthcare centre, several sensors are attached to your body, and the electrical signals produced by your heartbeat are recorded for a doctor to study.
While doctors all over the world can do the procedure, it is time consuming for both patient and healthcare provider alike. This is why smartwatch makers have started to put ECG sensors into their products. Apple alone has sold more than 80 million ECG-capable Apple Watches.
Use cases have typically been limited to pulse measurement and the detection of atrial fibrillation. Some manufacturers have also tried to detect breathing from these general ECG recording signals using a technique called derived breathing detection. But until now, scientists and doctors have not managed to find a way to reliably extract breathing measurements from these standard ECGs.
Cambridge-based startup Vagus decided to address this challenge. By using a technique that measures controlled breathing at fixed intervals, the company has developed a way of vastly expanding the insights achieved from a 30-second ECG test made on smartwatches such as those produced by Apple.
"The Vagus method utilises 1000 times more data than traditional ECG devices, which only detect the heartbeat and ignore all other data," said Vagus Founder and CEO, Gustaf Kranck.
"In information terms, traditional ECG apps uses the equivalent of just 150 of the 15,000 data points collected during a standard 30-second Apple Watch ECG recording. Thanks to the statistical, machine-learning, entropy-based and AI-analytics methods we have developed, Vagus uses 100% of the available data points."
Measuring breathing and diaphragm movement
The secret behind Vagus is an electrical-conduction effect initially explained by Dr. Daniel Brody in the 1950s. Since it is difficult to detect the effect from normal chest-based ECGs, it was not used in any practical applications until adopted by Vagus.
Eight years ago, Kranck discovered the revolutionary effect of the breathing measurement when recorded as a 'hand-to-hand' ECG and combined with controlled breathing and analytics. The signal in the Vagus ECG test is therefore a very precise measurement of the movement of the diaphragm muscles as we breathe. Gathering this data encouraged Kranck to dive further into the mysteries of the autonomic nervous system, of which the Vagus nerve is the most important part.
"ECG technology is now 150 years old. Doctors continue to perform the procedure as they always have done and it amounts to a serious disregard of valuable patient health data and time," said Kranck. "The Vagus method is much more precise, providing more information about the diaphragm muscle, the heart, the lungs, and the autonomic nervous system."
Data gathered by smartwatch health apps is typically analysed on a user's smartphone, but Vagus uploads it to a cloud domain for deeper analysis with its own AI tools. Results are sent back to the user's watch and phone in under 10 seconds. Vagus has already performed more than more than 20,000 user tests and now boasts the world's largest database of controlled-breathing ECGs.
"As our method had never been used before, we had to develop many new indices and parameters for interpreting the data," said Kranck. "For instance, the breathing and cardiac smoothness indexes, RSS and CSS, are something nobody had done before, but they are very useful in diagnostics and monitoring. Most of our indices are in the 0-100 format, where zero is bad and 100 is great."
For our neural-network AI development, we therefore now have more than 30 different kinds of data points as input for our self-learning equations. This exceeds anything done before with wearables or ECGs," he said.
Home monitoring and disease detection
Throughout the COVID-19 pandemic, Vagus has been able to see fluctuations in data for users who became sick with the disease. The company has also started to observe common data patterns in patients with Long COVID, including indications of myocarditis (heart inflammation) and other heart conditions. This data is now being used in a Long-COVID study with Sweden's premier medical university, Karolinska Institutet. The aim is to scientifically verify a method to improve treatment outcomes from the disease.
"We can see when a person's heart rate does not react normally to variations in breathing. When a person has lung inflammation, the diaphragm does not move as it should," said Kranck.
"For people with postural tachycardia syndrome, an abnormal increase in heart rate after sitting or standing, we have developed a 'sit-and-stand' test to monitor heart rate changes." 
"Over the years we have also detected many other data patterns related to various anomalies. Stress is very easy to detect, as are autonomic nervous system problems," said Kranck. "Breakdowns in the immune system are what cause autoimmune diseases, but many of these breakdowns cannot yet be monitored properly or early enough. Vagus is aiming to change all that."