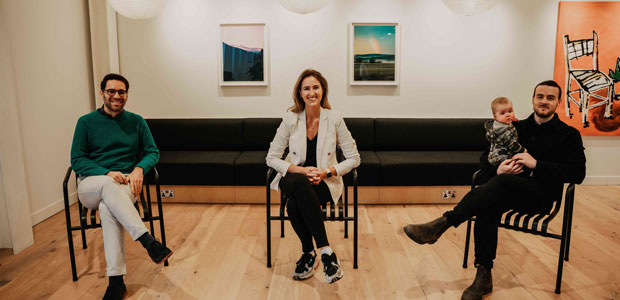 Antler invests in new tech startups revealed at London Demo Day
The global early-stage venture capital firm, Antler has unveiled the seven startups it has invested in during its third UK cohort.
Antler, which launched in 2017 in Singapore, with a mission to enable and invest in the world's most exceptional people and building the defining companies of tomorrow, received over 3,000 applications from entrepreneurs to join the third Antler UK cohort.
Eventually 38 businesses were built through the cohort, with Antler UK helping them find co-founders and build strong teams, validate their business ideas and gain early traction. Each startup has worked closely with Antler's UK team, and with their strong network of local and international advisors.
The process prepared the ground for Antler to make the decision to invest in seven of these businesses.
A key part of the process is Antler's 'Demo Day', when the founders present to local and international investors as a way to help them raise their next round of funding. This year, the Demo Day will again be hosted remotely to a global audience of investors, VCs and entrepreneurs.
Antler is always looking for the next generation of entrepreneurs who have the vision and ability to build tech companies that will make a real impact - regardless of their background. Antler then provides pre-seed and later-stage capital to the successful companies, through local funds in each location. The next UK cohort starts on 21st of June, and they have already received thousands of applications.
Founded by Magnus Grimeland, Antler continues its rapid expansion. It is currently present in five continents, including major entrepreneurial hubs in New York, London, and Singapore, and has now invested in over 250 startups around the globe. 
Ollie Purdue, Partner of Antler London said: "Our third London cohort has made incredible progress. We are delighted to have invested in such a strong group of entrepreneurs, and we are excited to be part of their journey as they grow. The strength of our London cohort is indicative of the London technology industry at large, which has emerged unscathed from the global pandemic, and is driving towards new, unprecedented heights."
The London portfolio companies are:
Swivel is the UK's first video powered job marketplace and is the only Web & Mobile platform that connects companies to motivated candidates with video.
Not only does it help great companies hire better, faster, and with greater diversity, it's also a more effective and efficient process, cutting interview no shows rates by a third and saving clients an average of £2,000 per hire.
Erez Lankri, CEO
Thomas Kean, COO
Mesg.ai is a writing assistant and outreach intelligence platform that helps salespeople achieve a higher response rate on their sales messages.
It suggests optimal language and content, provides prospect insights and analyses what's generating positive responses for different personas. Its AI recommendations are based on millions of emails and improve over time for each customer.
Emanuel Frauenlob, CEO
Alex Bilbie, CTO
Jamie Turner, CPO
Seedata.io are a cyber security deception-technology SaaS that identifies previously undetected data leakage incidents with a goal to dramatically reduce the frequency, duration and impact of security incidents.
The technology plants unique, trackable records of data within clients' systems, then scours surface, deep and dark web sources for any relevant indicators of security incidents.
Enrico Faccioli, CEO
Matt Holland, CTO
Kalda is an LGBTQIA+ community mental wellbeing app providing weekly group therapy and daily peer to peer support. They are building a LGBTQIA+, sex positive, safe space for people who care about mental wellbeing. Kalda is a place to find group therapy, and give and receive peer support.
The platform uses the latest, evidence-based techniques to improve users' long-term mental wellbeing. It also offers regular support via daily reflection questions and weekly group therapy to keep them on track to improving their mental health.
Daniel Botcherby, CEO
Al Dee, CTO
Charlotte Fountaine, CPO
CoLogic aims to transform logistics in the construction industry, driving efficiency, CO2 reduction and safety by letting you track the location of your construction transports in real-time, improving communication, transparency, profits and increasing safety.
Its software fetches and integrates GPS location data from various fleet tracking providers, including a stand-alone phone app, offering a unique and live service to material suppliers and construction firms.
Max Leo Rodeck, CEO
Robert Hangu, CTO
Emani is seeking to improve the information available to businesses operating in the world's most difficult places. By monitoring warning signs in emerging and frontier markets, its platform delivers near real time insights at a hyperlocal level from the most fragile, excluded societies.
Users benefit from high quality insights on the most sensitive subjects, including predictive elements that might save lives, making the world safer and more investable
Paul Clewett, CEO
Sana Rasheed, CTO
FlowSpace is a marketplace that unlocks a world of inspiring, hyper-local and flexible workspaces that serves the new remote and hybrid workforce. The FlowSpace platform delivers on the vision of the 15-minute city by enabling a new, local workday - living more sustainably and finding your flow to improve productivity and accomplish more of your best work.
Through subscription-based access, companies can provide FlowSpace for their workforce, creating happy and engaged teams doing the best work of their lives.
Harry Wilson, CEO
Hayri Demircapa, COO
Ieva Dvilinskiene, CGO