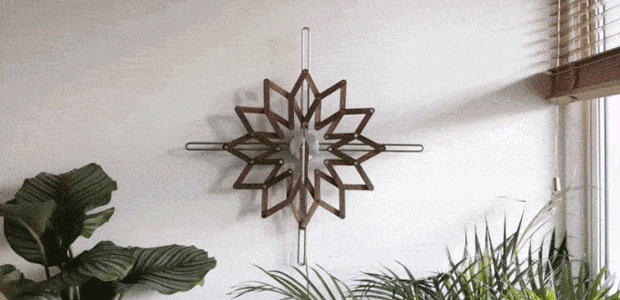 Animaro
Animaro is a furniture design brand which combines art with engineering to create beautiful objects which are visually playful for the home, such as lighting and clocks.
Each product is highly innovative and unusual, and Animaro releases only a couple per year. All Animaro's furniture is somehow kinetic, in both a functional and playful way, either by itself or by the user. For example with one of its lighting products, the bulbs can be repositioned for better lighting.
Founder Matthew Gilbert is a trained architect by trade, earning his BA at Cardiff University, but it was during his Architecture and Furniture Masters in Copenhagen that he developed an interest in furniture design. From that point, he frequented Machines Room, a makerspace in East London. The workshop enabled him access to 3D printers, laser cutting machines and digital machinery, and this is where he spent many weekends developing product ideas.
Gilbert first took his prototypes to markets across East London, where he collected feedback and even made a few sales, but he knew that to really enter the market he needed to exhibit somewhere with more footfall, where those feet belonged to serious trade buyers and press. Off the advice of contacts in the sector, Gilbert jumped into the deep end in 2016, officially founding Animaro and exhibiting at Salone de Mobile, known as 'the international reference point for the furnishing and design sector'.
The exhibition was a success for Animaro, Gilbert met with valuable press contacts and received great feedback. It was also here that he learned the trade furniture routes he could take. Essentially there are two models; the first, license designs to a larger brand. These brands have in-house design teams and factories for manufacturing, and carry the allure of potential retainer rates in the future. However they offer an average of three percent commission rates per sale means to turnover any real profit you need to license designs in bulk which isn't what Animaro is about. The second model is to go it alone and build your own brand.
"It's a catch 22," said Gilbert. Even if you want to work with a big brand, they want famous designers, so it's a relationship that takes a long time to secure. "I would rather take on more risk and earn more reward by launching my own brand." Meet Animaro.
Animaro is currently a one-man band, Gilbert works primarily with consultants but is open to the idea of a co-founder. From March to September 2018, Animaro participated in the CRL accelerator programme: "I got a lot out of it. I was given lots of assistance with the mechanical engineering. I got help specifying manufacturing tolerances to factories and on our trip to Shenzhen in China, I met key manufacturing contacts. It was also through CRL I met with Paved with Gold, who I am now working with post-accelerator on my next Kickstarter campaign," Gilbert said.
QUICKSTARTER

Gilbert completed his first Kickstarter campaign for his Crane Lamp, which overreached its £10K goal by an additional £5K. Gilbert said he had been more financially ambitious for this product but in hindsight was happy as this amount allowed him to wrap up the entire project only a few months after closing. In this way, the campaign was similar in nature to a 'Quickstarter', a Kickstarter initiative by Oscar Lhermitte to run small campaigns with small financial goals to gain experience and test the market.
SOLSTICE CLOCK

Animaro's latest product, the Solstice Clock, gradually changes shape throughout the day - midday it is at its biggest and 6pm at its smallest. With the hectic pace of modern life, time has become a source of stress, the Solstice Clock aims to adjust our attitude towards time. Historically time was observed by movements around the Earth from elements such as shadows, tidal movements and the stars. Animaro's clock design harks back to this, suggesting the passing of time can be relaxing.

The Solstice Clock has two modes: clock and demo. In clock mode there is one rotation every 12 hours, and in demo mode, it is every 60 seconds - for retailers to exhibit the product and also to create a moving piece of art within the home. The clock runs off a PCB connected to a stepper motor, capacitive touch sensor to go between modes, a real-time clock and an Arduino chipset - opening it up to creative hacking by coders. At the Milan exhibit, the clock had no circuit board, just an AC synchronous motor to keep time, but Gilbert integrated feedback to enable two clock modes. The Solstice Clock will launch on Kickstarter on November 13th for a 30 day round, with a goal of £25K.