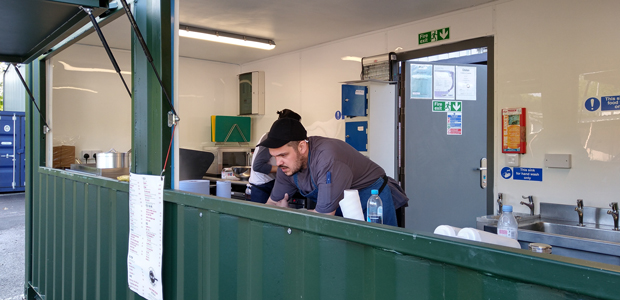 Is al fresco dining the future?
Johnathan Bulmer, MD at Cleveland Containers here chats to Startups Magazine about how three food and drink businesses pivoted in the pandemic. As restaurants and other leisure businesses steadily start to reopen, there's many stories of businesses which have been heavily impacted by the financial crisis the pandemic has caused. 
The pandemic wasn't something that businesses could spend months preparing for, they had a few weeks maximum before they started to be aware that forced closure could happen.
Now, however, as food and drink businesses start to ease their restrictions and a sense of normality comes back, people are still nervous about the risks of eating out.
The CDC ranks restaurant settings from lowest risk to highest risk for possible COVID-19 transmission, and lower risk is drive-through, takeout and delivery, while medium risk is onsite dining outdoor, with socially-distanced tables. Eating and drinking inside restaurants and bars is still labelled high-risk. 
With that in mind, Cleveland Containers spoke to three businesses which have outdoor-based food and drink offerings, to establish what lessons they have learned, and how they're reopening (or in one case, opening for the first time) safely.
With street food now a billion pound business, all three are based in containers. Are people more attracted to locations where they can gather outside, to avoid 'danger zones'?
The brewery that gave its customers the at-home pub experience
40ft, a micro-brewery built out of second-hand shipping containers in Dalston, East London, provides beer for customers in its tap room, but also distributes its pale ales, lagers, stouts and more to other pubs. As such, when the pandemic struck, it's entire supply chain stopped.
Its beer also takes around three weeks to properly brew, so when the writing was on the wall that they would likely have to close, they acted quickly.
"We shut things down a week or so before we went into lockdown, as we didn't want to waste any beer. When all of your businesses you sell to are in hospitality, and they literally close overnight, it's terrifying," said Steve Ryan, owner at 40ft.
But Steve pivoted, as he still had to pay staff before the furlough scheme came in, and they still had previous week's beer which they didn't want to pour down the drain.
"We still had 9,000 litres of beer in tanks! We immediately opened a web store to sell our beers in cans, and arranged home deliveries and click and collect opportunities to customers. We also managed to get mini kegs which hold around eight pints, so people could pour their own beer at home."
The ingenious way to give people a little bit of the pub atmosphere at home worked, and they managed to sell all of their beer, even reaching out to other pubs to credit them with mini kegs. This was all supported by its promotion initiative for its taproom, where 40ft would double the cost of vouchers bought.
"It was good to still have a purpose and have our products out there, and it also helped to keep our mental health at bay as we were keeping busy."
40ft also launched a bar tab for NHS workers, so people could buy beers for carers, which it doubled the cost of. To this date, they've raised £1,200 so far. They also launched a new 6% IPA, called the 6FT, best 'enjoyed at a distance'.
The friends who were due to launch their food court during the pandemic
While many businesses had to figure out how to close their doors, one food company hadn't even opened theirs yet as the threat of the virus hit.
Tin Can Kitchen, the brainchild of three self-confessed foodies, was set to be a new outdoor music and food venue in Newport, Wales. Head chef, Barry, picked up innovative ways of cooking street food from his travels around the world, and Tin Can Kitchen was designed to be shipping containers converted into high spec kitchen which would form the basis of an outdoor food court and speciality street food hotspot.
"But then coronavirus happened," said Jordan Phillips,  responsible for marketing at the food place. "We thought for a second we might have to shelve the idea, but after doing market research and seeing there was a huge demand online for food, we decided that we could pivot."
Tin Can Kitchen used its original menu, consisting of Cajun-inspired burgers, loaded fries, and weekly specials, and launched a food delivery service out of its shipping container, to offer the community special street food.
"We had limited expectations of what would happen, and we planned for every outcome, but it blew up. We promoted a lot on social media, but the quality of the food led to huge word of mouth to order from us."
Tin Can Kitchen are still hopeful that they will be able to launch a food court in the Welsh city, and grow into other cities like Cardiff, all going well. Following the success, they now have three containers all serving different foods from around the world, including pizzas, and Chicago-style hotdogs and burgers.
"We went in with lots of unknowns and weren't sure this would take off, but people were looking for that weekly treat, and we're finding that people want to help the community too."
The coffee shop who grabbed the opportunity to go digital
Lost Sheep Coffee in Kent has become sort of a local coffee empire, turning from a coffee kiosk into a full blown container cafe with its pod in Canterbury, and also having a roastery in the city. The company already sold its coffee on the web, but they'd realised they wanted to increase their presence online.
Stuart Wilson, founder of Lost Sheep, said: "As soon as it all went south, we shut down every single customer-facing aspect so that both of our cafes were shut down, and we switched to purely online sales straight away."
The sudden switch proved beneficial to the specialty coffee roasters, with online sales skyrocketing to 564% higher than the same time the year before.
"We're quite fortunate we wanted to move online anyway, and we were in a position to service the dramatic increase in demand. Hopefully more people will see the benefits of speciality coffee, and what you can buy for similar sort of money which is ten times better than what they might have previously been drinking."
Shipping containers - a role in reopening safely?
All three businesses have begun reopening in recent weeks as restrictions have lifted. In the case of Lost Sheep Coffee, its Canterbury pod has seen an influx of brand new customers as it reopened for collection. Stuart said he can only attribute that to the container ticking so many boxes for people.
"When it comes to food, people are already very conscious of what they're eating, let alone in a pandemic. With the location of a container, you can tick more boxes, and people get the thrill of a coffee shop without having to queue indoors and feel like they're entering an unsafe zone," he said.
Measures they've taken to ensure safety include screens between staff and customers, which will be up for at last another year as it's made out of glass, not plastic.
Jordan at Tin Can Kitchen also said their container nature "certainly helped" them to achieve success right now, "We still do predominantly delivery, but also have social distancing, and we're still hopeful that our food court idea will eventually happen." Tin Can Kitchen operates from a 20-foot container, so have a fair distance between their skeleton crew, along with ensuring all staff wear hair nets.
As 40ft reopened for business on 4 July, they took advantage of the fact that they're made up of four shipping containers.
"We're naturally physically distanced anyway, so we'll never be in a situation where two or more of us are in one container at the same time," said Stuart.
40ft are currently only offering seating availability, with groups of two, four and six, with no tables allowed to be shared. They also have a one way system to the bar, with only one person allowed to order for the table at a time. They're also asing for all contact details, so they can implement their own track and trace system, fully GDPR compliant.
Shipping containers enable people to have the freedom to enjoy a little bit of normality, while keeping employees and customers as safe as possible. Could this be the future of dining for the foreseeable future?