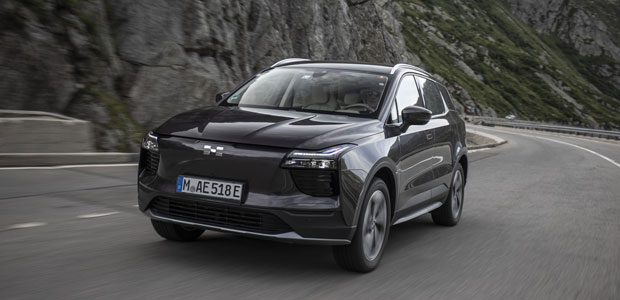 AIWAYS starts pre-sale for all-electric U5 SUV in Germany
The AIWAYS U5 all-electric SUV will be available from €37,990 when European sales start in Germany this summer. With a 410km range (WLTP) from its DC fast-charging compatible 63kWh battery, according to the company, the AIWAYS U5 offers the best price-to-range ratio in the European all-electric SUV market.
European customers will have the choice of two trim levels: Standard and Premium - with pre-incentive prices in Germany starting at €37,990 (including 16% VAT plus transfer costs). German customers can apply for the maximum environmental bonus of €9,480 (incl. 16 % VAT) for the U5. With similar government subsidies available in AIWAYS' other European markets, the U5 is expected to be a popular choice for consumers looking for high quality and high value emission-free motoring.
Alexander Klose, Executive VP Overseas Operation at AIWAYS, commented: "Our mission is to make electric vehicles a viable option for consumers across Europe. We're starting to deliver on that promise in Germany first, thanks to the U5's highly competitive price and German government support for EV buyers. Due to high interest among potential customers we have decided to start a pre-sale tour in Germany as of tomorrow."
The Standard version of the AIWAYS U5 is priced at €37,990 in Germany (including 16% VAT until 31 December 2020 plus transfer costs) before application of the government's environmental bonus. The entry-level AIWAYS all-electric SUV comes with 17" alloy wheels and is available with a white, blue or purple exterior and the option of a black roof. The interior is finished in grey fabric.
Standard models also benefit from a generous list of ADAS (Advanced Driver Assistance Systems) features, including lane departure warning, automatic emergency braking and blind-spot monitoring. Its temperature-controlled batteries can be recharged with the standard 220V cable or at almost 30,000 public charging points in Germany alone (status August 2020).
With a pre-incentive price of €40,990 (including 16% VAT plus transfer costs), the Premium version of the U5 includes the same exterior colour options as the Standard model, while for the interior there is the choice of black or white leather. The SUV features 19" alloy wheels and comes with a panoramic sunroof and sunshade.
The top trim level also offers wireless phone charging capabilities for Apple and Android smartphones, and an electric tailgate with foot sensor. In addition to the Standard model's ADAS features, the U5 Premium offers front parking radar and auto parking assistant.
In association with showroom partner Euronics, the AIWAYS U5 will start a pre-sale tour across Germany this month. Consumers interested in test-driving the all-electric SUV should register their interest via the Euronics website here.
AIWAYS will start taking online orders for its U5 all-electric SUV from German consumers later this summer, with other European countries, such as France and Norway, following soon after.