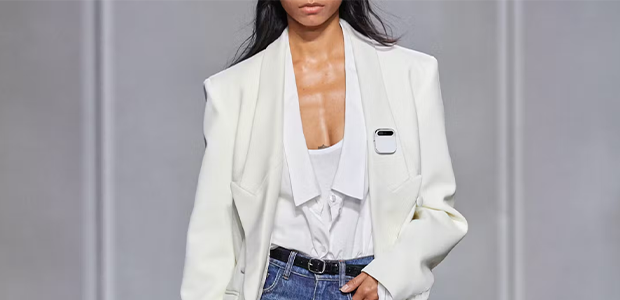 AI wearables at Fashion Week
Humane, a startup founded by ex-Apple design and engineering team Imran Chaudhri and Bethany Bongiornio, revealed its first AI device, the Humane AI Pin, at Coperni's Paris Fashion Week show, ahead of its official unveiling on November 9th.
The startup believes "in building innovative technology that feels familiar, natural, and human." Their mission is to create "technology that improves the human experience and is born from good intentions, with products that put us back in touch with ourselves, each other, and the world around us."
The Humane AI Pin is a screenless, standalone device and software platform built from the ground up for AI. The clothing-based wearable uses a range of sensors that enable natural and intuitive interactions and has been designed to weave seamlessly into users' day-to-day lives. The device is privacy-first, with aspects such as no wake word and therefore no 'always on' listening, reflecting Humane's vision of building products which place trust at the centre.
The pin will have a camera, a microphone and speaker, a variety and sensors, and a laser projector. It has been rumoured that the wearable will also have a 'Trust Light' privacy indicator, which will activate when the camera, microphone, or input sensors are on. It will attach to clothing magnetically, as seen at the Coperni fashion show.
The pin doesn't need to be paired with a smartphone or any other companion device. It includes AI-powered optical recognition and a laser-projected display, all powered by an advanced Snapdragon platform from Qualcomm Technologies. The piece is an official collaboration between Humane and Qualcomm Technologies. The complete functionalities of the Humane AI Pin, the first built specifically to harness AI for the post-smartphone era of mobile computing, will be unveiled in full on November 9th.
Humane plans to be a Mobile Virtual Network Operator so that it can sell cellular data that customers can use with the AI Pin.
Earlier this year, Chaudhri presented a TED talk, where he exclusively previewed the AI pin. In the video, Chaudhri is seen answering a phone call whilst it is projected onto his hand, asking the pin where he could go in the area to buy a gift, and real-time translation of speech.
In this TED talk, Chaudrhi said: "We like to say that the experience is screenless, seamless, and sensing. Allowing you to access the power of compute while remaining present in your surroundings, fixing a balance that's felt out of place for some time now."  
He continued: "We believe AI presents a huge opportunity for us to redefine our relationship to technology and that it will enable personal mobile computing to become faster, more powerful and easier to use. The first Humane device will allow people to bring AI with them everywhere and we're really looking forward to revealing more at our launch later this year."
According to The Information, the device may cost as much as $1,000, and may also require a monthly subscription for data.