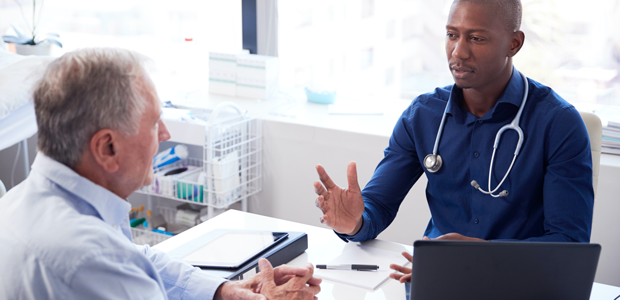 AI-powered healthcare solution nominated for Covid-19 response award
Healthcare technology company, Vantage Health has announced that its AI-powered platform, Rego, has been shortlisted for 'Local COVID-19 Response Partnership Award' at the HSJ Partnership Awards 2021. The shortlisting recognises Vantage Health's dedication to improving healthcare and effective collaboration with the NHS, through Rego's role in managing hospital outpatient attendances during the pandemic.
Following the most testing period for the healthcare sector in recent history, this year's HSJ Partnership Awards reinstate the essential role of private and third sector organisations in strengthening the healthcare system.
The judging panel comprised a diverse range of highly regarded figures across the NHS and wider healthcare sector. To be shortlisted as a finalist for these awards, despite tough competition from a pool of brilliant applications, is a mark of real achievement for Vantage Health. Rego has been selected based on the diligence, ambition, and the positive impact the project has had on both practitioners and patients within the healthcare industry.
During COVID-19, Vantage Health worked with LNWH, Brent, Harrow, Hillingdon and Ealing CCGs to ensure that as many patients as possible continued to be given the appropriate care, at a time when hospital services were severely limited. Through Rego, Vantage Health was able to provide an AI-powered platform to get patient information from the GP directly to an appropriate hospital consultant, without paper or manual intervention.
This advice and guidance function meant patients were successfully treated in the community or at home, whilst ensuring that patients in need of hospital care received it. The service connected over 200 practices with some 400 consultant specialists, with initial action rolling out within four weeks.
The full-service Rego platform is the first eRS compatible solution to be deployed in the NHS. The AI-powered referral platform provides automated GP referrals in one efficient system, which reduces the complexity of outpatient pathway guidance and eliminates manual triage processes.
David Ezra, Vantage Health Co-founder, commented: "We are delighted to have been shortlisted for the Local COVID-19 Response Partnership Award. The nod recognises our team's collaborative efforts and dedication in successfully - and swiftly - implementing Rego's Advice & Guidance function in response to COVID-19. We are excited to continue our partnership with these trusts and CCGs to implement the full Rego solution. Rego aims to reduce outpatient attendance by 50% by automating the referral process and enabling GPs to refer patients to the appropriate care, in just a few clicks, based on local pathways."
Alan Selwyn, IT Lead GP at Brent CCG, follows: "Vantage Health provided a remarkably quick turnaround time with Rego - which in the context of the large number of cases a GP deals with, is very important in the management of patients. Around 70% of patients require GP management, with advice, so many of those would have resulted in referral as we have seen, meaning a direct saving."
HSJ editor Alastair McLellan commented: "We would like to congratulate Vantage Health on being nominated in the category of Local COVID-19 Response Partnership Award ahead of HSJ Partnership Awards 2021. We are looking forward to welcoming them to the ceremony in June, to join us in recognising the very best collaborations and innovations in the healthcare sector. This year's finalists are of an outstanding calibre and all of them are exceptionally dedicated to enhancing healthcare across the UK."
The winners will be selected following a rigorous, judging stage ahead of the HSJ Partnership Awards 2021 awards ceremony. The awards evening is expected to be attended by leaders and professionals from both the NHS and private sector as well as figures from non-clinical backgrounds to celebrate innovation and collaboration in healthcare. The full list of finalists for the 2021 HSJ Partnership awards can be found here.