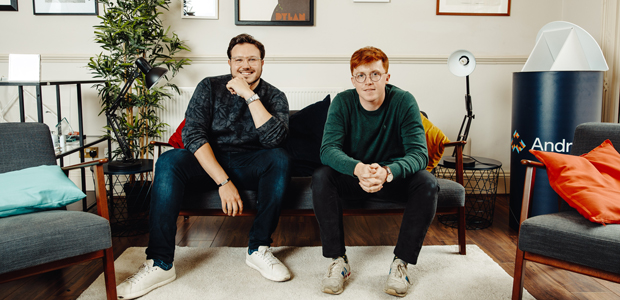 The AI platform the music industry needed
Artificial Intelligence, VR, AR and machine learning are all some of the hot topics at the moment, especially as our latest issue has a strong focus on AI and emerging technologies, so we thought there isn't a better time to catch up with Andrson, a sound-driven A&R platform, which is a brand new AI and machine learning-powered tool using sound-based search to connect emerging artists to the right industry professionals.
When did you launch?
As a fully operational platform, we just launched in June. However, we've been working very hard for a few years to get us to this point. Even though we're still in our youth as a startup, it's been exciting to see Andrson evolve past the early stages of development. It's an exciting time for us and we can't wait to see our business grow even more, but we're also thrilled to be helping artists and the music industry - which is ultimately why we created Andrson. We both come from a background in music management and music's our biggest passion point - everything we do is geared towards both genuinely supporting artists and making the talent search for the industry much easier.
Sum up what your company/product does in one sentence
A sound-driven A&R platform, Andrson is a brand new AI and machine learning-powered tool which uses sound-based search to connect emerging artists to the right industry professionals, thus helping them to get discovered faster and supporting music execs in their talent search.
How does the app work?
The app is very simple to use even though the technology is quite sophisticated. What the technology does is use machine learning to listen, analyse and assess the music being uploaded by new artists up against the ever-expanding collection of commercial artist recordings. It then offers the end user percentage-based artist recommendations based on these findings.
From an artist perspective, you can simply set up an account and upload your music whereby it will be analysed, added to our database, and be delivered to key music industry personnel. From a music industry perspective, execs on the hunt for new musical talent can use the platform to discover a particular type of artist they are looking for using an audio-based search. For example, if a record label exec wants to find a musician located within fifty miles of London and who sounds 65 percent like Jorja Smith, then Andrson provides that solution.
Why is it unique? 
The USP of the platform is the fact that search results are unbiased, and focused purely on the music and sound you are looking for, so that if you are an artist your music will not be lost in the shuffle of songs or eclipsed by potentially misleading velocity and/or social metrics, and if you are an industry exec, you can easily discover an artist with a particular sound that you are on the hunt for in a matter of seconds.
Who is currently using the platform?
Having only recently launched we have been delighted with the interest from artists and the sign ups so far. Our user base is a mixture of both independent and unsigned artists, and the music industry. We have just over 3,500 musicians using Andrson and have industry partners from small management agencies to major labels. In tandem, we launched Uploaded, an international songwriting competition which has attracted wonderful talent to the platform from every corner of the world.
What do they like most about it?
Artists appreciate both the direct link to the industry partners they need to advance their careers and the unbiased approach to discovery. Many incredible, very commercial artists remain undiscovered because current discovery tools focus on the wrong data, and Andrson is the antidote to that.
The industry appreciates the ease of use, the speed, and the accuracy of the results. A&R is a fragmented and time consuming process, but it need not be as much. Andrson facilitates immediate discovery based on scientific accuracy, but it also presents historic social data and encourages live performance footage to deliver industry executives holistic, music-driven results that make their lives -- and the decision making process -- faster, cheaper, and easier.
What problem does it solve?
We're by industry for industry, and we're answering one of its biggest problems: the talent discovery process. As artist managers we used to spend hours trawling through social media sites and social/streaming data aggregators on the hunt for new talent. It was a painful and time-consuming process. We knew there could be another way to enhance the discovery journey. We know that A&Rs spend so much time searching for new artists to add to their rosters and sometimes are looking for a specific type of sound. That's why we launched Andrson. It provides unbiased search results to shine a spotlight on artists you might have never come across before. We wanted to bring it back to what matters most - the music. Our unique A.I tech combines the simplicity of automation with the power of human discovery, to completely reimagine the A&R process.
How did you come up with the idea?
We have our napkin story that we like to tell about how the idea for Andrson was born. Both of us (Neil and Zach) met while studying at Trinity College Dublin. We quickly formed a strong friendship as we both worked in the music industry. Given our interests and experience in artist management, we opened up ThinkTank Dublin - an artist management service.
We used to spend hours in the library together doing our university work, first, followed by moonlight hours looking for new music talent. The downside was that we found ourselves, often into the break of day, trawling through social media sites, Spotify playlists, and static databases trying to find new artists to collaborate with. We realised how time-consuming and stressful the whole process was. We knew there could be a better and more efficient way to do this. This was when one of us (Zach) had a bright idea during a lecture and scribbled a note down on a napkin, so as not to forget it.
It was rough, but it represented an idea of new music discovery — how we might be able to bring the process back to the music being played, and create a place that could house and sort artists and their music based on sound. We titled it — as the napkin read — "Playground Music." Later the same day, both of us met at the campus library, and looked at the napkin again. The rest is history.
What are your growth plans? 
Is global dominance an acceptable answer? No, in all seriousness, we know we're likely not a multibillion dollar company, but we have plans the size of one. We want Andrson to be synonymous with global digital music discovery, so we're planning with that in mind! We just opened our Series A funding round, and we're confident that based on the size of our current international user base, use cases, and contract revenue that'll be secured by the end of the year. While that's ongoing, we've also got additional feature implementations planned to coincide with new offices in North America and potentially Asia. That's governed alongside ancillary revenue streams we're exploring, like API licensing and PPC applications (i.e. karaoke apps).  We'd be lying if we said an exit wasn't a goal, and we believe it's possible thanks to the sophistication and value of the tech, but for now the focus is on making Andrson the most innovative, helpful, and profitable it can be.
What advice would you give to any startup at the early stages of development?
There are so many challenges when going about setting up a business. One of them that's often overlooked is the ability to tell your story. This is incredibly difficult. You have your idea in your head and your crazy dreams of how innovative it is, but you always need to put yourself in the mindset of someone who knows nothing about you. Something great I (Neil) always focus on is figuring out how to do your elevator pitch to a 5-year-old, a ten year-old, a 15 year-old, a school leaver and a 65 year-old. If you can summarise what you do so each of them can understand it, you'll be able to sell your product to anyone.
That's pretty spot on advice. Another thing is to dream boldly but plan practically. When we first started I (Zach) thought that scaling would be a no brainer and we'd have an exit within two years. It was a wonderful dream. We know that Andrson will be the global leader in digital A&R, not just because we believe fully in its potential but also because we have the calibre of customers and technology that will allow us to take it there. But it's so important to ground those massive goals in practical, achievable benchmarks. So now our day-to-day mantra is to think robustly but realistically.
What challenges have you faced along the way?
Funding. Always funding. When we first began music tech was still quite niche and many people didn't really get what we're doing. That landscape has changed utterly over the last few years, which is hard to believe when you look back at our early days.
And actually, coming to tech from the music industry was beneficial in many ways including securing funding, as we really understand our market, the growth potential, and the value of the tech within the ecosystem. But the tech, A.I. and the machine learning curve has been steep at times. We're fortunate though - founding a startup is a steep hill to climb, but you learn so much every single day.
Another thing that was really difficult was understanding failure correctly. There's this idea that failure is inherently negative. When you're out forging a path into something new, you have to learn that that failure is constructive. Each failure presents new opportunities to improve and grow, and it ends up resulting in a stronger product. Celebrating small wins and failing better are important ingredients for a successful startup.