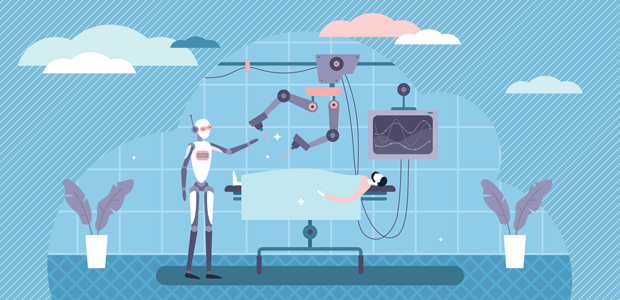 The AI entrepreneur fighting COVID-19 and healthcare inequalities
My journey as an entrepreneur began, like many other entrepreneurs, with the realisation of a major and entrenched problem. In 2014, while working in the Medical Devices team at the World Health Organisation (WHO), I became aware of the magnitude of the  global childhood pneumonia challenge. I was shocked that in the 21st century, a treatable condition still takes the lives of 1 million young children every year and is the number one killer of children under five years old globally.
In compiling a report of my findings into innovations that could address this problem, I concluded that we're missing a ground-breaking opportunity to deliver better and more community-oriented healthcare for billions of people. Since then, I have made it my mission to find a solution to tackle this issue.
After finishing my contract at the WHO, I completed a PhD in Healthcare Innovation which demonstrated that AI could successfully be used to more effectively detect childhood pneumonia in resource-constrained settings. With this evidence in place, I co-founded Feebris in 2017 and won The Children's Prize to fund and test this solution in the Indian slums.
I led the development of an AI-powered mobile health toolkit that brought this innovation to life – the toolkit includes a mobile application that communicates with digital point of care devices; machine learning algorithms on a mobile phone evaluate medical data acquired through the devices and identify pneumonia and its severity. This generated a large evidence-base on efficacy and impact on over 10,000 Indian patients. 
Building on this success, I am now working to scale this vision - bridging the gaps in Artificial Intelligence, Machine Learning and community care to support the equitable provision of healthcare to vulnerable groups in the UK. Alongside my co-founder, I am now building the technology, team and strategy to implement this vision. Over the last two years we have secured over £2million of R&D funding; recruited a world-class team; and attained the defensible IP, certification, quality and data-management systems to operate as a CE-certified medical device. 
The recent NHS Topol Review on evolving the healthcare workforce emphasised the importance of AI for synthesizing the overwhelming amounts of noisy clinical data to support clinicians' decision making. The COVID-19 crisis has now accelerated this need, highlighting the shortage of clinicians, the need for fast learning, and the urgent transformation in clinical decision-making (remote, focused on community-based interventions that minimise hospitalisations). The NHS has directed that care homes be equipped with the tools to perform regular health monitoring on site and GPs with the tools to deliver remote triage and management of health conditions. 
Feebris has developed AI-powered technology that enables this long-term transformation and facilitates the delivery of more integrated care: 
A mobile application that enables carers, health care assistants, nurses, general/duty managers  to collect high quality health measurements in an intuitive way. Then supporting them with immediate triage decisions by highlighting the patient's risk level.  

A web dashboard that a doctor can use to keep track of patients monitored in the community, with high-risk cases highlighted. The doctor can access all measurements (including lung sounds) and review individual cases remotely.  
Deploying healthtech to fight COVID-19
When the pandemic took hold, we were in a position to support the technology response. The NHS faces an unprecedented volume of respiratory patients and the ability to triage, diagnose, treat and care for them is crucial, particularly with the isolated elderly and vulnerable. 
NHSX funded the deployment of our platform as part of the UK's Covid technology response and we have effectively supported care homes and GPs across East London to implement remote monitoring for elderly patients through the pandemic.  The Feebris app now guides carers through a eight minute check-up, including capture of vital signs from connected medical-grade sensors, our AI then helps the carers to triage their patient's day-to-day needs. The GPs can also sign into the Feebris platform from anywhere to remotely and safely assess their patients' conditions.
Principled AI
With the opportunity of AI comes significant responsibility. The Institute for Ethical AI & Machine Learning sets out 8 principles of responsible ML development, which cover areas such as accuracy, privacy, data security but also bias evaluation and algorithm explainability. By conforming to these ethical standards, AI companies stand the best chance of becoming a mainstay in healthcare. Trust takes a long time to be built but only a moment to be lost and given the necessity for more affordable and sustainable healthcare around the world, the sooner we build trust in AI, the sooner that all of us will benefit from better healthcare.
Only through technology do we have the opportunity to reach the aspiration of universal and equal healthcare.