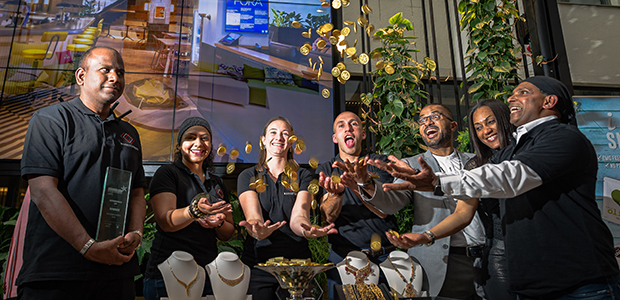 Adding the Midas touch to the jewellery industry
In today's technology-driven world it's easy to forget that some sectors have remained relatively untouched by its advance, and the global gold jewellery industry is a case in point. On the face of it, it's perhaps difficult to see exactly where technology could make an impact in this extremely traditional industry, which hasn't changed much since the ancient Egyptians began to adorn themselves with gold nearly 3,000 years ago.
However, Brentford-based MarketOrders is disrupting the market - helping independent retail jewellers to access products and services they need through its business-for-business e-commerce platform, without having to pay unnecessary mark-ups and commissions imposed by middlemen.
The company leverages its purchasing power model to aggregate small orders from its retailers and send bulk orders to the suppliers. Therefore, the retailers can order exactly what they need at the most competitive price, while the suppliers have access to a market that was previously too small to serve without volume orders.
It's been a busy decade for company COO and Co-founder, Sukhi Jutla, having launched five different companies (after quitting a career in finance), and authoring three books (including the first in the world to be published using blockchain technology).
Third time's a charm
She explained the company's early beginnings: "I met fellow co-founder Ram Krishnna when we both worked in the banking sector as he was a gold bullion and diamond trader. He had this idea for a marketplace where you could buy gold and diamonds because as a trader, he saw that there were so many protocols and gatekeepers in the industry which made it very old fashioned. It's an industry that is still very much built on trust."
This was in fact the first of three iterations of the business which evolved when the pair realised that the inefficiencies in the industry meant that scaling their business model was going to prove almost impossible. So, another company was established with a much more streamlined process that enabled more scalable profit margins.
Jutla continued: "As we were running the business, I noticed that there were many of our customers that were ordering similar types of products on a weekly basis. So, I suggested that when those orders came through, rather than shipping them straight to the supplier, we wait for a week and then aggregate all the orders that come in, and just send one big order to the supplier. By doing that we were able to collect bulk orders and by shipping an order once a week, we were able to substantially reduce the running cost of the business."
However, despite running the company at a tidy profit for a couple of years, the inefficiencies within the supply chain were still hitting those profit margins hard. The duo were still driving all around the country visiting retailers, orders were being taken manually and flights were still being taken to locations like Dubai, Singapore and India to visit suppliers. This all led to significant lead times for the retailers (typically around three months).
Therefore, Jutla and Krishnna return to the drawing board and set up a third version of the company that was focused more around technology. "MarketOrders was the phoenix that arose from the ashes of the two previous startups," added Jutla. "Our vision is to create an online marketplace where every process of the customer journey is digitised - using technology to streamline a very outdated market to make it more efficient. This allows us to be more price competitive and at the same time allows us to ease supply and demand issues."
Retailer problems
Jutla explained that the industry's suppliers aren't set up to deal with small independent retailers and usually only open their doors to wholesalers who are going to buy in bulk volume. And even if a retailer does get in front of a wholesaler, there is no guarantee that they'll be able to buy the product they want – more often than not they buy whatever the supplier has in stock at the time.
She added: "When nothing is online it's very difficult for our customers to know what's available. We're a platform where any supplier can upload their products. Then, on the other side of the marketplace you have independent family owned high street jewellers, who are our specific customer segment. And it's these customers that are suffering the most. Quite often they have just one shop which is a family run business. And often, they find it difficult to compete against the larger stores who have an e-commerce platform."
Jewellery purchases are typically driven by emotion, so it's up to the retailer to offer an amazing experience, a competitive price and a variety of designs. And the only way that a retailer can offer those different designs is if they are provided by the suppliers. However, the problem is the suppliers collect their orders from the wholesalers, and they tend to only cater for fast moving standard products that will sell quickly, and that shops stock all the time – meaning the retailer ends up with a fairly limited selection of designs.
"We've turned that traditional supply chain upside down," added Jutla. "So rather than the suppliers and factory owners just pumping out products that they think will sell, we've put the power back into the hands of the retailer, by asking them to go onto our website to place the orders that they want from the thousands of designs that we have – rather than being forced to sell products that are just being pushed to them.
"Our technology will then aggregate the orders that come in by product type. So, we're able to push volume to the suppliers which means we can negotiate discount savings which we can push to the high street jewellers."
Currently MarketOrders can guarantee delivery to retailers in as little as ten days, and charge a ten percent commission, as opposed to 40% typically charged by the industry wholesalers.
Online risk
One of the main challenges of establishing the MarketOrders platform has been breaking down the perceived risk from the retailers of buying high value stock such as gold over the internet. "To ease the technology transition, we encouraged our customers to place small orders that they were comfortable with," added Jutla. "A typical order from a retailer would be around £5,000 – we asked them to place an order for around £200 – a less risky amount, and one they can afford to lose over an online order."
MarketOrders go further than that and guarantee that when products arrive, they will be flawless and importantly, either 22 or 24 carat gold. This offers crucial transparency in an industry where retailers can and do get scammed with sub-standard products.
Because MarketOrders can push large volumes to the suppliers, they are no longer constrained to working with wholesalers who have traditionally dictated terms. "With our suppliers (who we certify), we are able to pass trust along the supply chain to the retailers. This is such a big issue for us and so far, we've never had a customer return a product or complained about the quality of the gold. And if we mess that up, we've essentially messed up our entire business model. We're not trading in gold jewellery; we're trading in people's trust," added Jutla.
An industry evolves
Jutla explained that it's only a matter of time before the industry starts embracing technology in earnest, as the governing associations have stated the processes within the industry need to be made more transparent.
"Right now, we can't even say how much gold is circulating in the industry – in terms of the amount of gold extracted from mines around the world on a global basis, it's all guess work. You can't track it or say how much of the mined gold is then being utilised."
By digitising the process MarketOrders predict they will be able to use data to see exactly where the gold is going, it's quality, which geographic location is consuming it, how much is being melted down, and whether any child labour or slavery is used to create the products.
There is also a generation shift underway within the industry, and Jutla believes that timing was a key reason why it took three iterations to get the business model correct. She added: "Around eight years ago, if I walked into a customer's shop, I'd be dealing with the owner who would typically be an immigrant (as we specialise in Arabic and Asian gold), of around 60 years old. We'd be trying to sell this new technology-based idea to what is a pretty traditional and staid industry and they just weren't interested.
"The attitude was that they'd been running their shop the same way for 20 years so why should they change now? What's happened over the last few years is that many of these shops have passed on to the next generation. So now I'm dealing with millennials. They have a totally different mindset."
Key to this technology shift, within the next 12 months MarketOrders are also aiming to roll-out augmented reality (AR) to enhance the customer experience and enable them to see what a particular design will look like when worn. "Shops obviously have limited design space but through the use of AR on in-store tablets we can make these design options endless."