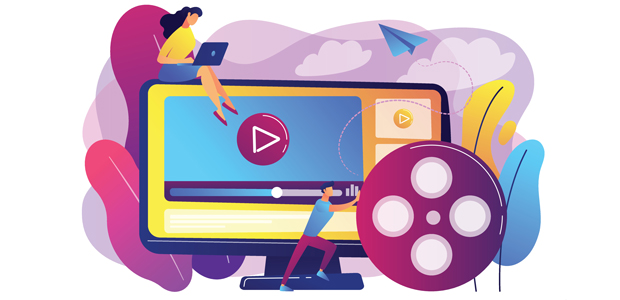 8 ways to boost sales using video in your marketing campaigns
Business videos attract customers through eight marketing channels at once. EIGHT! And all eight can be used simultaneously! We conducted a survey and found that on average customers use no more than two of them. Don't do that. Since you paid for a cool video, make the most of it!
Method #1: Landing pages and capture pages
The modern Internet user is spoiled by attention. They won't waste their time reading a detailed description of your product ten pages long. Especially if you have a complex innovative product.
Infographics-video marketing is much easier to watch a video presentation. Just one click, one to two minutes and everything is clear. The viewer doesn't even have to scroll the site. You can increase the video viewing rate on a website or landing page to 30% of all traffic.
Don't forget that having a video pulls your site up in the search results. Why? On average, a user spends 2.6 times more time on a page with a video than on a page without a video. And the time spent on the website is one of the most important ranking factors on Google.
Method #2: Social networks and YouTube channel
Every fifth Facebook post contains a video. On Instagram - every 8th post and every 4th ad. Videos are 6 times more likely to be retweeted than images.
There is nothing to say about TikTok. The platform was originally created for video and for the second year tops the rating of the most downloaded smartphone apps.
It doesn't mean that people don't read text anymore. They read, but they like videos more. By the way, a little secret, more than half of all video content in social networks is watched without sound. And on Facebook, this figure reaches 85%.
What about YouTube?
Today, YouTube is the second most popular search engine on the Internet after Google. 90% of all people in the world between the ages of 18 and 44 visit YouTube. For the new generation, this is the #1 site.
Your presence on YouTube is not limited to uploading business videos to your company's channel. Here you can advertise no less active than on TV, and it will be much cheaper. 
Method #3: Good old TV ads
Innovative companies like to say that TV is the last century, and in some ways they are right. But for large brands focused on consumer products, TV advertising is still an important channel of interaction with the audience.
Method #4: Exhibitions, conferences, business forums
A cool image or presentation video for the exhibition will help you leave far behind all competitors.
Imagine that your company is participating in an industry exhibition. The pavilion features stand for dozens of companies. Half of them are your direct competitors. In the hall, there is a bustle, noise, crowds of people.
Here is someone installing a three-meter banner with the company's logo on strong iron legs. Here is a girl in a dress of corporate colours handing out advertising leaflets. Three meters away is a shiny trash can full of flyers.
All of a sudden, music is playing, and your 3D business videos are shown on the home screen with a vivid infographic and a voice from a Hollywood blockbuster.
Most likely, after such a performance, visitors to the exhibition will immediately understand who the Pope is.
Method #5: Personal meetings with the client, presentations, negotiations
Video is better than a manager! Here, judge for yourself. The video will not confuse anything in your prices and rates. Won't start sweating and babbling in a shaky voice. Videos don't have bad moods or bad days. The video won't run over to competitors, ask for a pay raise, or…
All right, that's enough. Go to the next method.
Method #6: Mailing by e-mail or messengers
Nobody likes spam. But everyone loves videos. Once your customers have subscribed to your newsletter, show them respect. Send them something better than an email with the flashy headline 'ATTENTION'.
Just add the word 'video' in the subject line will increase the number of opens of your email newsletter by 19%, the site's clickability increases by 65% and the unsubscribe rate decreases by 27%.
Another stable trend in the next few years is mailing in messengers. The same principles apply here as for traditional e-mail newsletters. Business videos have a better chance than a huge sheet of text.
And one more thing: 52% of marketers believe that video is the content with the highest ROI.
Method #7: Thematic forums on the Internet, industry media, press releases
Highly specialised sites are still in high demand to this day.
It just seems that in the era of social networks, forums and other semi-closed hubs are outdated. 
Method #8: Mobile apps, Google Play, AppStore
Everything related to mobile communications and applications. A teaser ad that the owner of a smartphone watches while downloading a new game.
New app update? Explain clearly what has changed and how to use the new features. Released a game? Great, interest a potential gamer in the introductory trailer.
Conclusion
The video is suitable for eight marketing channels at once. Each industry has its own channels, but most of them are recommended for any business to distribute their videos.
Promote your startup with video, check out our website here.