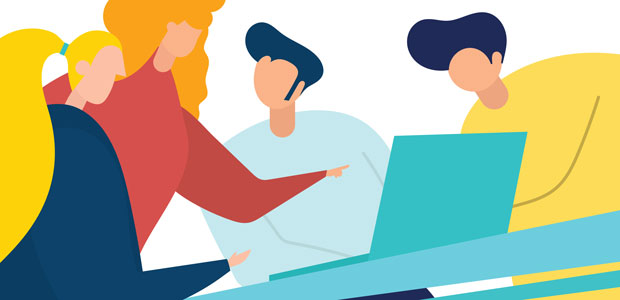 7 Opportunities Entrepreneurs Won't Want to Miss in 2021
Last year was an incredibly challenging one for entrepreneurs and small business owners. According to a survey from Alignable, 45% of small businesses reported earning less than half of their pre-pandemic revenue. Statistics like these can scare you away from starting a company in 2021, but they shouldn't.
Despite the challenges of 2020, 2021 could be an ideal year for startups. Numerous cultural shifts took place throughout 2020, many of which continue to provide potentially lucrative opportunities. If you can take advantage of these, this could be a year of tremendous growth for your startup.
If you're planning to make the most of 2021, you'll have to capitalise on the opportunities making starting up so profitable. Here are seven of them you won't want to miss:
1. The e-commerce spike
One of the most substantial changes in 2020 was the growth of e-commerce, which will continue into 2021. As going into public became a health risk, e-commerce rates reached all-time highs. In June of 2020, e-commerce sites generated nearly 22 billion visits, almost 6 billion more than in January of the same year.
Now that the public has come to rely so heavily on e-commerce, they won't soon abandon it. This trend means you don't have to have a brick-and-mortar location to succeed. If you can optimise your online presence, it could be enough to sustain your business.
Consumers are now used to buying a variety of things online, even from stores they don't recognise. This new online landscape could give you an ideal place to start and grow your business.
2. An available workforce
At the height of the pandemic, many companies had to lay off employees. The rising unemployment rate may seem discouraging, but it gives startups a unique opportunity. Since, as of September, half of those who lost their jobs were still unemployed, you have a readily available workforce from which to hire.
It seems counterintuitive, but some startups can struggle when employment rates are high, as it can be challenging to find talent. Now you have an eager pool of potential employees ready to work as soon as possible.
3. The rise of remote work
Another noteworthy trend that developed in 2020 is the shift to remote work. Now that remote work is a more viable option, you can acquire talent from across the country, rather than just sticking to local candidates.
In addition to expanding your reach for finding employees, embracing remote work can improve company performance. Even before COVID-19, 85% of surveyed companies reported increased productivity after adopting a remote or flexible work policy.
4. Social commerce
Retail websites aren't the only part of e-commerce that saw considerable growth in 2020. Social commerce, where users buy and sell products directly on social media platforms, has become more mainstream. Consumers can buy your products without leaving Instagram or Facebook, giving you more opportunities to make sales.
Facebook is the leading site for social commerce, with 18.3% of its users making a purchase on the site in June 2020. People are spending more time on social media, which gives you a more readily available market. If you capitalise on this social commerce trend, your startup could see early success.
5. Social responsibility
Last year, we saw several social trends take place that could continue to impact business in 2021. Most notably, there were widespread social justice movements, which profoundly influenced consumers. In the face of these increasingly public issues, consumers will continue to look for companies with strong values.
Startups have a unique advantage with this trend, since as a new business, you can act responsibly in order to align with customers' values from the start.
Aligning with these trends has direct monetary benefits, too. For example, by sharing your company's environmentally friendly practices, you'll appeal to the 57% of consumers who are willing to change their purchasing habits to reduce their negative environmental impact.
6. Demand for data security
Cyber crime rates sky rocketed throughout 2020, with large-scale data breaches rising 273% in the first quarter alone. As companies embraced digital transformation and users became more susceptible to scams amid uncertainty, cyber criminals took advantage. While this trend is troubling, it also gives startups a clear path forward.
If you want to succeed in 2021, you'll have to emphasise your company's cyber security and data privacy best practices. Even before the pandemic, 32% of surveyed consumers said they'd changed companies over their data policies. Now that these issues are more prominent, that trend will only grow.
Customers may be willing to pay a premium if it means their data is safe, so it's important that you can assure consumers you're taking steps to protect their information.
7. Success for niche markets
As people had more time to themselves during lockdown restrictions, they took up new hobbies. Consumers have tried new things, with 73% trying new shopping behaviours, 83% of which intend to continue doing so. This is good news for startups, which may target more niche markets.
The American public is more open to a range of different experiences now, so they'll buy things they may not have previously. Consumers are hungry for something new and exciting after months of isolation, so you could succeed by moving away from the familiar. If you offer a unique product or experience, you may see more growth than a more established, familiar company.
For example, outdoor activities have seen a particularly impressive rise, with 66% of consumers spending more time outside. As a result, the market for things like hiking, camping or sports gear now has an eager new consumer base. Marketing towards new nature enthusiasts or offering outdoor-inspired products will likely be profitable.
Home cooks are another rapidly rising market, so affordable cookware or unorthodox ingredients and kitchen utensils could sell well. Always offer something fresh and original instead of imitating well-known brands. These consumers are new to the area, so they don't have brand loyalty within it yet, making original, less familiar items and services more appealing. 
Maximise your startup's potential in 2021
The year 2020 may have been one of the most challenging ones for human beings and businesses in recent history. Despite this, 2021 is shaping up to be a promising year for startup owners. If you take advantage of these seven trends, you could see considerable success.
Keep in mind, these developments don't mean it will be easy to grow in 2021. They do mean that you have some unusual opportunities, though. With enough forethought and dedication, you can capitalise on them and maximise your startup's potential this coming year.