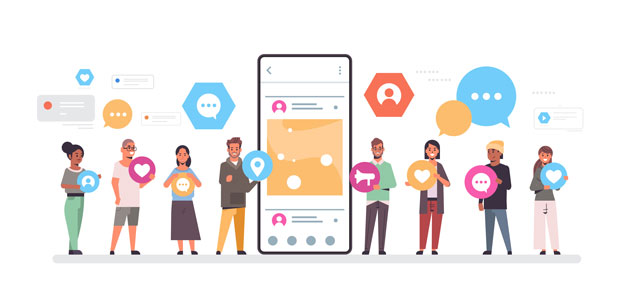 6 Ways to Boost Your Small Business' Social Media Visibility
Social media will always be an integral part of your small business' digital marketing strategy, whether you're using it to alert fans and followers about new offerings, industry news, or showing how things work behind the scenes in your company
For years now, social media marketing has become indispensable for small businesses to establish their brand's reputation and connect with their audience.
Still, no matter how relevant, informative, and engaging your social media posts may be, they won't provide much value to your business if not too many people see them.
You may have your fair share of fans and followers, but adding more wouldn't hurt, especially when there are billions of social media users today.
You can win more fans and followers organically by strengthening your social media visibility. Here are six tips to help you do just that.
1. Social Media Profile Optimisation
Optimising your social media profiles is one of the easiest things you can do to boost its visibility.
Some of the best social media profile optimisation practices include:
Linking to your main company website

Linking to other social media profiles

Creating consistent profile descriptions

Using the same cover photos and background images bearing your brand
2. More Visible Social Media Icons On Your Site
It's common practice for a small business website to feature social media icons that directly take visitors to your social media profiles. It's an excellent opportunity for a business' social media posts to get seen.
If you're going to do this for your small enterprise, make sure you put the social media icons on your website's most-visited pages to maximise visibility. That would typically be the homepage, blog, and contact us page.
3. Use Hashtags
Hashtags aren't just a way to look cool or trendy. They're actually an excellent way of helping people find your social media posts.
You can use hashtags to tie your posts to specific trends, topics, current events, discussions, and campaigns.
As long as the hashtags are relevant and not old hat, people are going to find their way to your posts through them.
Also, avoid using hashtags that are popular but are not relevant to your content. You wouldn't want people to click on a hashtag only to be confused and disappointed that your content has nothing to do with it.
4. Get Your Employees Involved
In all likelihood, your employees have a social media presence, which means they have connections you can leverage.
Ask them to share the company's social media posts, something that will go a long way for their visibility.
5. Hold Contests Or Giveaways
All people like receiving free stuff, and that's something you can take advantage of to increase your social media profile's visibility.
Let's say you're running a dental practice, and you want to attract more followers on social media, all of whom could be potential clients.
You can launch a contest on your social media page and give away prizes like discounts for dental services or free consultations.
Your current fans and followers will likely share your profile with their friends and loved ones so they can join the fun, effectively boosting your practice's social media visibility.
6. Post More Great Visuals
Your words are good but stunning and high quality images, entertaining and informative videos, and cleverly-created infographics are so much better, especially from an engagement standpoint.
So, instead of long, text-based posts most of the time, fill your social media profiles with visually appealing posts. You can go the DIY route by using several free and paid tools online, or you can hire a professional to create the stunning visuals you need to give your social media profile's visibility a boost.
A more visible social media presence is key to your business' success. Take the first steps to better social media visibility by giving the tips listed above a try now.