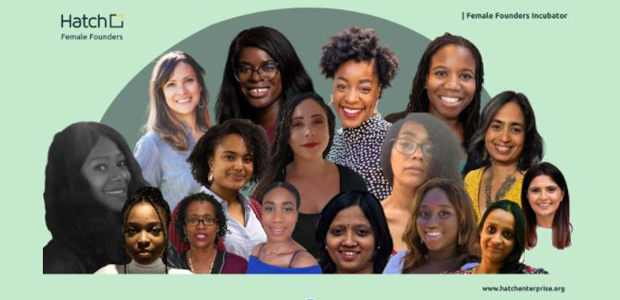 52 diverse women join Hatch's female founders programmes
Founded in 2014, Hatch has been on a mission to increase diversity in entrepreneurship and has been shining the spotlight on diverse women-led businesses ever since.
However, this year COVID-19 hit businesses hard with female entrepreneurs being disproportionately impacted with various reasons why.  Huffington Post found that  the virus has hit many sectors that are dominated by women particularly hard, such as the beauty industry along with more women taking on homeschooling and additional caring duties whilst schools have been closed.
Despite women-led small and medium enterprises (SMEs) contributing some £85bn to the UK economy, just 9pc of the funding funnelled into UK startups goes to women-run businesses. Dirk, CEO of Hatch said: "We've seen female founders opening up about their struggles and challenges to each other, especially as many have to survive and thrive in male-dominated environments. For example, it can be frustrating if you've got a female-specific product or service but you're only ever pitching to men. Having a supportive group of fellow female founders around you can really help with relevant advice, sharing insights and best practices, as well as relevant contacts." 
Hatch provides women with the necessary financial and social support to help them grow their business and boost their confidence. They recently welcomed 52  female founders onto 3 of their programmes:
It was recently revealed that 51% of aspiring female entrepreneurs in the UK said that the Coronavirus pandemic has made them want to start their own business. Hatch's Launchpad programme  is designed  for Black, Asian and Minority Ethnic women looking to do just that.
Niharika has just joined to help her launch a platform for fertility awareness. Having worked at an AI based startup she believes that technology can do wonders and she wants to create a product or service to make the world a better place. She said "currently my business is just an idea that I want to take forward. This programme will help me develop this idea and eventually launch it. With the help of expert-led workshops I will be able to solve the issues that I am facing. I am looking forward to the 121 support and advice that I will get. With this course I will be able to connect with likeminded people, get a different perspective and most importantly I will get the opportunity to learn."
Loretta also completed the programme earlier this year and added "spending time with other BAME women who are on the same journey has been invaluable. The course helped me to realise what I need to work on in my business and for me."
In 2019 and 2020 the launchpad supported 45 female founders with 100% coming from Black, Asian or Minority Ethnic background. The programme is funded by Natwest.
The Incubator is designed for Black, Asian and Minority Ethnic women who have launched a business already and want to learn how to grow it sustainably. Nohelia is the founder of The Do-Gooders, an inspiring, curated directory of sustainable brands, helping consumers easily find, rate and compare ethical alternatives and use their purchasing power for good. 
After years of volunteering for different social causes on the side of her career, she decided to follow her passion for sustainability and social entrepreneurship on a full-time basis and became a Marketing Consultant for different impact organisations. Feeling the need to support a bigger number of sustainable brands, she founded The Do-Gooders in October 2019. 
She has just joined the Incubator to "learn from experts, network with other entrepreneurs in the same stage I am, and benefit from the exposure and support of Hatch. I hope I can become a better entrepreneur and leader after the programme."
This year, the programme received backing from UBS and VivoBarefoot. 
The Accelerator is for women led businesses with a turnover over £50k who want to grow their business 10x in the next 10 years.  Khaleelah started her digital agency  Careful Feet to help time constrained and  money strapped small business owners grow their businesses online.  
However, as a Black woman growing a business she felt that she lacked the networks needed to scale up so she joined the Accelerator to expand her network and learn from other female founders.
Since the programme she has been able to do a "workshop to a group of over 40 women, which increases my profile and helps with my public speaking". She also received "really high quality financial and legal advice from the connections Hatch has found for us. These have been invaluable opportunities". Khaleelah is now hoping to grow Careful Feets's revenue by 20% this year, and even though they've encountered issues with COVID it looks like they're on track to do so! 
The Female Founders Accelerator was built using insights from over 100 female founders to tackle common challenges that they face, such as childcare and fear of failure, and has backing from J.P. Morgan.
In the past six years, Hatch has supported over 470 founders through in-depth programmes, with 98% of women finishing with increased financial confidence,  94% with an increase in their networks, and 93% feeling confident that they know the right way to get funding.
Are you a female founder looking to connect with like minded women? Applications are now open for the next cohorts starting in January 2021. For more information visit here.