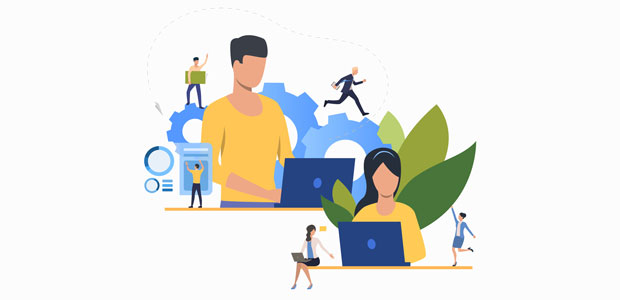 5 Ways to Streamline Your Freelance Workforce
If you own an up-and-coming startup, you need to find reliable, skilled workers - and freelancers usually fit the bill, especially because they come with flexible payment schedules. These employees can help your business navigate the initial stages to achieve success. That said, you should note that freelance workforces can be tough to manage.
Thankfully, with a few strategies, you can build the best team possible.
1. Create a Recruitment Method
There's nothing more important than finding the right freelancers to do the work. This process looks different from what happens when you hire full-time employees, so you'll need to create a specific recruitment strategy to build a workforce. Luckily, you have options - especially regarding who to hire, as nearly 60 million Americans freelanced in 2019.
First, you need to craft a job description that states exactly what skills a freelancer will need to do the job correctly. What tasks will the position involve? Then, you can work in the details about what requirements the applicant will need, such as previous education and work experience.
Next, figure out what hiring resources you have at your disposal. Do you have trusted colleagues who've used freelancers in the past? Give them a call to see their recommendations. This trick may help you discover a few good leads on who to hire.
However, you shouldn't limit yourself to your personal network. There are endless talented, ambitious freelancers to discover. Therefore, you should also consider online job boards so you have a chance to tap into a more extensive base. Here are a few to browse:
GitHub

Upwork

Indeed

BloggingPro

Dribbble
After you receive a quality applicant pool, you should thoroughly screen them to eliminate scammers. Do your best to double-check whatever they've submitted so you know it's accurate. Then, move forward with interviews as you see fit.
2. Offer Clear, Concise Guidelines
While your job description will provide details on the project, you still need to work out expectations. Whether you need a consistent freelancer or a one-time hire, you must provide them with specific information to ensure they perform. This experience will help you build your employee management skills so you can eventually run a full-time team, too.
Have an onboarding meeting with every freelancer you hire. Be sure to outline expectations, including deadlines, points of contact, meetings, and more. Discuss everything about the project so they have a chance to ask questions. Try not to make any assumptions, as you'll run into problems down the line.
3. Build a Standard Payment Schedule
Because freelancers aren't salaried or hourly employees, you have to pay them on a project-by-project basis. This part can be a bit tricky, but with a bit of preparation, you can build a payment schedule that works for everyone you hire. Plus, you may not have to do much work on your end to ensure your freelancers are paid correctly.
After you determine a budget for the freelance hires, you can use numerous platforms to pay them the agreed-upon compensation. Consider online services to keep payments organised and accurate. This way, you can meet specific payment expectations, as many freelancers and other gig workers rightfully don't want to have to wait around for their paychecks.
4. Make Communication a Priority
There's nothing more important than communication in freelance work. If you don't keep tabs on your team while they're working, you can encounter numerous hiccups that put the project at risk. Fortunately, technology allows you to stay in touch no matter where you and your workforce are in the world.
Platforms like Skype, Podio, Slack, and others are available to help you maintain communication with your team. This effort isn't just useful on your end. It's the best way to make your freelancers feel valued, as you won't be keeping them in the dark. Be sure you have the correct contact information for each other so you always have an open line.
5. Find Ways to Monitor Productivity
When you're first hiring employees for your company, you may feel a bit disorganised regarding project management. It's a learning process - but you can make the experience better when you use specific methods to track and monitor productivity.
These steps will also be a useful tool to help you work with new hires, as you'll see how and when they make progress.
Through certain software, you'll have access to progress reports that keep you informed about where you're at in the project. While you may not want to purchase software just to keep tabs on one employee, you can certainly use it as you expand your team. Essentially, productivity monitoring will work as an effective way to support your project's completion from start to finish.
Consider These Tips to Help You Manage Your Freelance Team
Because freelance workers offer endless value to companies, you're probably considering hiring a team to help your startup grow. While freelancers are terrific additions to any business, you have to build a freelance workforce in a way that benefits both parties. With these suggestions, you can work with these employees to achieve success.