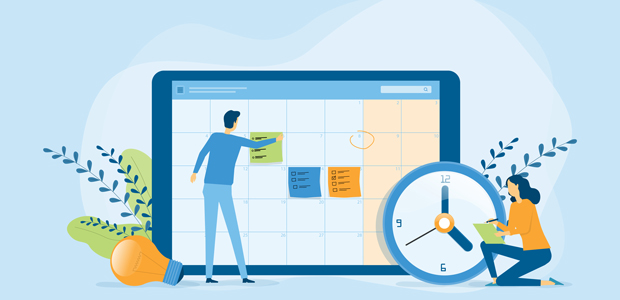 5 ways to organise your calendar
The dramatic rise in hybrid working in the UK bought about by the impact of Covid-19 has seen individuals and teams working either partly or fully remotely in line with the ebbs and flows of government restrictions.
While hybrid working offers a range of benefits, there are some potential pitfalls too. For example, calendars have become more chaotic and workloads more difficult to manage, with data showing that workers have become busier and are working longer hours.
Calendars are powerful tools - when used correctly, they can save you time, keep you on schedule, provide you with direction and help you achieve more. But many people don't know how to use calendars efficiently and as a result they end up in a world of chaos. Here are five calendar tricks that will help keep you organised, focussed and productive.
Set aside Focus Time on your calendar
At least a few times a week, set aside blocks of Focus Time to give you a chance to step back and complete tasks without anything getting in the way. Advantages of blocking this time include helping you to stay focussed without interruptions, reducing stress, and completing better quality work. When you do this, achieving a state of uninterrupted flow is easier, meaning your brain doesn't have to keep switching between tasks, so your productivity goes up. 
Make the most of calendar management tools and apps
There are different tools and integrations available that can help make calendar management easier and boost productivity. 
Evernote's calendar feature allows you to bring your notes, schedule, and tasks together, removing friction so you can get more done with less effort. It also helps you prepare for meetings faster, ahead of time or on the spot. Create a preformatted meeting note that automatically fills in details from your calendar, like name, date, and attendees or open an existing note linked to your meeting and find all your relevant info in one place, ready to go.
Simplify Scheduling 
Doodle and Calendly offer great free versions for scheduling meetings with Outlook, Gmail and other email services. This offers an easy way for clients and colleagues to book time with you, rather than spending your time and concentration doing this manually via a stream of emails or messages. Simply set your availability, share your link, let them select an available time and the event is added to your calendar.
Schedule time in your calendar for basic personal items such as eating, exercising and spending time with family. This is important as it allows you to take a break and stay healthy – both mentally and physically. There is a theory that if you don't schedule something, then it won't get done, at least not on time. This will help you stay healthier and happier, which will in turn boost your productivity. 
Use colour coding
Colour code your calendar to make it easy to see a snapshot of your day ahead i.e. yellow is internal meetings, blue is deep work, orange is personal items. This makes it easy to segment and identify personal meetings from business ones and arrange your day quickly. 
Having a colour-coded overview of your commitments and an easy way to filter them means you won't spend too much time identifying different types of tasks when checking your calendar. Also, it eliminates the need for multiple calendars if you have a personal diary and work calendar. 
Use notifications
Notifications can serve as reminders to help you stick to your schedule without needing to continually check your calendar. Evernote's new event notifications feature with Google Calendar is a useful tool. Helping you stay on top of your busy day, event notifications remind you to take or open notes before or after an event - so you can feel better prepared for a meeting or follow up with action items. 
Ultimately, hybrid working has boosted productivity, but high productivity is masking an exhausted workforce, according to research by Microsoft. When used correctly, calendars can save you time, keep you on schedule, provide you with direction and help you achieve more. Hopefully these tips help you do just that.