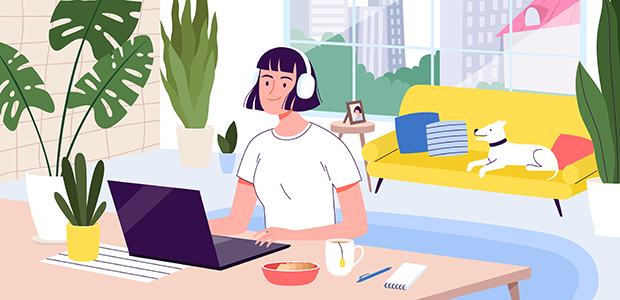 5 ways to keep your digital nomad well this summer
The prospect of working as a digital nomad – doing your job from anywhere with an internet connection – is an appealing idea for many UK workers, so much so that Google search volumes for 'becoming a digital nomad' have doubled over the last year.
Here, Rachel Murray, Head of Employee Health and Wellbeing at Bupa UK, shares advice and guidance for companies wanting to keep their remote workers fit and well this summer and beyond.
Bupa's Wellbeing Index shows that the aftermath of the pandemic left many of us with differing views on working remotely. While 16% reported that home working helped to improve their health, 22% thought that it caused a decline in theirs.
Whether working from home, a shared working space or from a holiday rental, there can be a host of wellbeing benefits to working fully remotely. It can encourage a better work-life balance and help people to continue hobbies and activities they might otherwise have to give up if commuting to an office. 
Working from anywhere doesn't suit every individual or organisation. Wherever your team is working from, all employees should have the correct guidance and policies in place to help them stay healthy, grow professionally, and adhere to local legal requirements – for example tax protocols.
Promote the benefits of healthy living
Working away from home may tempt you to get into 'holiday mode' and eat and drink whatever's convenient – which tends to be processed or carbohydrate heavy. However, eating and drinking like this over a long period of time can leave you feeling sluggish and more prone to weight gain.
Think about ways to explore the merits of healthy eating together as a team – perhaps you could have a daily chat about what you're planning to eat for your evening meal to encourage people to plan ahead and make healthier choices.
Maintain your mental health
Even if you're working from one of the most beautiful locations, anyone can be susceptible to feelings of loneliness. It can be damaging to your mental health, can reduce productivity and quality of work, so it's important to create a culture where people feel comfortable to share how they're feeling and know how to access further support.
If you have team members working away from home and they're working on changing schedules, they might find it more difficult to create a sense of stability in their working environment, too. This can make it harder to find motivation, potentially leading to productivity suffering further.
Be sure to have regular one to one check-ins with your remote workers so they're encouraged to talk openly about how they're doing and to ensure they have a positive working environment. If they're struggling with motivation, 'buddy' or mentor systems can be a great way to promote cross-team relationships and inject some motivation into the working day. 
Encourage use of digital health services
Access to digital health services, like business health insurance, Digital GP, and employee assistance programmes (EAP) are a useful thing to provide to all employees, but they may be key for remote employees who don't feel as comfortable reaching out to you or their colleagues if they're struggling physically or mentally – especially as these services can be accessed from anywhere.  
Get yourself connected
Regardless of where your team is based, managers can help their team feel connected and build strong relationships. Help your team to feel connected and lead by example by initiating conversations that help your team to really get to know and understand one another. You could arrange virtual team-building exercises or optional social events that can give everyone the opportunity to grow more meaningful relationships.
If your team knows each other well on a personal basis, it can give everyone the courage to share any hardships they're going through and can even help others to recognise changes in behaviour that may have been triggered by loneliness. Similarly, better-connected teams are more likely to have better professional relationships too, especially if you create regular opportunities for collaboration, team working and information sharing.
Take a break and move
Studies suggest that, on average, obese employees take an extra four days' sick leave each year, so it's important to encourage all members of your team to do 150 minutes of moderate intensity exercise per week – not only to keep them healthy, but to benefit your organisation. You could think about introducing an optional workout club, where your team can challenge one another in a friendly environment and spur one another on to get moving. 
Remote workers may feel the pressure to be constantly available during their working hours. This isn't a natural way to work and can lead to you sitting down for longer periods of time than you would if you were in the office.
Sitting down for most of the day can put pressure on your posture, so it's important to take regular, short breaks from your desk, along with sticking to an exercise routine. You could suggest that your remote workers set up regular diary invites to prompt them to have a break every 45 minutes or so.
It's also worth sharing what a good workstation setup looks like to reduce the chance of your team sitting in a way that leaves them vulnerable to aches, pains, and strains. Don't forget that footstools and reviewing your monitor height can help to keep your desk ergonomically set up.