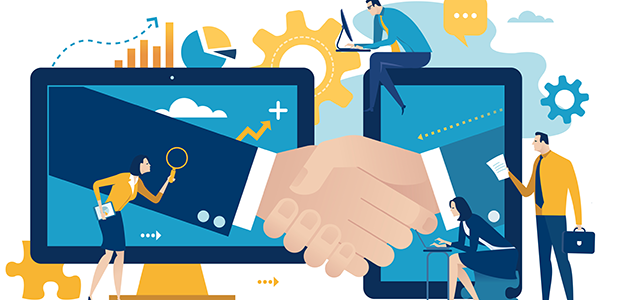 5 ways to improve your business's visibility online
A powerful online presence can make a huge impact on the success of any business, be it a small brick-and-mortar, or an e-commerce website. This has become increasingly accurate in recent years, with changing consumer habits and a majority of people turning to the internet to shop, discover local businesses, and learn more about your company.
Increasing your visibility online is a must. Even if you have a website, it may be completely invisible to your target audience. Improving your presence will allow you to draw in more traffic, boost your reputation and credibility, and increase your all-important sales.
I've spent the past 10-plus years helping ambitious brands and businesses grow their visibility online through creative digital marketing solutions and SEO strategies. From all the tricks and tips I've learned along the way, I'll share five decisive steps you can take to immediately strengthen your presence online, target your ideal audience, and stand out from your competition.
1. Take time to track everything  
Setting up effective ways to track and monitor your data and business performance is arguably the most important step in boosting online visibility. Yes, it can be so tempting to get the ball rolling and launch everything as soon as possible. Push back against this urge! If you do this without setting up conversion and goal tracking from the get-go, you could create many problems for yourself in the future and end up wasting significant amounts of money.
Regular monitoring and reporting will identify what truly works and how best to adapt to grow your visibility quickly and effectively. It will take extra time and money from the start, but you'll be happier for it in the long run!
2. Content marketing is key
The content on your website should be your next biggest priority – after the health of your site is in check and everything is being tracked and properly monitored. If you are simply using your website as a shop window and sales tool, you'll be massively missing out on high volumes of traffic from your target audience. Use your expertise to transform the site into an information resource and a space to educate, add value, and provide insight.
This content will boost your business's credibility and reputation while demonstrating to Google that your website provides valuable information to its users. On top of this, you will stand out from your competitors and
3. Keep a close eye on competitors
It's easy to spread yourself thin in digital marketing. Instead of trying to be everywhere, check out your competitors. This is an easy marker of where to focus your energy. Use tools, such as Semrush and Ahrefs, to keep an eye on what they're doing, where they're most active, how consistent are, and how you compare. Remember: quality over quantity. Sometimes, the easiest and most effective course of action is to do your own Google research, check out their website, and read their blog. You can get a lot of ideas and insights into how to attract your audience and stand out from the crowd.
4. Leverage paid advertising  
Paid advertising and PPC (pay per click) are powerful tools to quickly improve brand visibility and increase website inquiries, leads, and sales. In the early days of building your online presence, it's vital to experiment, run search ad campaigns, shopping campaigns for e-commerce sites, build brand awareness, and split test. Take cues from competitors – if it wasn't working, they wouldn't be doing it.
5. Align your marketing to business goals
One point that has become overwhelmingly clear to me over the years is that marketing goals and business goals are completely connected. The success of one is often determined by the success of the other, and clear goals and objectives will allow your digital strategy to be as effective as possible. Ask yourself:
Where is your business now and what does it look like?

Where would you like to be in three months and three years from now?

How many people do you employ?

What's your turnover and profitability like?
Set clear timelines for your digital marketing and include these within your detailed business plan. Be clear on the direction of travel and break goals into 90-day, bitesize chunks. Set clear goals every 90 days, reward yourself, and go again.
Following these tips won't automatically provide you with perfect SEO, but they will make quick impacts on your website visibility and instantly boost your traffic and sales. Digital marketing agencies, like the Evergreen Agency, can expand on these points and incorporate everything an ambitious brand needs to grow online and rise to the top of Google.