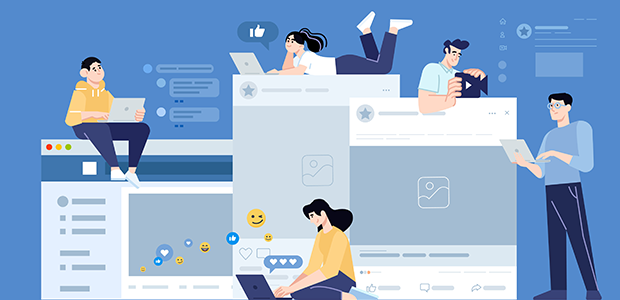 5 tips to level up your social media during summer
With the summer holidays in full swing, it is time to fill your Instagram feed with eye-catching photos to engage your followers and bring them along on your holidays. As design and visual communication play an increasingly significant role in our daily lives, it has never been easier to create captivating on-trend content for social media to keep everyone up to date on where you are and what you are up to.
And the question now is… How do you make your social media profile stand out from the crowd? Canva, the world's all-in-one visual communication platform, makes this possible by allowing you to create stunning content all with your own unique flair, with just a few clicks.
According to a study conducted by Canva in partnership with Ipsos, 69% of UK people attest to the rise of visual communication. On top of this, more than 70% of Brits admit that they spend at least one hour per week designing for work or for personal projects. When asked about the elements they design or create the most, social media posts and edited photos were the top contenders, both coming in at 46%.
As platforms like TikTok and Instagram grow, it has become harder and harder to stand out.  Whether you're trying to start a lifestyle blog, you are a global brand with millions of followers, or a consumer trying to engage your immediate circle, cutting through with basic visuals is no longer the way. In fact, 32% of Brits confess they rely on eye-catching design to elevate their social media outputs.
Below are five quick and easy tips to make your social media content more attractive and engaging this summer with Canva.
Use designer-made templates and text overlays
Canva is home to millions of professionally designed templates and themes specially designed for the summer season. Start by uploading your photos and videos to the platform, then add colourful designs, icons or patterns inspired by the beach, palm trees and the sun, or graphics that reflect the local flair of your destination. Make the most of your creation by using the "Resize" option to adjust the size of your design for multiple platforms. You can also enhance your designs by taking into account the emotional connotations associated with each colour. For example, yellow is associated with joy, red with anger and light blue with tranquillity.
Enhance the photos you take (and remove what you don't need!)
Whether you're sharing sunny landscapes, afternoons at the beach or evenings out with friends, you can let people live vicariously through your posts. Canva offers powerful, easy-to-use photo editing tools to help you bring out the best part of every moment. Contrast and brightness adjustments and customisable special effects give your photos a professional look:
Filter options, borders, and Canva's one-click Background Remover tool mean it is easy to breathe new creative life into your photos. 

Magic Eraser, an AI-powered tool which lets you remove unwanted objects or erase people from photos, can make your scenery even more serene.
Don't forget to write meaningful messages
Express yourself with style. With Magic Write, you can create quality content in minutes, thanks to artificial intelligence. The tool works very simply: first, you select the type of content you want to generate (in this case, a social media post), then you enter a topic or keyword, and click "Generate." Within a few moments, you will have a first draft to add to and make your own.
Once the text has been written, it is important to find the right font combinations to effectively execute your vision. For most people, this can seem like a daunting task, but do not panic: in this article, Canva shares tips for finding the best font combination to use for your next social media post.
Plan your content in advance
Maintaining your Instagram feed takes work, but spending time on holiday creating it is not the answer. To keep your content consistent while you unplug, it's easy to plan content that can go live automatically during your vacation using Canva's content planner tool to pre-schedule the date and time of publication. From there, you can track impressions, clicks, likes and comments using social media performance analytics, directly within Canva. 
Edit the most stylish videos
Editing videos can feel intimidating at first, but Canva's video editor makes it easy with no training needed. In fact, because of the ease of use, the number of videos created on the platform has increased by 70% in the last 12 months, as more and more people seek to share their stories in visual formats. To add magic to your videos, Canva offers a few intuitive editing solutions:
Need to harmonise your video clips with beautiful melodies and catchy rhythms? With Magic Beat Sync, you can seamlessly sync a video to a musical beat.

With the Captions tool, subtitles are automatically activated on all your videos and audio files, so that everyone can see your content and interact with you.
Whether by planning your posts, resizing designs to post them across platforms or syncing your video to music using AI, with Canva it's easier than ever to step up your social media game and keep your feed looking its best this summer.