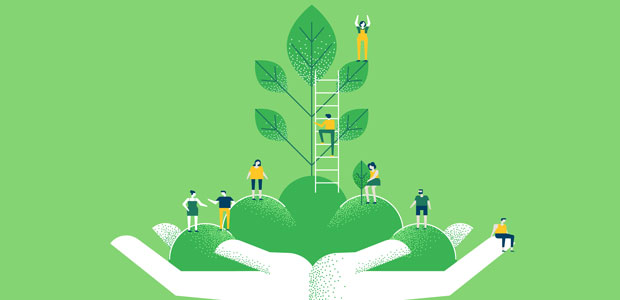 5 steps to being more environmental
As world leaders converge on Glasgow for the 26th UN Climate Change Conference (Cop26), the need for climate action has never been stronger.
The temptation is to think that it's the responsibility of large organisations and financial institutions to fight the threat of global warming, but every company, regardless of size, has a part to play.
Not only is it the right thing to do for the future of our planet, it's also good for business. It can even boost staff attraction and retention, with research showing that almost three-quarters of employees regard environmentally sustainable companies as more attractive, while nearly half would accept a lower salary to work for an employer that is environmentally and socially responsible.
So how can startups, perhaps with limited budgets and resources, cut their emissions and improve their environmental performance?
Have a plan
The first step is to understand where your business is today. What are you doing already and what more could you do? Gather together a small group of employees (your green team) to discuss the issue and brainstorm ideas. Your ultimate aim should be to develop a plan that sets out ambitious yet realistic goals, with specific actions, responsibilities and measures of success. Free tools such as The B Impact Assessment from B Lab can help you understand your impacts, not only on the environment but also on your customers, employees and community, and identify areas where you can improve.
Encourage active commuting
If your employees are back in the office, one easy action is to encourage them to rethink their commute. That might mean swapping the car for the train; travelling on light rail or the London Underground emits around a sixth of the equivalent car journey, according to UK government figures. But even bigger carbon savings can be made by adopting more active forms of transport such as walking, running, cycling or e-biking.
Travelling under their own team is great for employees' physical health and mental wellbeing, and giving up the car for active transport for just one day a week can make a big dent in emissions. According to a study led by Oxford University's Transport Studies Unit, it can reduce an individual's carbon footprint by about 0.5 tonnes over a year, representing a substantial share of average per capita CO2 emissions. Even walking or cycling to the station rather than taking the car can have a positive impact.
The key is to make it easy for your team to make healthier, more sustainable choices. This might include signing up for a cycle to work scheme and providing facilities for people to safely store their bikes and shower and change before work.
Drive efficiencies in the (home) office
Your place of work should also be factored into your sustainability action plan – whether that's the office or home (or likely both).
With buildings responsible for almost 40% of annual energy-related carbon dioxide emissions globally, your commercial office offers enormous untapped efficiency potential.
Energy-saving measures to consider here include switching to a renewable energy provider, using LED bulbs, turning down the heating by a few degrees and encouraging employees to unplug equipment and turn off lights when not in use.
Include remote workers in your sustainability drive by sharing advice on energy-efficient measures that they can practice at home. According to the Energy Saving Trust, simply turning down your heating thermostat by one degree can save around £55 a year and reduce your carbon footprint by 300kg. Also, many people don't realise that when an appliance is on standby or their charger is plugged in but not connected to a device, they're still drawing some power from the system. So, switching off appliances at the socket or turning them off altogether is recommended.  
Source sustainably
However, to effect real change it's important to look beyond your own operations to the people you work with and buy from. For every purchase you make or supplier you appoint, consider whether it's the most sustainable option for your business and budget.
For example, when the time comes to invest in new equipment, consider buying refurbished and donate or recycle the items you no longer need. And when buying new office furniture, look to buy second-hand or remanufactured, which Rype Office describes as "making something to its original specification, but using a combination of reused and repaired elements as well as new parts."
Factoring sustainability into your choice of suppliers will also help you move closer to your environmental goals. It makes little sense to reduce your own impacts if your supply chain or business partners are standing still.
Be in it for the long haul
These are just some of the ways that you can start to reduce your start-up's environmental impact. Some may seem small or insignificant but if every business plays its part, we can all collectively make a big difference.
The important thing is to think long-term. This can be challenging if speed is your default setting, but meeting your sustainability goals is a marathon, not a sprint. Start with a series of smaller, more achievable actions such as the ones outlined here and build and continuously improve on these efforts over time. The long-term future of your business (and the planet) depends on it.