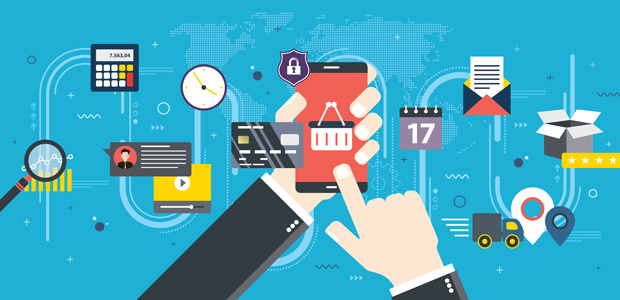 5 Post-Covid Trends For Ecommerce Startups
Even though it may seem COVID is almost coming to an end (in the UK at least) and retail stores reopen, it remains hard to tell if the ecommerce bubble will ever burst.
Ecommerce sales accounted for 34.7% of all retailing in March 2021 according to ONS data, and even though this was actually down from 36.2% in February, it was still significantly higher than March 2020 figures of 23.1%.
According to research from eMarketer, China will become the first country to see ecommerce sales surpass 50% of total retail sales at some point during 2021 as more consumers in the region shop online.
Although this is an extreme example - the next-highest country is South Korea with 28.9% predicted total sales through ecommerce in 2021 - it highlights the international trend of online retail growth.
But when the cake is so big, everyone wants a slice. Starting an online business is easier than ever before, and differentiation will mean survival in a new, highly competitive environment.
In a post-COVID ecommerce world, there are significant strategies companies can take right now in order to be successful.
1. Subscription-based ecommerce
Subscription-based ecommerce, where consumers pay to receive products or services on a recurring basis, is growing in popularity, especially with direct-to-consumer (D2C) brands such as Dollar Shave Club, Harrys, Hello Fresh and Gaucho.
According to McKinsey, 15% of online shoppers have already signed up for one or more ecommerce subscriptions to frequently receive products on a recurring basis.
The model represents a convenient, highly-personalised, and often cheaper one that they wouldn't typically receive elsewhere.
Everything from beauty products and food to wine and clothing can be ordered, many of which offer 'surprise' picks to add another layer of excitement to consumers.
This appeal twinned with long-term revenue and customer loyalty means we're likely to see various other ecommerce industries adopting the subscription model post-COVID. Important, as research shows that customer loyalty actually took a hit during the pandemic.
2. Green consumerism
For a brief moment during initial lockdown measures, nature healed and our eyes opened to areas of 'greening' that were previously never thought of before. 
Green consumerism, where consumers make purchasing decisions based on environmental concerns, is a growing trend in this regard.
Businesses of all sizes are starting to announce ambitious net-zero carbon targets and investing in more sustainable business practices such as green delivery, digital receipts and reusable packaging.
Half of digital consumers said environmental concerns impact their purchasing decisions, and 43% are more likely to shop with a rival retailer if they offered a greater range of sustainable delivery options.
In a post-COVID world, more ecommerce brands will need to think about their operations and adopt more sustainability practices, as green consumerism not only helps attract consumers but retain and nurture them.
Green consumerism will have a big influence on the ecommerce landscape of the future, meaning sustainable businesses will remain one step ahead of the competition.
3. Voice commerce
Smart speakers such as Alexa and Siri have been a part of our lives for a long time now. But although people have primarily used it to listen to music or look up information, online shopping is also becoming increasingly popular via the channel.
43% of smart speaker owners use the technology to shop, according to a Review 42 study, with this number only set to increase as voice assistants become a bigger part of our lives.
Retailers are thinking big on voice commerce, as an Adobe study found 91% are making significant investments in voice and 94% plan to increase their investment in the coming year.
However, although homeware, food, and low-cost electronics are popular purchases through voice assistants, consumers seem to be reluctant to purchase high-end products as a Microsoft study found 41% of users report concerns around trust, privacy and passive listening.
The protection of consumer data and privacy should obviously be ensured, but this shouldn't put online retailers off as more than half of voice assistant users believe digital assistants will help them make retail purchases within the next five years.
4. Bitcoin payments
Payment is a crucial part of the customer journey, and the more payment options you offer, the more chances you have at conversion. But when it comes to Bitcoin, Dogecoin or any other type of cryptocurrency, what value is it for retailers?
Tesla was heralded as one of the first and biggest businesses to accept Bitcoin as payment, but others such as Microsoft, Expedia and Shopify have also jumped on the bandwagon.
Customers and business owners may prefer payment via Bitcoin for several reasons, such as immediate exchanges, low transaction fees and high security on the blockchain. All these factors are crucial for offering a seamless shopping experience to online customers.
Bitcoin users are between ages 25 to 44 and predominantly male, but this demographic is expected to broaden in the future as its popularity widens. Ecommerce businesses that accept Bitcoin payments may well unlock a broader range of customers willing to pay via the currency post-COVID.
5. Globalisation needs localisation
Cross-border ecommerce and localisation need to go hand-in-hand, as although there are no borders in the ecommerce world, consumers still crave information and websites in their native language.
We've seen an increase in consumers shopping internationally during the pandemic, with cross-border sales increasing 21% between January and June 2020 compared with the same period in 2019.
Cross-border ecommerce offers attractive opportunities for merchants to reach out to previously untapped global audiences, but only if it's personalised to meet their needs.
Localisation goes beyond simple translation, adapting products, services, or offerings to a specific market so that it makes sense and feels familiar to the target audience. For example, adapting images/videos, adjusting content to suit cultural preferences, and converting to local currencies or units of measurement.
The ultimate goal here is to make your target audience feel like your content was made specifically for them. Efforts made in this way pay off in the long-term, as content that is locally targeted has six times more engagement than posts that were designed for a global market.
The pandemic has permanently affected ecommerce, and it's likely that the shift in the way we buy products online will only continue to increase.
While many companies have been battling to survive, the pandemic has also presented a significant opportunity. Businesses that invest in their online channels and in some of the strategies highlighted above are likely to emerge as market leaders in a post-COVID world.