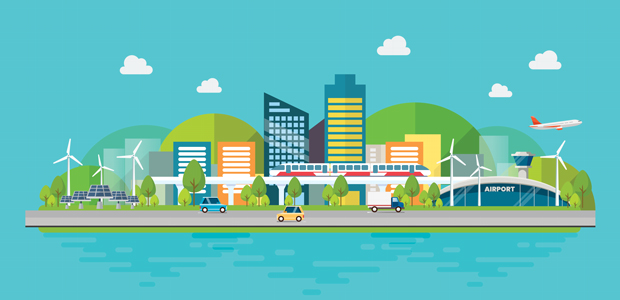 5 key sustainability trends in the post-COVID world of work
There's always been something rather bittersweet about the back-to-school season. On one hand, it marks when the mornings start to feel a little more crisp, the return to the grind after that last bank holiday until Christmas. On the other, there's a sense of hopeful optimism – a chance for new beginnings and an opportunity to return to work feeling refreshed.
That notion rings particularly true this year, as many of us also make the long-awaited journey back into the office. But just because we're now returning to our old desks doesn't mean we should automatically fall back into old ways.
Even before the pandemic, sustainability was firmly placed on the global agenda, but almost by chance COVID-19 has had some truly positive side-effects on the way we work; with our offices, businesses and commutes all becoming greener. Here, we outline five sustainable initiatives that workplaces can embrace to catalyse a change for the better.
Sustainability as a Growth Driver
The importance of sustainability has grown for companies across sizes, sectors, and regions. Nearly half of the UK workforce admits to being more environmentally responsible at home than they are in the office, mainly due to a lack of control over green activities at work and a lack of information around their employer's energy and sustainability policies. However, 69% of businesses say they would support their workforce to reduce the impact on the environment.
Companies are also feeling pressure from their customers and their competitors to become more sustainable, yet at the same time, they acknowledge that sustainability is a growth driver. In fact, sustainability is cited as the fourth biggest growth driver among companies looking to expand in the next two years, behind the strength of the customer base, the quality and availability of the workforce and the quality and availability of suppliers and raw materials.
Recent global lockdowns due to the pandemic have encouraged debate around the sustainability of businesses, office space and commercial property; sparking a change in the way we think about work and the way we interact with our environment every day.
Therefore, it's little wonder that companies are increasing their level of investment to become more environmentally sustainable. 45% of companies surveyed say they plan to increase investment in the next one to two years – among them 65% plan to increase their level of investment by more than five percent.
According to new data by Tech Nation, European 'net zero' startups (categorised as companies which have no negative impact on the environment) raised a total of £2.1bn from venture capital funds last year – a 129% increase on the year before – and a testament to sustainability's growing prevalence pre-COVID-19. Although agile startups are leading the way when it comes to sustainability, larger businesses are also taking steps to become more sustainable; from incorporating green roofs, to reducing their plastic footprint, and using environmentally friendly promotional materials, start-ups and corporate giants alike are noticing changing consumer attitudes and using the pandemic as a catalyst for change, reducing their carbon footprint and adjusting their practices.
Forward-thinking companies around the country are beginning to embrace this trend as part of accelerated action towards tackling climate change. Print company Solopress, which produces products such as business cards, flyers and posters, saw a notable increase in demand for their Solopress Green range of sustainably produced and recyclable products during the pandemic months, reflecting the increased environmental awareness of businesses.  
Simon Cooper, Managing Director at Solopress commented: "In recent years, we've seen a marked rise in demand for eco-friendly print products. Following this increased demand
for the sustainable materials within our core-range, we introduced Solopress Green to offer customers the further assurance of CO2 neutral paper production. The response has been phenomenal, confirming that our customers share our concern for the environment, and that they're prepared to adapt their buying habits to minimise their impact."
Increase in Flexible Working
It's safe to say that COVID-19 has accelerated the adoption of flexible working. Regular lockdowns forced many companies to work from home – even those that were reluctant to work anywhere but the office. Working from home, as well as other types of flexible working, such as staggered hours, co-working spaces, and working closer to home, will continue to form a part of our working lives in the future.
While this partly comes down to ongoing efforts to contain the pandemic, it's also a consequence of our newfound focus on flexibility. Even before the pandemic, experts were predicting that half of the UK workforce would be working remotely by 2020, but the pandemic has demonstrated that different people, roles and tasks require different parameters for optimal performance.
Even working from home or from a more local co-working space for one or two days a week can help businesses reduce their CO2 emissions and achieve a lower carbon footprint. In addition, providing flexibility in terms of working environments, places, working hours, and agile working setups can boost employee productivity, engagement, and happiness.
Undeniably, despite our newfound acceptance of remote working, there is a growing need for businesses to provide office space for their employees to develop their skills, collaborate and learn from one another. Although most people have certainly enjoyed this newfound flexibility in our working lives, research suggesting that 'Zoom Fatigue' is real demonstrates that people are also sincerely missing their office environments – and everything that comes with them. 

In fact, research by Knight Frank shows that only 8% of UK employees want to work from home five days a week, and 53% of UK businesses said they wanted their offices to feature more collaboration space. So, while the demand for flexibility continues, social capital remains critical to finding the right balance.
Active Commuting
As businesses return to the office, some employees are nervous about commuting while the Covid-19 virus continues to exist among the population. As a result, active commuting – commuting on cycle, on foot, or by e-scooter - has become a popular way to both avoid public transport and break up a sedentary working day.

At the start of lockdown, Britain's biggest cycle retailer, Halfords, reported a 500% jump in sales on selected cycling equipment. In addition, cycle-to-work schemes (which offer tax benefits to employees buying bicycles and equipment) have seen sales double.
All this points to the fact that businesses are keen to embrace a more sustainable commute, and it's likely this trend will continue, with employers looking to provide offices fit for an active commute, installing showers and secure bike racks.
Sustainable Office Spaces
It's evident that the pandemic has kickstarted a new wave of green thinking in the world of work. In fact, 56% of consumers feel that reducing single-use plastics, lowering carbon footprints and behaving more sustainability have become 'a lot more important' since the pandemic.
A survey of over 1,000 young people has revealed that 57% per cent of people aged between 18 and 34 would prefer to work for an employer who shared their environmental values. In response to these findings, more and more businesses should make sustainability a key part of their employee engagement and hiring strategy, highlighting the use of renewable energy in the workplace, conveying how the company is committed to reducing its carbon footprint and understanding that equality and diversity are critical factors.
As well as more sustainable office spaces, businesses are realising the value of creating spaces that are less traditional, incorporating sleep pods, mothers' rooms, gyms and workout facilities, and placing a greater emphasis on health and wellbeing; encouraging staff to take time out for yoga, tai chi, or even volleyball.
The concept of 'Biophilia', popularised by psychologist Edward Wilson in 1984, describes the innate relationship between humans and nature and is one of the key drivers behind the shift towards more sustainable workspaces. Studies have found that bringing in elements into a work environment that allow direct connection with nature (such as parks and lakes) or indirect connections (interior design using natural elements), can help alleviate stress in the workplace, restore calm and provide respite for employees. Businesses that take proactive steps to promote employee wellness can improve their financial performance by up to 10% and reduce sick days by 27%.
Greener Data
Every move we make in the online world has a real-world environmental impact. From responding to emails in our inboxes to photos and videos on the cloud, every file hosted online is stored on a server that requires energy to house, cool, power, and maintain.
The average email user hoards about 10,000 emails in their account, and over the course of a year, one inbox consumes enough energy to drive 212 meters. This alone isn't so bad but what happens when thousands or even millions of people hoard emails? All the inboxes in the UK consume enough energy to drive to the Moon and back 18 times.
By 2023, it's projected that over 347 billion emails will be sent and received globally every day. That's an awful lot of data sitting around in inboxes, and if we just leave it there, its impact will only get bigger.
It's a small part of a much bigger problem, but if businesses and employees alike take control of their data storage, then it can make a real difference to collective energy consumption. Managing newsletter subscriptions, reducing email file sizes, deleting calendar invites, and deleting old email accounts can be great ways of keeping your inbox in check.
Aside from emails, websites can also have varying levels of carbon consumption; considering each aspect of web design from an energy consumption perspective can help to make your website much greener than most other sites. For example, using high contrast colours, Scalable Vector Graphics (SVGs), cloud-hosted web fonts, static web pages, and green hosting services can all help when designing low energy websites and reducing their respective carbon signature.
A Greener Future
With the COP26 conference taking place in the UK between 31st October and 12th November 2021, giving the UK a chance to step up as a global leader in tackling the climate crisis, a global focus on greener living and sustainable business practices looks to continue. Recent findings from HSBC also show that three in four businesses have set sustainability targets in 2021 and 86% expect their sales to grow as a result of adopting more sustainable practices.
It's encouraging to see that although the pandemic has created numerous unforeseen challenges in the business world, the unique circumstances have presented new idea and opportunities for businesses to reflect and adapt their practices to make positive environmental change possible.