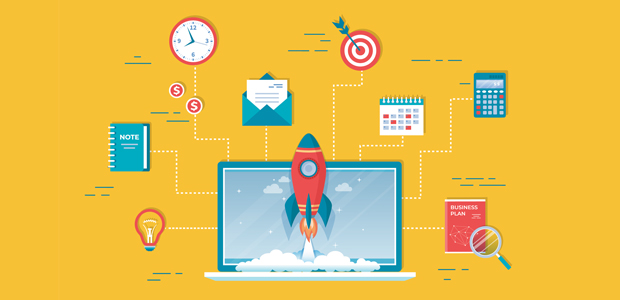 5 important lessons for launching a small business during a pandemic
The COVID-19 pandemic has caused disruption and setbacks for many, but it has also presented opportunities for others to turn their part-time passions into fully fledged businesses.
Launching a new brand is daunting at the best of times and starting a venture in the middle of a pandemic brings even more challenges. Here is my top five lessons I have taken from launching a small business during Coronavirus.
You have to take the leap
When deciding to bring Kacchi London to market, Coronavirus had hit full force and I had no way of telling whether my business would stand a chance. However, I knew that in any climate, if you don't take the leap your dreams of entrepreneurship may never be achieved. There would never be a 'right' time and I had to be brave and take that first step.
In some ways the pandemic provided the ideal environment to launch the Kacchi London brand. The pandemic has altered consumer behaviour and created a greater focus on health and wellbeing, and I knew there was an opportunity to offer a range of products for people who wanted to improve their diet with natural products that offer a boost to their immunity, digestion and overall wellbeing.
There is always a risk in launching any business, but if you don't take the leap and turn your ideas into reality, there's every chance that someone else will.
Be prepared to adapt
Launching a brand during the pandemic brought about many unexpected issues and challenges that were hard to foresee, no matter how much I planned for every eventuality.  
I really had to learn to adapt and be flexible in my approach. Being able to take a moment, assess the options and choose an alternative route was crucial to getting the business off the ground.
When faced with a new hurdle, I found that breaking the problem down and exploring each possible course of action led to breakthroughs and successes that ultimately helped the brand launch on schedule.
Many business owners want to have a clear plan in the build-up to a launch, and deviating from this plan can be hard as it's taking a risk against something you've envisioned for weeks or even months. However, often, moving away from your original plan, as long as it is done in a considered way, can lead to greater brand growth and development, and make you, as a business leader, far more resilient and open to new ideas.
Having an online presence is more important than ever
In today's digital world, having an online presence is vital for most businesses, especially during their initial launch, but amidst the pandemic it has become an even more important tool. Without physical shops, trade shows and exhibitions, the value of online stores, social media and digital marketing has increased tenfold.
The ability to access our key demographic without physically interacting with them has been crucial for the successful launch of Kacchi London. Using specific influencer partnerships has given me the opportunity to present my brand and products to an engaged and relevant audience and build some truly valuable customer relationships.
Without being able to get my products into people's hands via samples at trade fairs or food events, I have had to invest more time and resources into getting my messaging, products and their uses in front of thousands of potential customers via online engagement, a strong social media presence, website and PR strategy. Managing online reputation and relationships has become more important than ever during the pandemic, regardless of whether your brand is well established or just starting up.
Set realistic expectations
When launching a business, you've got to be realistic with your expectations and, with logistical delays and fewer opportunities to showcase your products in a physical space, this applies even more during a global crisis.
Adapting your expectations can go a long way in changing how you perceive the launch of your business or product. Starting your journey in the middle of a tough economic climate isn't easy and, even when things don't go to plan, you still need to celebrate the smaller victories, take a step back and understand that the process will have its setbacks.
It's better to set smaller, more achievable goals and exceed your expectations. Make sure you remain realistic, and your new business will be far more likely to succeed.
Find a balance
Working from home during the pandemic has taken the meaning of 'work/life balance' to a whole new level, and when building a brand remotely it can be extremely difficult to separate your work life from your home life. 
Between a hectic schedule and the many decisions you need to make to ensure your new business runs smoothly, you may find your personal life suffers. Add the complexities of Covid-19 into the equation and you can easily be spread to thin. However, it's important not to fall into the trap of working tirelessly and getting so wrapped up in your business that you fail to find time to unwind. If you can strike a healthy balance, you're likely to be much more productive and, ultimately, successful.