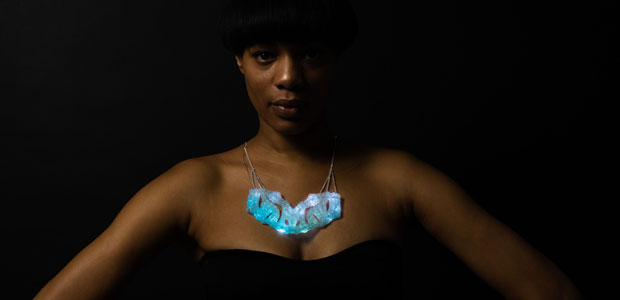 3D printing startup Satori collaborates with fashion designer, Ganit Goldstein
London-based 3D printing startup and innovation house, Satori has announced their latest collaboration, a collection of 3D printed necklaces, designed by 3D printing fashion designer, Ganit Goldstein and printed by Satori's ST1600 3D printer.
The jewellery pieces which light up in a dream-like effect, are inspired by enlightenment, the meaning behind the term 'Satori'. The Satori team worked closely with Ganit throughout the process, 3D printing the necklaces in whole and embedding WiFi-controlled inner lights of changeable colours into the intricate jewellery pieces. The complex geometry of Ganit's designs, which have a crystallised effect, could only be brought to life with the use of additive manufacturing techniques.
Unique from other futuristic 3D printed tech fashion projects, this jewellery collection is ready to wear, thanks to Satori's affordable and efficient 3D printing technology, taking just 25 minutes to print each necklace with the 3D printer costing no more than £3k. The collaboration aims to push the boundaries of fashion tech, and bring high quality 3D printing accessible and affordable to fashion applications. 
"I was inspired by the word 'Satori' which means enlightenment, and the aim for these necklaces is to reflect positivity and light while connecting art and technology." commented 3D printing fashion designer, Ganit Goldstein. "Technology and digitalisation played an important role in the collection in more than just one way. We worked on this project remotely over video calls due to lockdown restrictions in London, but the collaboration was still a very smooth and successful process, proving the vital role technology plays in our lives."
Satori, a company that specialises in developing affordable, desktop-sized, professional 3D printers, is also passionate about inspiring global innovators across all sectors, from design and fashion to engineering and dentistry. A pioneer in innovation, the agile startup always pushes the boundary of 3D printing with its unique vision. Satori is not only a 3D printer manufacturer, but it also acts as an innovation house and a solution provider, embracing the importance of collaboration and working together to achieve the best possible results and user experience. 
"Satori's latest collaboration is not just about innovating a 3D printed necklace, but it's the beginning of how 3D printing will transform the jewellery industry. We view jewellery as not something limited to just gold or diamonds, which have a mysterious supply chain. We have already heard about lab-grown diamonds which started to disrupt the jewellery industry with affordability, ethical sourcing and high customisation capacities. Satori's 3D printing innovation aims to move this even further: you don't need a lab, you can produce beautifully customised gems at home, right on your desk, grown by your creativity and imagination. Striding forward, we will continue to transform more industries with our interdisciplinary collaborations."  commented Satori CEO, Chengxi Wang.